SATSHRIAKAL! HELLO EVERYONE, MY NAME IS GURJEET SINGH CHAHAL, I GOT RECOMMENDED FOR TES-44 IN MY FIRST ATTEMPT, Since my family has been serving the nation for 4 generations and now I am fortunate enough to be the fifth generation to serve this exciting and noble services, I especially had a special attraction towards TES entry, since I was always luring for science techy things and wanted Btech along with army, so there was no better option than TES.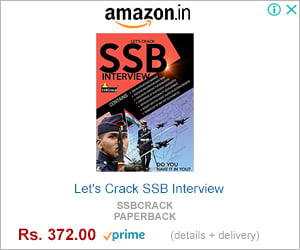 Since I got 91.4 in class 12, I was pretty sure that will I'd make myself into the SSB merit list, so I started practising for screening right after my result and preparing for NDA written exam simultaneously, so at first, I couldn't write good stories, but I made my speed so good that I could write 100 words easily in 4 minutes. Which gradually gave me the advantage of writing with ease in screening and psychology tests. In September I got my call letter and I got 7 November as my SSB date in Bhopal, I was lucky enough to get a pretty lot of time for preparing for SSB, I ordered books for SSB Interview "Let's Crack SSB Interview" and Psychology book "Breaking the Code of SSB Psychology" of SSBCrack and others was by Maj. Ravindran, both the books helped in getting me an overlook of the psychology test and a little bit of interview, since I have been a very active student in my schooling years, and took part in many oratory activities and competition so speaking in English and speaking in public was never a problem.
So soon I mustered up for my preparation of ssb, for GD and interview I started reading the newspaper on regular basis and did mirror practice with a stopwatch for screening so that I could have a very specific and concise answer, and for GTO only the group tasks were tricky, so I started watching various youtube videos and made rough maps for the syndicate solution for the immediate and simultaneous response those really helped me a lot in excelling my group tasks; and then comes the conference of my SSB all those 5 days went so fast but still whomever I met there at SSB now has a lifetime bond with me, and then just had a small crisp conference and then the results when I heard my chest no.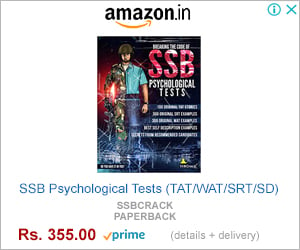 I got thrilled with joy, that was the movement of the day and since it was on Choti Diwali it made my Diwali a memorable one, At last, I would like to conclude that SSB is itself a very memorable experience in one's life and if you go with the flow with full preparation so one can stop you from getting a plus sign at your chest no.
JAI HIND