Hello there, my name is ABHISHEK SINGH, from Jhansi, Uttar Pradesh, and I have been recommended, to join the prestigious NATIONAL DEFENCE ACADEMY, and secured AIR-197 in merit. I would like to thank SSBCRACK for motivating all the aspirants during the journey. Look, if you are passionate about your goals, if you are ready to persevere till you achieve them, be focused and committed during the journey, you will achieve what you wished, for sure. I also got screened out twice, but with each failure, the one thing that grew inside me was my belief that I will make it one day, and yes the day had come.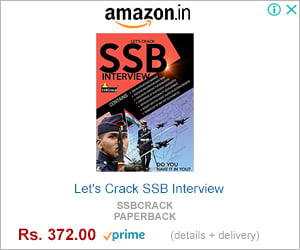 You know what was the best thing about me, I was ready to give 20 more attempts, grinding myself daily, but couldn't accept myself quitting the race that I had flagged off, since I was a child. Such was my determination and I expect from every ssb aspirant who dreamt of being an officer in the Indian armed forces.
My journey started early, as I told you above when I was a child, fascinated by weapons, tanks, warriors, and since then, I always aspired to join the Indian army.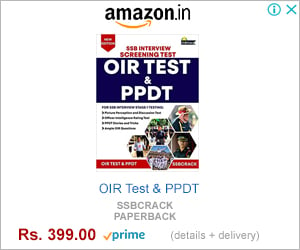 My first SSB, was of NDA-144, in Allahabad when I was in my class 12th, went there prepared, gave my best, and SCREENED OUT. It was the first setback. I gave my second attempt for TES-44 in Kapurthala, a year later with much more efforts, and again SCREENED OUT.
I introspected, worked on every possible weak point, believed in myself, and went for NDA-145, again in Allahabad, showed what I got within myself, and yes this time, I got recommended, and here's my experience of my third ssb.
DAY -1: SCREENING
I gave my OIR Test, it went well, and in PPDT we were shown a blur rooftop view of a car and some hand were seen around the car, so gentlemen over there made stories on 'rescuing people after accident', rather I made a simple story of welcoming chief guest in teacher day ceremony in school. I narrated well, bold, clear, crisp to the point. In a group discussion, everyone spoke in order to get screened-in, I maintained my cool and gave relevant 2-3 points. I got screened at this time and got myself ready for stage-2 testing.
Tip – make a simple action-based positive story, narrate it boldly, confidently, and to the point. In gd, maintain your cool, and give 2-3 points. Maintain your body posture there, as the assessors over there are watching you in front.
DAY -2: PSYCHOLOGICAL TESTING AND PERSONAL INTERVIEW
So, my day 2 started with TAT, where we were shown 12 pictures consecutively. I wrote what I felt was suitable, according to the pictures and in the last blank story, I wrote about my experience of distributing food to migrant workers during the nationwide lockdown. In wat, I could complete around 50 words, and in SRT, I managed to complete 36 SRT only. At that time, people said to me, 'brother, only 36 SRTs, look we did 45,50,60, you will be in trouble. Moreover, this was also the first question, IO asked me during my personal interview, and I accepted, that I should have done more and at the same time assured him that whatever I wrote was good responses. The interviewing officer went on asking question-related to my academics, friends, family, armed forces, hobbies etc, and I replied to them confidently. The fun part was, he seemed to be impressed by my academics results, and then he went on asking basic maths questions, which I couldn't answer correctly.
DAY-3 AND DAY-4: GTO TASKS
All of us, reported to the GTO ground early morning. Since it was cold, we all were shivering, so the GTO advised us to warm up. Our first task was a group discussion, on two different topics, in which our group really messed up. In that situation, I tried the best possible way to calm down everyone and gave relevant points for the topic. The group planning exercise went really well, as I gave logical solutions to the problem. PGT, HGT also went good. We were able to figure out solutions within the given time. Our group also won the group obstacle race.
In lecturette, I got only 1 minute to prepare as the one before I stopped early, but I gave the lecture boldly, confidently. Tip – cheer yourself up, and feel like, you are on top of the world. The next day, in individual obstacles, I completed 9 obstacles in around 2 minutes, but couldn't balance myself up in the zig-zag beam. But, I kept on trying till I ran out of time. During my command task, I was given a bomb disposal tasks, which seemed to be challenging at first sight, but with the help of subordinates, I was able to go through it, but the fun part was, the bomb diffuser, that needed to be picked up, was marked red, and out of excitement I picked it up, with the red-painted side. Then GTO put pressure by, asking me to rescue my subordinates as the bomb is not diffused, and they needed to escape within 5 minutes. I was not able to figure out the solution, but when only 15 sec was left, I came up with the idea and completed the task.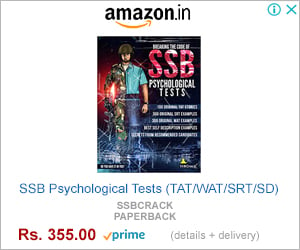 DAY-5: CONFERENCE
Now, after all the tasks, I had figured out all of my mistakes, and I started thinking, the way, I could have performed better. Some hoped some were confident, they will get recommended, but I was ready for any consequence. We went to the conference, and when my chance came, I went in, with a smile. it was the best moment, as I presented myself in front of 10-12 officers. The president of the board also smiled and asked me the same question, I was thinking about last night. He asked me, "Abhishek, what do you think, what all mistakes you did during your 5 days over here?", and I went to count each of my mistakes in front of them. After the conference, when the result came, and when chest no. 6 was called to call his name, his eyes numb felt proud, stood and said " 414070 ABHISHEK SINGH, SIR".
THANK YOU, SSBCRACK