"Some goals are so worthy, it's glorious even to fail". JAI HIND folks. I Pardeep Singh Bali got recommended for SSC Tech 56 course from 19 SSB Allahabad commencing in June/July at the prestigious OFFICERS TRAINING ACADEMY Chennai. Yes, guys, I cracked SSB which is termed as the hardest interview to crack in India, but guys it's just a myth, if one works on his/her personality, even an average candidate can get a recommendation.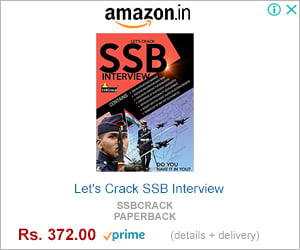 In my batch
Reporting-327
Screened in-29
Recommended-1
It was an emotional moment for me when I heard my chest no, somehow I controlled my emotions and replied with my name and roll number in a clear and loud voice.
In my last attempt at 4 AFSB where I got conferenced out, DSO told us that gentlemen if you are a good human, you are 90% a good Officer, the rest 10% are your weaknesses and how you work on them. I worked on them and got a recommendation in the next attempt.
Day 1:-
OIR- 2 booklets with 40 questions each and 21 minutes were given to solve each booklet. I solved each booklet within 15 minutes. I think the SSBCRACK OIR booklet is enough especially for SSB Allahabad and SSB Bangalore.
PPDT- A picture with 4 people sitting on sofa and discussing something.
I made a story about a birthday party. I narrated the story within 40 seconds by speaking confidently and making proper eye contact with each group member. Coming to the discussion part it was a fish market like situation, somehow I controlled the group and gave a logical point that gentlemen there are two themes coming up and we can make a common story on one of them. Guys, good listening skills are a must for getting screened in.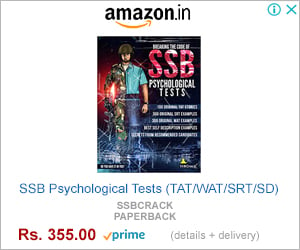 After PPDT, I was damm sure that I am going to get screened in. After an hour the results were announced, and I got screened in with 28 other candidates out of 327.
Day 2- Psychological tests-
TAT– Attempted all the 12 pictures. On positive and neutral pictures, I wrote stories on motivational topics and topics related to social awareness. On negative pictures, I tried to include more possible action in the stories and how to solve the problem. I had already prepared a blank story based on my life experience.
WAT– Attempted 58/60. Gave positive and crisp responses. On negative words, I made sentences on how to solve the problem or what will be the outcome of the problem.
SRT– Attempted 57/60. Wrote crisp responses by imagining myself in the situation.
SDT- Already prepared and wrote actually what I am.
DAY 3 – GTO – It's all about cooperation and how you act in a group.
GD- A fish market situation where most members were not giving others a chance to speak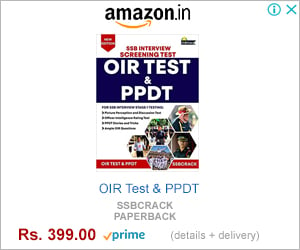 I just asked them politely that gentlemen let me speak a point. Spoke twice in both GDs and gave facts and valid points.
GPE- Wrote the solution within 5 minutes. However one of the members fucked up by nominating himself to tell the group plan and gave his plan rather than the group plan.
GOR- the funniest and enjoyable group task.
After completing the group obstacle race, the GTO asked us that if anyone of us touched the unbound area, most of the members shook their heads, but I came forward and accepted my mistake. I think it created a good impact on the GTO as honest and truthful people are required in the armed forces.
PGT- I gave no idea but helped the other group members in implementing their ideas.
HGT – Gave an idea and implemented it myself.
Lecturette- made a blunder. Most of the members spoke on a high-level topic like BRICS ASEAN BIMSTEC etc and it was like they were prepared like book worms. Chose the last topic My favourite book. Spoke on UNDAUNTED the biography of Lt Ummer Fayaz whom I consider as my role model. I got too much involved in the narration that I wasn't able to hear the bell and spoke for more than 4 minutes.
Day 4-
Individual obstacles- Completed 9/10.
Wasn't able to complete the balancing beam as no strength was left in my legs.
Command task- Briefed the subordinates, gave an idea, implemented it. The GTO changed the colour to make it difficult. Became completely blank at that moment, he gave a hint and we Cleared successfully
FGT- a formality task.
Interview- A 35 minutes interview. I went inside like Rishabh Pant and almost hit every ball out of the park. Gave full justifications to the questions based on my piq. Answered every gk question except one and kept a smile throughout the interview. Actually, the charm on IO's face made me comfortable.
Day 5-
Conference- It was a 2-minute discussion as they were sure shot about my selection.
An officer from the special forces came and announced the results and only I got recommended from the 29 candidates.
Cleared the medicals and soon gonna join the OFFICER'S TRAINING ACADEMY.