On social media, a video of an applicant using a phone while taking the NDA 2 2022 written exam goes viral. While the NDA GAT paper is being administered, the candidate is filming the examination room.
Cheating in NDA exam is taken very seriously as this exam is to become an officer in the armed forces of India.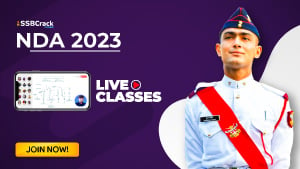 Other defence aspirants are outraged by this and are calling for strict action to be taken against this candidate.
NDA exam is conducted by UPSC twice every year, around 12 Lakh candidates apply for the NDA exam every year to join the prestigious national defence academy.
NDA Exam Preparation Material:
UPSC will publish NDA 1 2023 notification on 21 December 2022 and registrations will be open till 10 January 2023. UPSC will publish the NDA 2 2023 notification on 17 May 2023 and registrations will be open till 06 June 2023. As we all know that NDA 1 2023 exam will be conducted on 16 April 2023 and NDA 2 2023 exam will be conducted on 03 September 2023. Candidates who are preparing for the NDA 2023 Exam can find the important details related to NDA 2023 exams below.
Also Read: NDA 1 2023 Notification And Exam Date