Officer Intelligence Rating OIR Test is conducted on the first day of the SSB selection procedure along with PPDT. This test features verbal and non-verbal questions which are not very tough but require the presence of mind and speed. There are about forty to sixty questions and the given time varies with the number and the difficulty of the questions.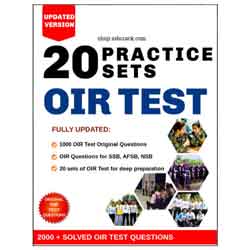 The test is divided into two parts: Verbal reasoning and Non-Verbal reasoning.
Verbal reasoning
Spelling
Grammar
Sentence Completion
Analogies
Word Groups
Instruction
Critical Reasoning
As this test involves the above topics, they require an understanding of the precise meaning of words, idioms, and the structure of the language. Thorough practice is required on the above-mentioned topics.  One may practice from any book specifically for SSB or may use the practice papers available over the internet.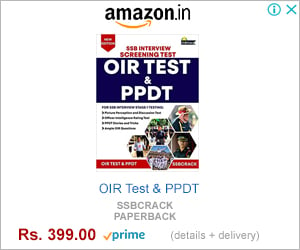 Non-Verbal reasoning
This part gives a series of patterns and figures. You are expected to find the relation in the given series and choose the correct alternative from the choices. This part requires logic and accuracy. The questions are very short.
The questions are based on:
Analogy and Classification of Figures.
Complete and Incomplete Pattern of Figures
Cubes and Dice
Venn Diagram
Follow the instructions of the supervising examiner very strictly. You have to be really quick and concentrate all the time. As the paper is not purely objective, so you have to write your answers sometimes which are usually one word or one letter. Read the instructions carefully and do what is exactly asked in the question.
Attempt all questions as there is no negative marking scheme. Be attentive and confident.
After this process and your PPDT, you will get the results after a few hours. Those who pass the screening test are asked to remain back at the Centre for the further selection procedure.