Candidates can download SSB interview preparation ebook which is in pdf format from the link given below. This guide will help you to understand the 5 days SSB interview procedure and take you through do's and don'ts at SSB. This quick SSB interview information guide can play on any smartphone or tablet if it supports .pdf file. Thanks to Indian Navy for uploading it on their official career website, you can also check 5 days SSB interview video which is produced by SSB Bhopal.
Let's Crack SSB Interview by SSBCrack.com
This book is an insight to the procedure adapted at Service Selection Boards, for the selection into the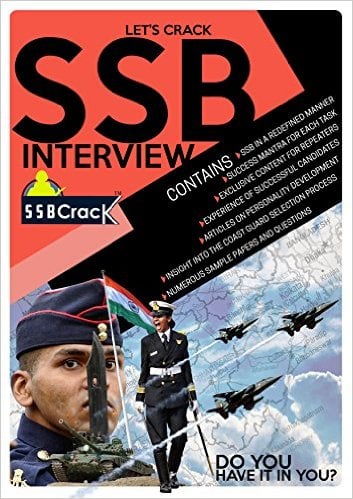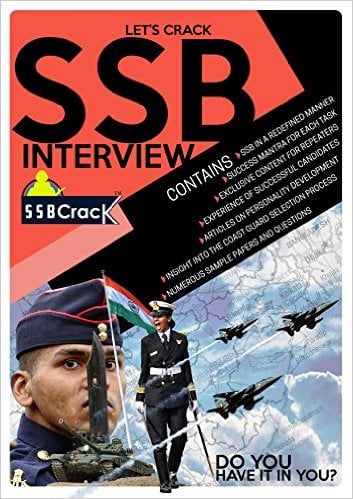 Indian Armed Forces. Certainly if you are reading this, you, or somebody you know, is an Armed Forces' aspirant. Pick this one, and we promise you won't regret buying it. This book is unique in many ways. Right from defining the procedure of SSB interview in a different manner, to having exclusive articles, contents and points related to Armed Forces. The book will in all possible ways, guide you in the right direction of glory.
This e-book is dedicated to Indian Navy SSB interview but as we know SSB interview procedure is same for Indian army, navy and air force. So candidates can read the complete ebook to have a gist of the SSB procedure. This ebook also gives you official do's and don't with useful tricks to pass the psychological, GTO and personal interview.
Table of Content SSB Interview eBook
THE INDIAN NAVY AS A CARRIER
SELECTION PROCESS
REPORTING DAY
DAY 1 – STAGE 1
DAY 2 – PSYCHOLOGICAL TEST
DOS AND DON'TS PSYCH TEST
INTERVIEW
DOS AND DON'TS INTERVIEW
DAY 3 – GROUP TESTING
DAY 4 – GROUP TESTING
DOS AND DON'TS GTO TEST
DAY 5 – CONFERENCE DAY
JOINING INSTRUCTIONS AND IMPORTANT FORMS
SSB Interview eBook Summary
The aim of five day testing is to assess personality of candidates by three pronged approach – Manasa, Vacha and Karmna, Translating into your thoughts, speech and deed/actions. These three approaches are termed as techniques and they are assessed by Psychologist, Interviewing Officer and Group testing Officer
independently. The summation of three approaches in conference gives inputs for identifying a potential and a trainable Armed Forces leader.
Testing Schedule at SSB
The selection process is spread over five days testing schedule and is conducted in two stages. Stages I is conducted on the first day and the candidates having some chance of getting selected are retained for Stage II based on the performance of candidates in written test and Picture Perception and Discussion Test (PPDT) conducted on Day 1. The brief program for five days is given below and the same is elaborated in subsequent sections.
STAGE -1

DAY 1 – Written Test, PPDT

STAGE – II

DAY 2- Psych Test and Interview
DAY 3- GTO 1 Day and Interview
DAY 4- GTO 2 Day and Interview
DAY 5- Conference
Download SSB Interview eBook in PDF 
Also Read