How To Become a Doctor In Indian Navy: The Armed Forces Medical Services is amongst one of the best options available to a medical graduate in our country where there is an opportune professional environment of an exceptional order blended with an adventurous life, camaraderie, dignity and self-esteem. It offers a golden opportunity to be a part of the world's finest service and get trained not only to be an officer but also a gentleman for life. The Armed Forces Medical Services (AFMS) promises both professional and personal growth at every stage of the career. The adventure and extra-curricular activities in the Armed forces ensure an all around development essential in today's world. Apart from attractive pay and perks, Armed Forces offers the best in life style and professional growth.
How To Become A Doctor In Indian Navy
As a doctor in the Navy you will have an opportunity to learn and practice military medicine and look after the health of the men in uniform and their families both in peace and war. There are ample avenues to specialize in basic specialities and super specialities. Most of the postgraduate courses are conducted at Armed Forces Medical College (AFMC), Pune and various other teaching hospitals of the Armed Forces. However the service also offers opportunities to avail study leave at Government expense for the super-speciality courses at reputed civil institutions in India and abroad.
The medical services in the Navy are delivered through a network of hospitals spread throughout the length and breadth of the country. To support the professional activities, hospitals have been equipped with state of art equipment and trained paramedical staff. Postings to various part parts of the country gives the medical officer a glimpse of the beautiful heritage and culture around and broadens outlook beyond the barriers of caste, religion and creed. In the active participation of our country in peace keeping initiatives of the United Nations, a large number of doctors are sent on deputation with these missions.
The privileges offered in the Armed Forces are far better than other services in the country. The comforts of life like good housing, medical aid, canteen facilities, school, college and higher education for children, life insurance cover etc are all catered for. The benefits are extended into the retired life including handsome pension and medical facilities. What opportunities can other services provide to enjoy outdoor activities for those with a yen for adventure!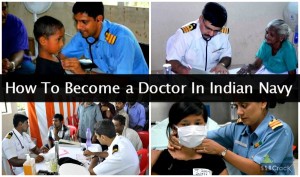 The Armed Forces offer a prestigious and professionally satisfying career for doctors as commissioned officers with high status associated with Group 'A' gazetted posts of Central Government.
There are Two types of commission viz Permanent Commission (PC) and Short Service Commission (SSC). Doctors from civil medical colleges at entry are offered only SSC. Pay & allowances and terms & conditions of service, except the duration of service and provision of retirement benefits are broadly similar for both types of commission.
SSC officers are required to serve for a minimum period of 5 years. The SSC may be extended by another two terms of 5 years and then 4 years upto a maximum of 14 years.
50% graduate passing out from the Armed Forces Medical College Pune are taken directly into Permanent Commission and the rest are offered Short Service Commission. AFMC graduates offered SSC are required to serve for a minimum period of 7 years extendable by another 7 years.
Doctor In Indian Navy: Selection Procedure
(a) Short Service Commission
Applications are invited from Indian citizens both male and female, twice a year. A notification to this effect is published in leading newspapers.
Eligible candidates are called for interview at New Delhi to assess their merit and suitability for grant of Short Service Commission in the Army Medical Corps and subsequent secondment to the Navy.
Based on the results of the interview, candidates who have been short listed are subjected to medical examination at designated Armed Forces hospitals in New Delhi.
Medically fit candidates are granted commission subject to verification procedures as deemed necessary and required for commissioning.
(b) Permanent Commission
SSC officers are allowed three chances to appear in departmental interviews for grant of Permanent Commision at any time after completion of two years SSC service ie two chances in first tenure of five years and one chance in second tenure of five years but before completion of nine years and six months of service. Also, there should be no break in service and they should fulfil the conditions of eligibility laid down.
Maximum age limit as on 31 December of the calendar year of application for grant of PC for different professional educational qualification is as below:
| | |
| --- | --- |
| Educational Qualification | Maximum Age limit |
| MBBS | 30 years |
| Post Graduate Diploma | 31 years |
| Post Graduate MD/MS | 35 years |
Employability
As an officer in the Army Medical Corps, he/ she is liable to be employed in the Indian Army, Navy or Air Force in any part of the country or world.
Rank on Entry
The rank granted on first appointment in the AMC is as follows:
Captain/ Surgeon Lieutenant/ Flight Lieutenant – Applicable to doctors commissioned from civil who have acquired their Permanent Medical Registration Certificate.
Lieutenant/ Surgeon Sub Lieutenant/ Flying Officer – Applicable to Medical cadets passing out from AFMC Pune, till completion of their internship in Service hospitals.
Promotion
Promotion till the rank of Lieutenant Colonel/ Surgeon Commander/ Wing Commander is by time subject to satisfactory service and fitness for the higher rank. Further promotion to higher ranks is by selection based on vacancies. If an officer does not get promoted to the rank of Colonel/ Surgeon Captain/ Group Captain by selection grade, then he/she is granted time scale promotion to the rank of Colonel/ Surgeon Captain/ Group Captain (Time Scale) on completion of 24 years of reckonable commissioned service.
Conditions Of Eligibility
Branch / Type of Entry
Age Limit
Educational Qualifications
Army Medical Corps (AMC) – Includes Medical Branch of Indian Navy
Permanent Commission (PC)
45 Years
1. Applicants must posses a medical qualification of an Indian University or a foreign medical qualification recognised by the Medical Council of India. They must also be registered with any of the state councils or equivalent registering authority.
2. Incentives : An antedate of 3 years seniority for post graduates and 2 years for post graduate diploma recognised by MCI and 6 months for a house job, done at a recognised hospital to fresh entrants.
3. A doctor who has done a house job and also a post graduate qualification will be eligible for a maximum antedate seniority of 42 months.
Selection is held once a year in Jul / Aug at Delhi. Advertisement published in National / Regional newspapers in Mar/Apr every year.
For details contact
DGAFMS, L-Block,
Post DHQ, New Delhi 110011
AFMC Cadet Entry (MBBS course after which commission is granted in AMC)
1. 17 – 22 Years2. 24 Years
1. 10+2 with PCB securing not less than 60% of aggregate marks together and not less than 50% in any of these subjects.2. BScSelection is held once a year through a written exam on all India basis followed by an interview at Pune. 50% cadets are granted SSC after passing out. Advertisement published in National / Regional newspapers in Jan every year.
Army Dental Corps (ADC) – Includes Dental Branch of Indian Navy
Direct Permanent Commission
28 Years for BDS30 Years for MDS
1. BDS with minimum 60% marks in final year / MDS from a recognised College or University.2. Should have completed one year rotatory internship recognised by the Dental Council of India.3. Should be in possession of Permanent Dental Registration Certificate.
Hope this information would help all the aspirants looking forward to join the Indian navy as a doctor. All the best. For more details visit: www.nausena-bharti.nic.in/