Success Mantra For SSB: "One can live without air but cannot without values". This line is true for our officers as that's a task of great responsibility. Values are the priorities of life, which suggest how should you spend your time and make it a quality time. Once the priorities of life are decided it gives you utmost clarity in life of what your commitment areas are and you are forced to perform. Thus it leads to improved results and stress free life. Now don't you think that priorities are important in our life .Yes of course they are because of the following reasons: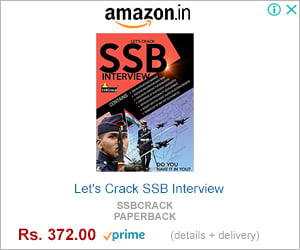 The way we are brought up and the surrounding in which we live decides how values and other qualities are shaped. That's why I always say that everyone has the OLQ's but the need is to identify them, their degree and work accordingly.
We have limited amount of time in life. In fact in this throat cutting world time is the most precious commodity. Those who use it wisely are successful and those who waste it are at loss. Even if you have a lot of money you would not be able to buy time for yourself and for your loved ones. Proper planning is needed for time management as its the toughest think to learn nowadays. As defence aspirants you must realise the value of time and should decide your priority areas to spend it judicially.
We also have limited energy to spend. Some people spend it in wrong ways and then are left with disheartened life. Life is a gift of GOD for you and you should thank god for this. Specially for being a human who rides this world and on other species. Life could be beautiful if you learn how to spend your energy wisely.
Limited distraction keeps you on track, if you are on track you could actually realise that you are diverting or differing from your success path. Life is known to give limited opportunities, excel in those as everybody is not born with a silver spoon. There would be a lot many things that will come your way to distract, but keep distance away with them.
Now you might be thinking if values are so important how these could be incorporated. Values are something that you get along with your birth, because these are formed as a part of your nourishing only. The way you are brought up, the environment you spend time in design your values. Values develop sense of judging what is important for you in your life. Youth is a age where you either build your future or destroys it. Your behaviour is the reflection of your values and remembers defence aspirants should be highly valued for clearing the SSB. Being a defence personnel you will be in midst of situations where values only will allow you to take firm decisions and that's why in SSB they prefer to search for them. I remember the very famous quote which suites every aspirant:
3 Golden Rules of Vivekananda:
Who is helping you don't forget them
Who is loving you, don't hate them
Who is loving you, don't cheat them