Govt orders 'search and destroy' operations against Northeast militant groups. Hours after 18 soldiers of the Indian Army's 6 Dogra Regiment were killed and 11 others injured in an ambush by militants in Chandel district of Manipur, the Central government on Thursday ordered an all-out offensive against Northeast rebel groups.
As per reports, the Centre has asked the Army to launch 'search and destroy' operations against NSCN(K) and other insurgent groups in the Northeast.
Thursday's attack was the deadliest against the Army in decades, and happened in the wake of rising violence in the Northeast ever since the ceasefire with NSCN(K) ended in March this year.
As per reports, the government has asked the Army to literally smash militant groups that have been involved in violence in the recent past.
The decision was taken at a high-level meeting held last evening and was attended by Home Minister Rajnath Singh, Defence Minister Manohar Parrikar, National Security Advisor Ajit Doval, Army Chief General Dalbir Singh Suhag and other top officials.
The Home Minister ordered that no militant involved in the attack should be allowed to go scot free and strongest possible action should be taken against all those involved in the ambush, sources said.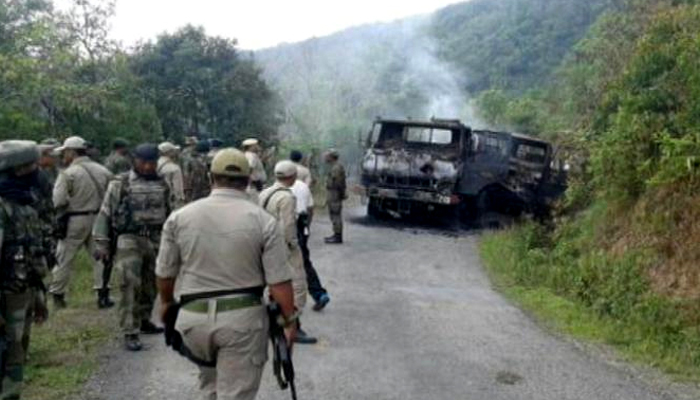 "Deeply distressed after the news of attack on Army convoy in Manipur. We will not allow the sacrifices of our soldiers to go waste," Rajnath Singh tweeted yesterday.
Reports said the offensive in Manipur will begin on Saturday. The Indo-Myanmar border in Manipur has already been closed to stop the militants fleeing to the neighbouring country.
The all-out offensive against Northeast rebels could now also include surgical strikes against them.
The government is also expected to come out with a new policy on Northeast militant groups and the same could include clause of no talks with rebels who take up arms.
It may be noted that the government has already adopted an aggressive strategy against northeastern militant group National Democratic Front of Bodoland (NDFB) and the same has yielded significant results.

The militants yesterday used IEDs, landmines, rocket-propelled grenades and automatic weapons to ambush a team of 6 Dogra Regiment near Myanmar border while it was moving out on a posing to Chandigarh.
Army and civilian authorities suspect the involvement of Manipur rebel outfit Peoples Liberation Army (PLA) and Kanglei Yawol Kanna Lup (KYKL), a Meitei revolutionary organisation.
The incident that took place between Paraolon and Charong villages near Motul is the worst attack on the Indian Army in past 16 years and happened at around 8.30 am on the Tengnoupal-New Samtal road, about 80 kilometrs from Imphal.
"18 Armymen were killed and 11 injured in the attack," Army spokesman Col Rohan Anand said in Delhi. Anand had earlier put the number of dead at 20.