Indian Air Force is one of the four Armed Forces of India. We all are fascinated one or the other time with jets flying up above in the sky. Indian Air Force is one institution where you can fly those jets, and not only see them. No matter what is your job in this prestigious institution, it'll be a matter of immense pride to be a part of it. Though none of the Armed Force is lesser than the other yet Air Force has a charm of its own. Let us see the 15 best reasons to join IAF.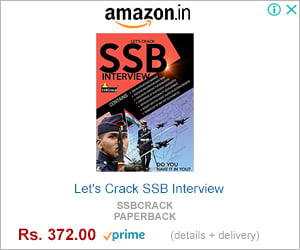 The motto: 'Touch the sky with glory, this motto in itself is a reason enough to join this branch of the Armed Forces. Each word in the motto is filled with inspiration and honor.
Live in a jet plane, to learn to fly one: You get a chance to not only fly a jet but get paid for doing so. So it is a job full of adventure, pride, and satisfaction.
Everyone is equally important: Being a pilot is not the only way you can be a part of this institution. Even if you join it as an engineer, or as a ground staff, you'll still get the chance of working amongst the sprawling and the thundering jets. You'll be providing valuable assistance to IAF.
Adventure on the go: The number of adventure sports you can do, when in the Air Force, is countless. Paragliding, skydiving, car rally, rafting are just a few names, the list is long. In no other job, you'll get a chance to enjoy all of this.
Security: A job in IAF is full of security, right from the security of the job to the security of your parents and family. You get amenities for them all.
Money: Whether you agree or not, but money is important to live in this world. The pays and perks in IAF are not only enough but attractive. It's not only the money but other perks too, which make it a whole package.
Style: Can you find anybody more attractive than an officer, in the uniform, with the perfect manners and the amazing aviators. I can bet no! The style is not only about the uniform or the pipes; it is about the etiquettes and manners too.
Camaraderie and companions: You spend a huge amount of time in training, you make friends there. Your fellow officers in whichever unit you get posted become a family for you. It is a lasting bond.
Permanent Commission for Women: IAF offers permanent commission to women, in some of its branches. So you don't have to think of a different option after 10+4 years.
No CO issues: While the Commanding Officers in Army are dreaded, in Air Force they are cool!
Postings: Postings are not something that brings anxiety; because you get to visit new places, an adventure in itself, and almost all the stations have family accommodation.
Food: AFSB food is the best food amongst any SSB selection center.
The foreign tours: You may get a chance to visit places out of India, entirely for work purposes.
The magical words: Because 'I am in IAF' are the four most magical words anybody can ever hear.
Because it is IAF: You have to be a little tough to join Army, a little intelligent to join the Navy, but a mix of both to join the IAF!
Also Read: