Krishnant Gholap is an autorickshaw driver's son. After two failed attempts, he made it to the National Defence Academy, Khadakvasala, which he saw as the only way out into a better life.
Abhishek Mande spent time with Krishnant on his last day at the Academy and met the Gholaps at their humble home in Pune. He tells the story of the hardships faced by the family to realise a long-cherished dream.
Sometime in the last semester at the NDA, Cadet Krishnant Gholap was struggling.
He had to pass a run test — complete a stretch of 5 km in 26 minutes. This was his fourth and final attempt.
The first three times the cadet missed the target by a little over 20 seconds. If he couldn't meet it this time, he would have to stay back for another six months and graduate one batch behind his peers.
There were other things to consider too. His sister Rohini was to get married. The family had been saving up for the wedding for a long time.
Another six months would mean the family would also have to keep aside Rs 1,500 each month for his pocket money according to NDA rules.
For a family that lives in an apartment slightly larger than the cadets's rooms in the Academy, this was a lot of money.
Plus the fact that he could not make it with the rest of the batch would be a blot on his career.
"There were too many things tied in with my passing out (from the NDA). I couldn't afford to lose," Krishnant recalls.
And so he ran.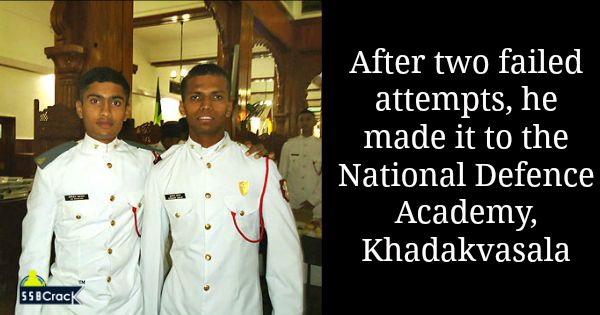 With a 20-odd kilo bag on his back, a gun on his shoulder and a pair of boots as heavy as lead, Krishnant Gholap ran because his life depended on it.
On November 29, 2010 a little past nine in the morning, Cadet Gholap marched with the rest of his batch and stepped on the 'Antim Pag' or the 'Final Step'.