Hello, Warriors. French President Francois Hollande is invited to be the chief guest at the Republic Day parade of January 26, 2016.
The visit of Mr. Hollande to New Delhi for the mega-pageant of January 26 will be symbolic and send a message of a worldwide solidarity among the democratic countries against terrorism of the IS which staged the November 13 attacks in Paris last year.
The announcement on the presence of Mr. Hollande during the Republic Day parade has been finalised during the talks that French foreign minister Laurent Fabius had in Delhi on November 20 last year. Mr Fabius, one of the longest serving French diplomats, was in Delhi to discuss the climate conference.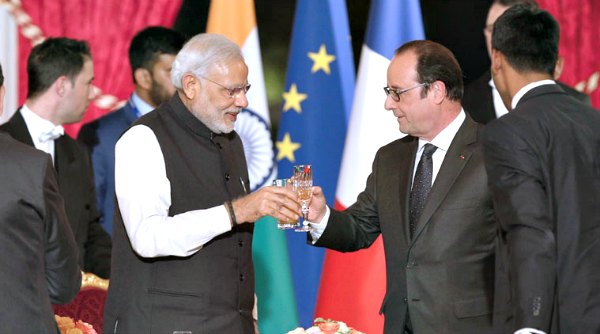 Importantly, France was the first country with which India established a Strategic Partnership in 1998 after New Delhi did nuclear tests. The two countries have close cooperation in defence, space, civil-nuclear and security issues along with strong trade and investment and cultural ties. France is also the first country with which India entered into civil nuclear energy cooperation in 2008 after obtaining the NSG waiver.
This will be the fifth time that a French leader will be a Chief Guest at India's Republic Day celebrations — the maximum number from any country so far. Earlier leaders from that country had presided in 1976, 1980, 1998 and 2008. Bhutan has presided four times so far in 1954, 1984, 2005 and 2013.
An invitation to be the Republic Day chief guest is highly symbolic from the Indian government's perspective. For the 2015 parade, the Modi government had invited Barack Obama, which was his second visit as US President to India. India was keen to host Hollande since France has emerged as a key strategic partner on defence and nuclear issues. And with the gruesome Paris attacks, counter-terrorism will be a key area of cooperation.
With this visit of the French President, let us hope that the partnership between India and France strengthens and more opportunities grow up between the two nations.