Recently, the story of Mrs. Swati, the wife martyr Col Santosh Mahadik, was rife all over the media when she decided to join the armed forces after the death of her husband.
Stepping into her husband's shoes after his death, again is Mrs. Vinaya Patil, the wife of Flight Lieutenant Shashikant Damgude, who lost his life in a road accident.
Originally reported by DNA, 26 years old Mrs. Vinaya Patil had married her childhood love just a few months ago when she heard about his death.
Refusing to give up on the incidents that followed, she saw sleepless hours of preparing for SSB interviews while continuing her duties as a daughter in law and a scribe with Daily News & Analysis.
She recently cleared her SSB interview and is set to brave all odds as she prepares herself for grueling 11-month training at the Air Force Academy, Dundigal, Hyderabad.
Vinaya holds a post-graduate degree in Journalism and Sociology.
According to her, "the preparation was pretty challenging – from elementary to complex maths and more. Everything had to be revised to crack the test".
She also left a tip for all those preparing for the SSB. Since the selection procedure was more of a test of the person you are, this was her strategy: "It's the way one thinks, analyse a situation and react. So being yourself is the best you can do…and that is what I did".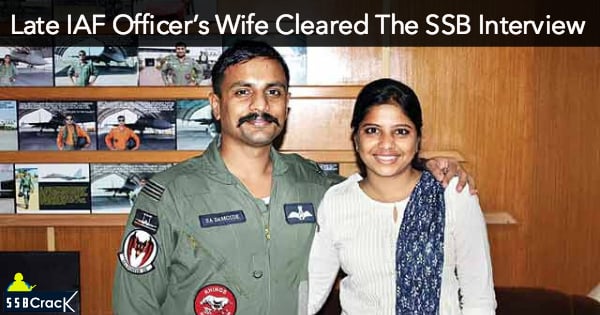 According to Mrs. Vinaya Patil, her husband Shashikant loved challenges and he always encouraged her to challenge herself, and that is what she is doing by joining the IAF.
A light-hearted person and known for her cackle of laugh, her friends and relatives now look upon her on becoming a symbol of hope and inspiration to many.
This is the biggest tribute she could pay to her husband and the greatest service she could render to our nation.
We at SSBCrack salute the steel-strong determination and will of Mrs. Vinaya Patil and wish her the very best in her future endeavors.
To crack the AFSB and SSB interview, we recommend you to get "Let's Crack SSB Interview" book from Amazon.
Download eBooks: