At least 20 terrorists have been neutralised in a daring cross-LoC operation by the Indian Army in response to the Uri attack.
Two units of the elite 2 Paras comprising 18-20 soldiers flew across the LoC in the Uri sector in military helicopters and reportedly carried out an operation that killed at least 20 suspected terrorists across three terror camps in Pakistan Occupied Kashmir (PoK).
Total casualties, including those injured by terrorists, could be as high as 200, sources said.
Military sources revealed to The Quint, which confirmed this information from two other independent sources, that the operation happened during the intervening hours of 20 September and 21 September.
Indications that the Indian Special Forces struck across LoC came in the form of Pakistan declaring a no-fly zone over PoK on 20 September night.
Pakistan's national flag carrier Pakistan International Airlines (PIA) had cancelled flights to northern Pakistani cities, including to Gilgit and Skardu in Pakistan Occupied Kashmir, due to "air space restrictions".
PIA called off flights to Gilgit and Skardu in Gilgit-Baltistan region in Pakistan- occupied-Kashmir (PoK) and Chitral in Khyber-Pakhtunkhwa province.
PIA spokesperson Danyal Gilani had tweeted this information late Tuesday evening.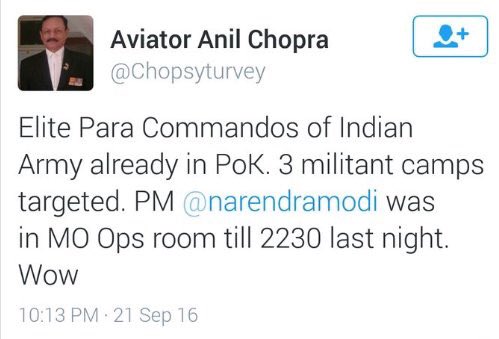 Companies of 2 and 9 Para Special Forces conducted ops

— Sumann Sharrma (@SumannSharrma) September 21, 2016
Waiting for more details.. Jai Hind
To crack SSB and AFSB Interview get "Let's Crack SSB Interview" Book from Amazon. Trusted by thousands of defence aspirants
Also Download Helpful eBooks: