The traffic on the road was slowly picking up the numbers. Most signal lights were still orange. Newspaper hawkers were exhibiting their speed skills in despatching sorted-out bundles. Soon after descending one of the Bangalore's famous flyovers, you would find a simple gate painted in maroon. There are no boards. It is still darkness and gun-toting soldiers check the credentials to ensure that they are letting in the right man.You have just entered a Special Forces (SF) unit of Indian Army, an elite group, operating out of one of the oldest erstwhile military farms in the country. It was around 5.45 am and the SF boys were all lining up for the roll call. "We are called Predators, a very fascinating nickname. In 15 minutes, we will begin the Predators' PT," the Commanding Officer (CO) of the unit, who did not want to be named, told Express. At 6 am, with no sign of sunrise yet, the Predators began their PT sessions. "You cannot be a passenger in SF. It is a voluntary job, but we demand the best out of the boys. We push them beyond their limits," says the CO. The training is split into three modules: physical, skill (basic/ advance)  and collective.
A volunteer  assignment: Bangalore's chilly weather was definitely making the PT session tougher with longer time needed for the body to warm up. "Our main job is to convert a soldier into a SF operative. We have a three-month probation capsule, which is really tough. We also focus the knowledge levels of the solider. Only soldiers can volunteer to join SF, and we don't recruit civilians directly," says the CO. During the probation period, there's no difference between an officer and a soldier. A solider has to go through a mutual assessment process, Hell's Week and weapon training. Hell's Week is the most-dreaded seven-day training period, packed with modules that will make the faint-hearted give up the SF dream. "Only 10 out of 40 are finally selected. The best of the best are earmarked for Special Operations. We also give exposure to the training patters of armies of other countries as well," he said.
The rejection rate in SF is relatively high as the selected soldiers, who are physically good, mentally sharp and really intelligent, need to be a complete team players as well. "Last year, we had 12 officers who volunteered to be in SF and only three fit the bill after the probation. The selection process happens every quarter and there are no set numbers that come in. Some times, all the 10 people who join get rejected. It depends on the quality of the batch received. On an average 30-40 per cent is our  selection rate," the CO said.
Intensity matters: When asked about the minimum height a solider requires to become an SF operative, an officer posted at the unit said, laughing: "It is not the size that matters, but the intensity that counts in a fight. The acceptable standard set by all recruiting agencies throughout India for normal soldiers is our limit as well (157.5 cm). And the hill tribes get further relaxation."
The most unique part of the training is the Tyre PT, with huge trucks need to be lifted by a buddy pair  a number times.  There are no set rules that if a man does 'X' number of push ups, he becomes a SF guy. There are certain mandatory tests specific to his arm strength (vertical rope, horizontal rope) which he needs to pass. A soldier below 30 years needs to run 5 km with battle load (rifle + 3.2 kg load) in 23 minutes. Two minutes are added for those between 30-40 age and five minutes for those above 45 years.
A soldier need to sprint 60 meters with same load in less than 13 seconds and also climb 10 meters vertical rope and traverse a horizontal rope. He also needs to clear a nine-foot ditch in battle gear. Finally, he needs to run 20 km with rifle and 18.5 kg load in less than 2 hours 20 minutes; 30 km in less than 3 hours and 40 min and 40 km in less than 5 hours and 40 minutes to fulfil some of the selection criteria.
Advanced firing styles: Once selected, a soldier gets advanced training in urban operations, room intervention and weapon firing. Even the physical training modes gradually get on to the toughest grades. While the officials refused to talk about the weapon training sessions, soldiers who have passed the SF route said that the most-advanced style of firing is taught. Training is given in firing with both hands, and using different kinds of weapons simultaneously. An SF operative is trained extensively on rifles, pistols, snipers, LMGs, MMGs, ATGMs and missiles and can even  strip his weapon blind folded.
An SF squad roughly constitutes six members and they include specialists in demolition, navigation, communication, medicine and weapon, with the sixth man being the commander with outstanding leadership qualities. "Our modes of insertions vary from a freefall from an aircraft, para jumping, slithering and even by sea route. We also need to sharpen our language and culture skills," says an officer.
Romancing the SF: Lt Ankur Sharma, hailing from Solan in Himachal Pradesh, has just begun his probation period. The 23-year-old from Corps of Signal holds a B Tech in Telecommunication and IT. "In my college days I was really good in running and after joining the Army, I was attracted towards the SF as I found them physically solid. If I get through, I am hoping to get good exposure,' says Ankur, whose father is in the textile industry and mother looking after the household chores.
Gunner Veeranna M is from Karnataka's Dharwad and comes from a family of farmers. He has 3 brothers and two sisters. "I have always  been a fearless guy. I want to put my best foot forward and see if I can convert my brave instincts into getting an SF assignment. It is tough, but I think I will make it," says Veeranna. Similarly, Lt S Shaym, the 22-year-old from North-East, believes that being in SF is the best. "Best equipment and best men around. My ultimate dream is to become a good Army officer," says Shyam.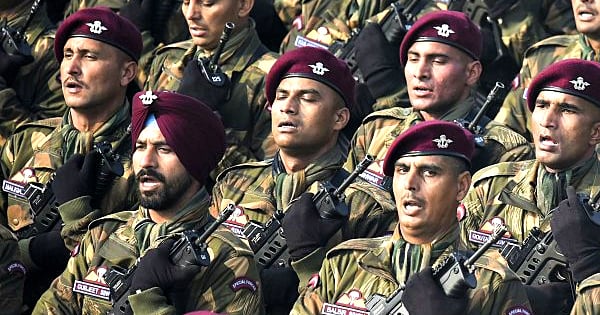 Non-stop training: Every SF soldier needs to be proficient in martial arts and they are trained in PKTE, a Pilipino-based aggressive self-defence form. Once the probation period is cleared, a solider will have to undertake para jumps once a year. These jumps are run in Hoskotekere, near Bangalore and also in Central India. "Once, you clear the probation period successfully, you earn the right to wear the Maroon Beret cap. "It's a great sense of pride wearing the Maroon Beret. Not all soldiers are lucky to have this. The units izath (pride) becomes part of your life, because only you would know how much you had to push the body to earn the Maroon Beret," says the CO.
Training is one thing which never stops in SF. After successful completion of basic and mandatory courses, individuals are further put through a selection procedure for further specialist training in High Altitude warfare, Jungle warfare, Covert and clandestine operations, hostage rescue apart from other specialist operations. "The philosophy of the training is 'Specialisation to the Core.' The wastage ratio is very high in SF because professional requirements are very high and it is a well known fact that SF cannot be mass produced. They are the chosen few, because they are the Predators,"  adds the CO.
As the boys assembled at the PT ground in the evening for their scheduled games, the setting sun spewed some dying strokes straight onto a small hillock inside the military base. The hillock had a message painted on it, which read: Skill x Will x Drill = Kill.
The traffic on the flyover reminded that you will need only one gear to drive, making a mockery of some of the most advanced driving systems inside your car. It was pitch dark once again and, the Predators were seen slowly disappearing into the darkness.
Copyright@The New Indian Express
Download: