The Indian Navy is a fast modernising organisation. Unlike Air Force and Army, the sea-warriors are the only ones who get to enjoy flying, sailing and fighting all at the same time be it in INA or INS Vikrant with top-class fighting machines. And top fighting machines require top-notch officers who can guarantee its safety and show a green card for its induction in the Navy. If you believe you are the one who can suit this duty, then it's your time to apply for Navy's Naval Armament Inspection Cadre (NAIC), the course for which will start from June 2017 in INA, Eazhimala.
DATE OF OPENING – 19 Nov 2016
LAST DATE FOR ONLINE APPLICATION – 09 Dec 2016
LAST DATE FOR SUBMISSION OF APPLICATION – 19 Dec 2016
What is expected from you in NAIC?
As a Naval Armament Inspection officer, you will be responsible for inspection of the armament supplied to the Navy by various agencies. You will also be responsible for in-house Research & Development, leading to indigenisation, and will have to ensure the quality, safety and reliability of Naval Armament and Stores procured by the Navy. In no other career, an officer gets exposed to such a wide spectrum of opportunities to keep abreast of modern and latest technological development in the field of armament.
Eligibility:
Unmarried Candidates
Male (Men Only)
Indian Citizens
Aged between 19½ – 25 years (born between 02 Jul 1992 and 01 Jan 1998; both dates inclusive)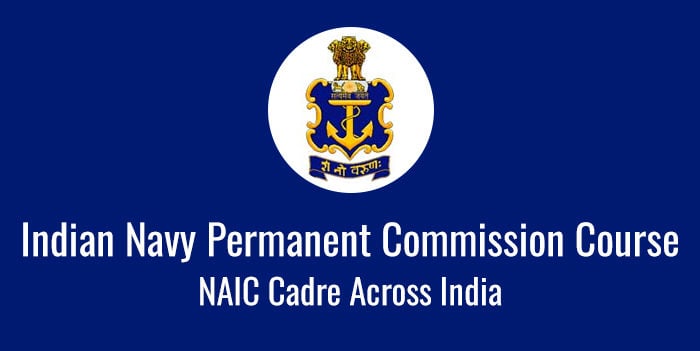 Educational Qualifications:
Passed BE/B.Tech degree or in the final year of Engineering Course in any of the streams:
Mechanical
Electrical
Electronics
Production
Instrumentation
IT
Chemical Metallurgy
Aerospace Engineering
Minimum 60% aggregate marks till V semester and a minimum of 60% overall aggregate on completion of BE/B.Tech.
How to Apply For Naval Armament Inspection Cadre (NAIC):
Visit www.joinindiannavy.gov.in and click on Apply Online Officer Entry on the Home Page. Click on Apply Now under "PERMANENT COMMISSIONED OFFICER IN NAVAL ARMAMENT INSPECTION CADRE – Jun 2017"
Fill the online registration form. Tips to assist in filling up fields have been provided as you highlight each field.
After filling the form click on Preview and check if all the information entered by you is correct as you will not be able to make any corrections after saving the record.
Candidates can take the print of the application form by entering the relevant details.
Print two copies of the online Application Form having the system generated Application Number.
Paste recent passport size colour photograph at the space provided and self-attest the same.
One copy of this Application Form is to be duly signed and mailed (posted) to Post Box No. 02, Sarojini Nagar PO, New Delhi – 110 023 along with the following documents:
Self-attested photograph
Self-attested photo copies of 10th & 12th class certificates along with Mark Sheets, other educational certificates and mark sheets of all semester/years.
In the case of CGPA, the candidate is required to attach a certificate issued by the university for conversion of CGPA into the percentage.
Application to be sent by ordinary post only. Speed post/courier and a Registered post will not be accepted.
A superscription is to be made on envelope as follows:
ONLINE APPLICATION NO. ______
APPLICATION for Pilot/NAIC JUN 2017 COURSE
Qualification______ Percentage _____%
NCC 'C' Yes/No
Application and requisite enclosures must be properly tagged/stapled; IHQ MoD (Navy) will not be responsible for the loss of enclosures, if sent loose.
Shortlisting and SSB:
The Navy reserves the right to set cut-off percentage for the entry. The shortlisted candidates will be called up for SSB at any of the Naval Selection Boards based on their percentages.
To crack SSB and AFSB Interview get "Let's Crack SSB Interview" Book from Amazon. Trusted by thousands of defence aspirants
Also Download Helpful eBooks: