India has a coast line of about 7500 km and an Exclusive Economic Zone (EEZ) of over 2 million sq kms. In addition, we are endowed with abundant oceanic wealth comprising a large number of island territories and vast sea bed area, over 97 % of our national trade is carried by sea routes! We must protect our natural wealth and keep our trade routes open in order to progress and per. It is therefore, imperative that Indian Navy is always in a high state of preparedness.
Be it any festive or celebration, Indian Navy has always been there for us to protect India's largest border from Gujrat to West Bengal. Let us look back on what the Indian Navy has done for us this year and be ever thankful to our men in whites:
Naval Exercises
Ex Taiyaar-17:
Conducted in Jan 17, the exercise is an annual feature which allows the Naval Commands to fully prepare and exercise transition from a state of peace to one of hostilities and address any shortcomings that may be encountered. Various facets that were exercised included Op logistics, action stripping, Mine & War watching organisation, deployments by Fast Intercepter Crafts (FICs), acceleration of Refit etc.
TROPEX-17:
A Theatre Level Operational Exercise – TROPEX 17, was conducted on the Western Seaboard in Jan-Feb 17. Extensive participation of Army, Air force and the Coast Guard, including Marine Commandos (MARCOS) and Para Special Force (SF) was the highlight of this year's exercise.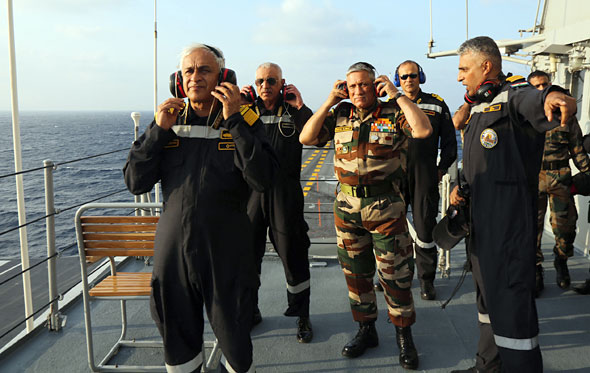 Joint Amphibious Workup:
Joint amphibious workup by Indian Navy and Indian Army was conducted from 19 – 31 Mar 17 off Karwar. Indian Naval ships Jalashwa and Gharial along with over 1000 personnel of 91 Infantry Brigade of Army participated in the exercise.
Exercise PARIKSHAN:
Western Naval Command conducted operational level Table Top Tri-Service wargame titled 'Exercise PARIKSHAN' from 07-09 Aug 17. Representatives from Naval Headquarters, and operational commands of the Army and Air Force in the region also participated in the wargame.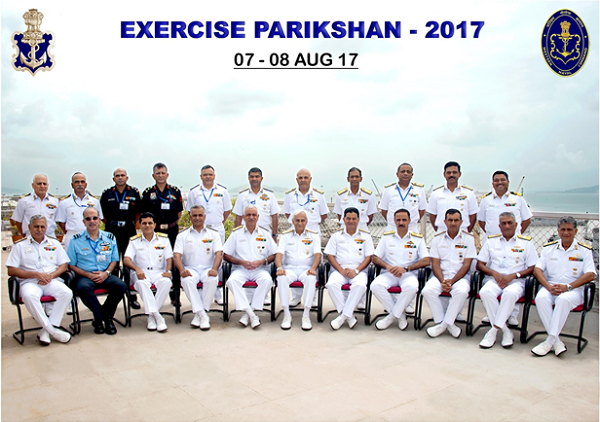 DANX – 17:
The Joint Services Exercise 'Defence of Andaman and Nicobar Exercise' (DANX-17) was conducted in Andaman & Nicobar Command from 20-25 Nov 17. IN/ICG Ships, IN/IAF/ICG aircraft and Army troops from ANC and other Commands of IN, IA & IAF participated in the exercise. The successful conduct of the exercise proved unparalleled synergy achieved at ANC between the three services.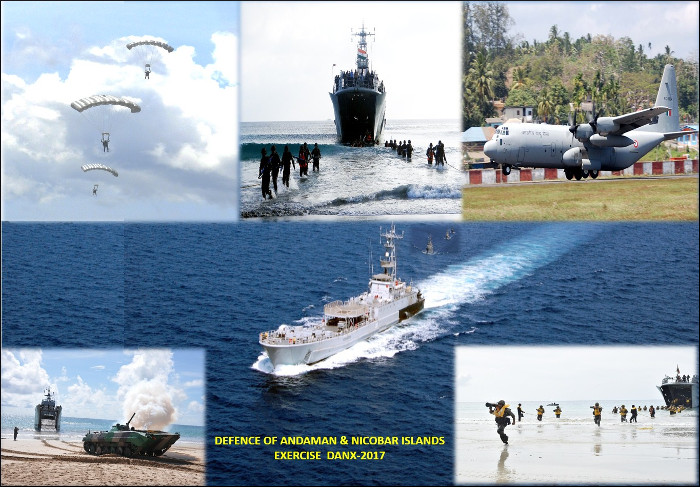 International Exercises:
Exercise MALABAR 2017:
The 21st edition of Ex Malabar was conducted off the port of the East Coast of India from 09-17 Jul 17. IN, US Navy and the Japan Maritime Self – Defence Force (JMSDF) participated in the exercise. The primary objective of the exercise was to enhance maritime cooperation and interoperability amongst the participating navies. A total of 16 ships, 02 submarines, 95 aircraft, Marine Commandos (MARCOs) and Special Forces (SFs) participated in the exercise.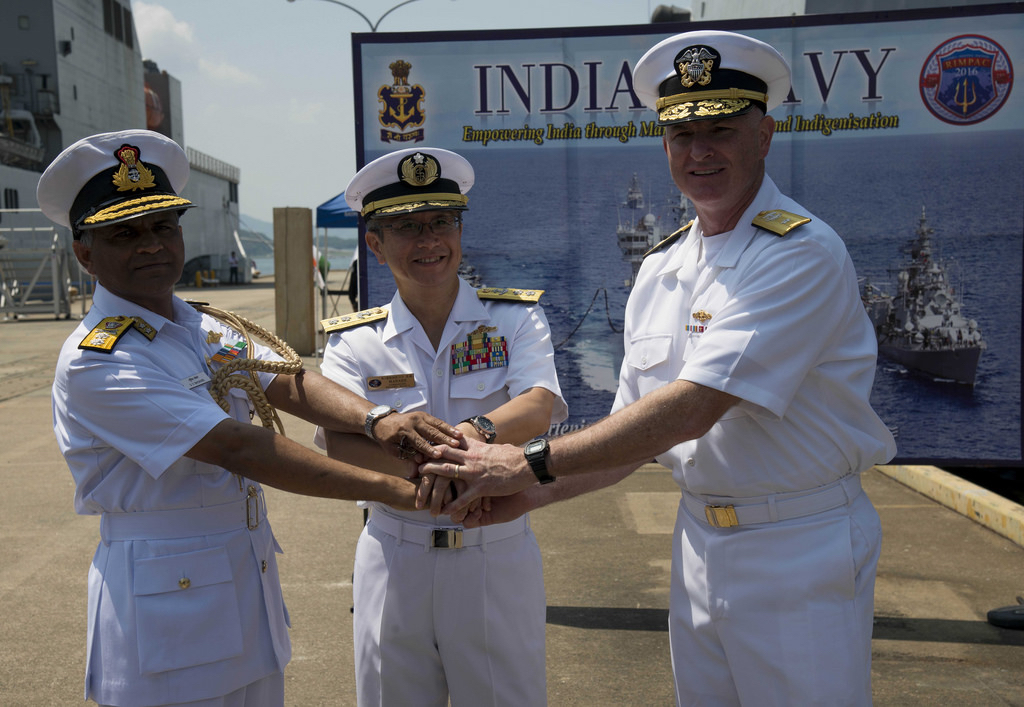 VARUNA 17:
The Western Fleet ships participated in bilateral exercise VARUNA 17 with French Navy in Apr 17 off Toulon, France. INS Trishul, Mumbai and Aditya along with integral helicopters, participated in the Exercise.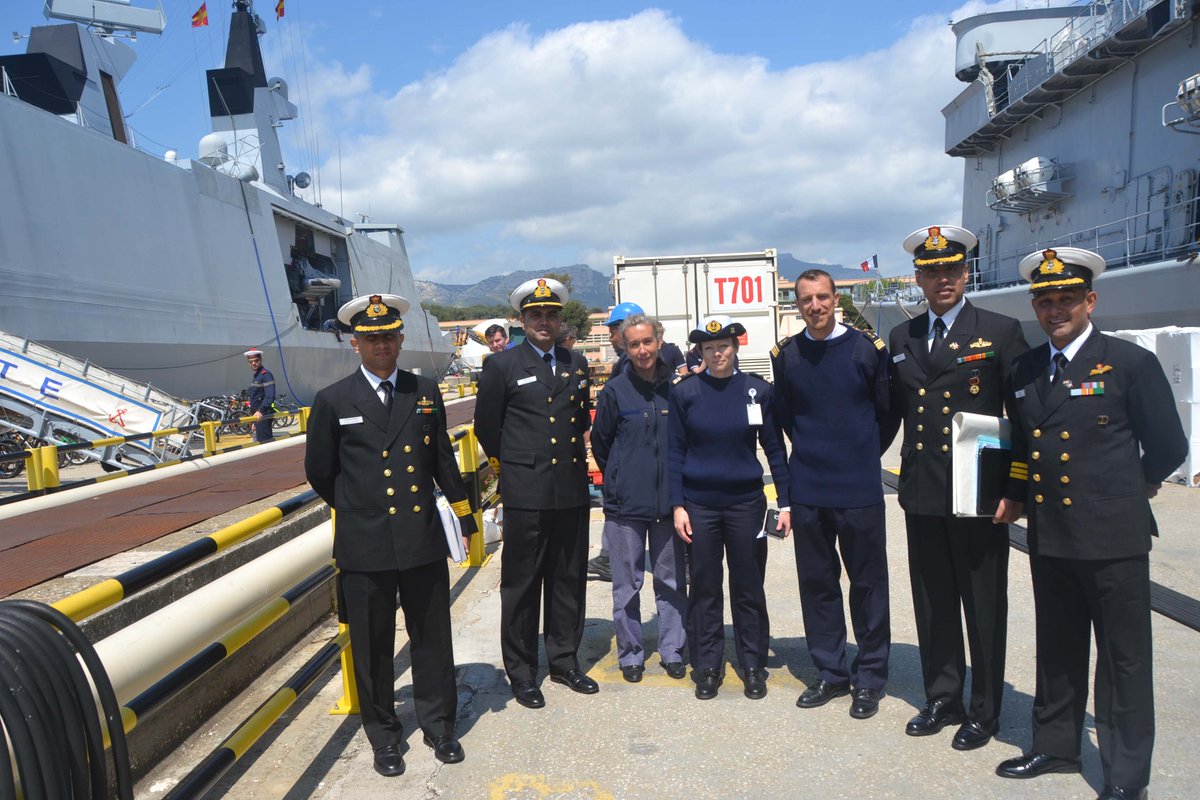 KONKAN 17:
INS Tarkash participated in bilateral Exercise Konkan 17 with Royal Navy in May 17 off UK. Ship visited Plymouth and London during the exercise and also participated in HMS Tricomalee Bi-centenary year celebrations and cultural events at London as part of 'India-UK Year of Culture'.
Exercise SIMBEX:
Ex – SIMBEX, the annual bilateral exercise with Republic of Singapore Navy was conducted at Singapore from 12 – 21 May 17. IN ships Shivalik, Sahyadri, Kamorta and Jyoti participated in the exercise. The ships also participated in the International Maritime Defence Exhibition during the period.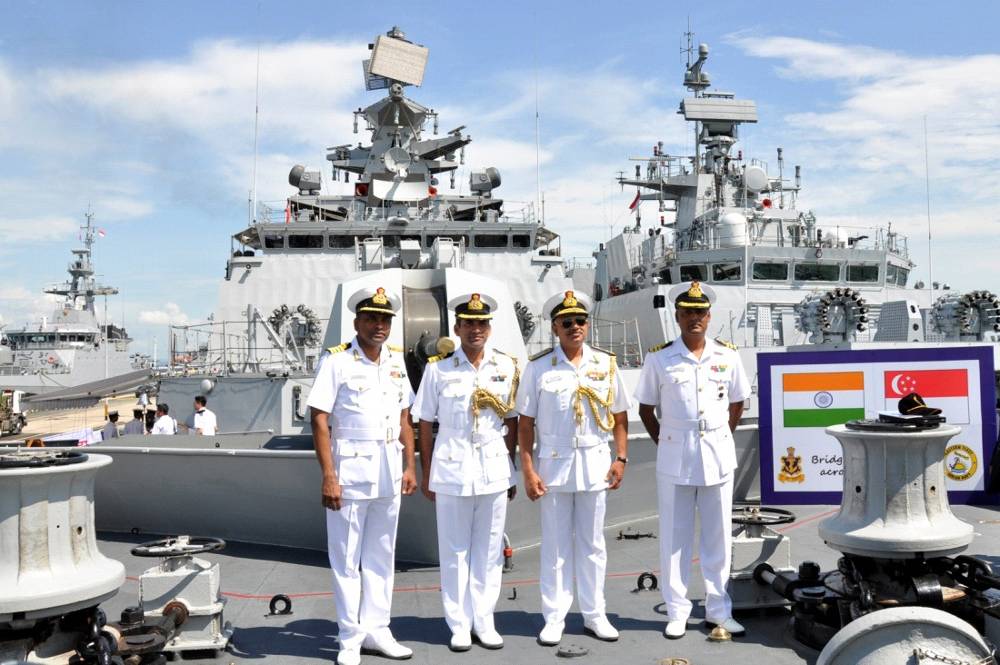 Exercise Indra 2017:
Indo-Russia Joint Tri-Services Exercise INDRA-17 was conducted off Vladivostok, Russian Federation from 19-29 Oct 17. This was the first ever Tri-Services bilateral military exercise between the two countries. The Naval Operations of exercise were conducted off Vladivostok in the Sea of Japan (Peter the Great Bay). The amphibious operations were conducted at Cape Klerk, about 30 nm SW of Vladivostok.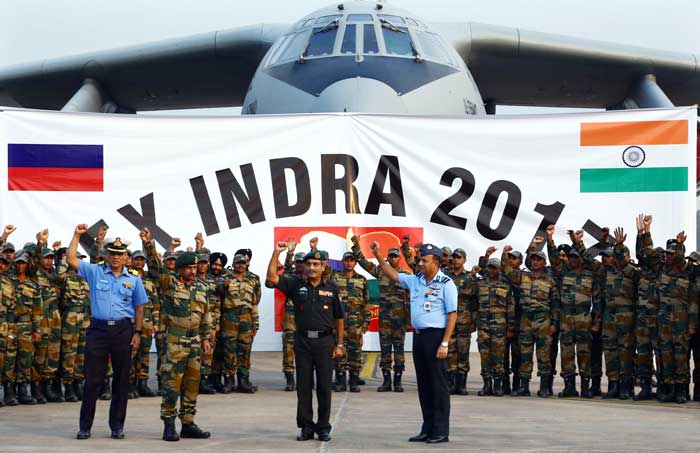 AUSINDEX 2017:
The second edition of biennial Australia-India Maritime Bilateral Exercise (AUSINDEX) was conducted at/ off Fremantle, Australia. The exercise was conducted from 13-19 Jun 17. The Harbour Phase of AUSINDEX-17 was conducted at Fremantle (HMAS Stirling) from 13-16 Jun 17. The Sea Phase was conducted off West coast of Australia in the Western Australia Exercise Areas (WAXA) from 17-19 Jun 17.
SLINEX 17:
The Eastern Naval Command hosted Sri Lanka-India Naval Exercise, SLINEX 17, from 07-14 Sep 17. Srilanka Naval Ships Sayura and Sagara and IN Ships Gharial and Kora participated in the exercise. Harbour phase included various training interactions. The Sea phase was conducted from 11-14 Sep 17.
Anti-Piracy Operations
SagarKavach:
Coastal security exercises 'SagarKavach' were conducted throughout the year.

Op Avloka:
Indian Naval ships are being deployed for Op Avloka (off Gujarat and Maharashtra coast) for coastal surveillance during the monsoons since 2010, to undertake coastal surveillance.
Op Avardhan:
Indian Naval aircraft are deployed for Op Avardhan to maintain continuous aerial coastal surveillance of the West coast of India including L&M Islands. Similar sorties are also undertaken in the East coast and the A&N Islands to augment coastal surveillance along with Indian Naval ships.
Anti-Piracy Patrol:
As part of its wider role of providing security to shipping in the Indian Ocean Region, the Indian Navy continues to deploy one ship for anti-piracy patrol in the Gulf of Aden. A total of 65 IN warships have been deployed till Dec 17, which have safely escorted more than 3788 (including 405 Indian flagged) ships with over 24,858 mariners embarked. Till date the IN has thwarted 44 piracy attempts and apprehended 120 pirates. The IN remains committed to ensuring Good Order at sea in the Indian maritime zones, and towards ensuring freedom of navigation in the high seas including off Somalia. IN's presence in this region is being maintained to ensure safety and security of Indian trade.
Hijacking of Al – Kausar:
An Indian dhow, AlKausar was hijacked on 01 Apr 17. IN ship Sharda, deployed for anti – piracy patrol in the Gulf of Aden since 06 Apr 17, was diverted off Hobyo, Somalia to monitor the situation and render necessary assistance to the dhow. On release after negotiations, Al Kausar was safely escorted by Sharda to Kismayo, Somalia. During the passage to Kismayo, the dhow was approached by two skiffs; however, Sharda prevented any further incident.
Piracy Attack on Bulk Carrier OS35:
In another incident of piracy attack, a Bulk Carrier, OS 35 (with 19 Filipino crew onboard) reported piracy attack on 08 Apr 17. IN ships Mumbai, Tarkash, Trishul and Aditya operating in the area were diverted to provide assistance. PLA (N) ship was also in the area. IN undertook continuous aerial surveillance to sanitise the upper decks of the merchant ship and one Prahar was made stand-by. Under the aerial surveillance of the IN helo and on receiving 'all clear signal' from the IN that no pirates were visible on the upper decks, PLA(N) personnel boarded the ship. It was ascertained that pirates had abandoned/ fled the ship.
Suspicious Skiffs:
On 16 May 17, based on an alarm raised by Merchant Vessel Lord Mountbatten, Sharda apprehended two mother boats along with 7-8 skiffs. Ship undertook boarding and search operations, during which arms and ammunition were confiscated and thereafter boats were released in absence of any other piracy triggers.
MV JagAmar:
Whilst escorting Indian flagged vessel MV JagAmar (with 26 Indian crew onboard) in the Gulf of Aden on 06 Oct 17, INS Trishul detected a pirate boat carrying out manoeuvres in the vicinity of the merchant vessel. Trishul closed the boat for investigation and launched her helicopter (with sniper embarked) towards the boat immediately. Under the surveillance of the helicopter, ship's boat with Prahar (Marine Commandos) boarded the pirate boat. All the piracy triggers including the AK 56 with rounds were confiscated by the ship's boarding team to prevent any piratical action by the boat crew. All Indian crew onboard MV Jag Amar was safe and the merchant vessel safely proceeded to her next port of call.