War Memorial Boys and Girls Hostel at village DandaLakhond, Dehradun was inaugurated in a grand ceremony by Honorable Chief Minister of Uttrakhand Shri Trivendra Singh Rawat on 18 March 2018. The ceremony was also attended by General Bipin Rawat.
On this auspicious occasion several senior officers from the Indian Army, civil administration of Uttarakhand, representatives from corporate companies who donated funds for the construction and furnishing of the project, army veterans from Dehradun and many other dignitaries were present.
The function commenced with a keynote speech by Lt Gen Sarath Chand, Vice Chief of Army Staff and Colonel of the Garhwal Rifles and Garhwal Scouts followed by a speech by the Honourable Chief Minister of Uttrakhand. The gathering was then addressed by the Chief of the Army Staff and other dignitaries.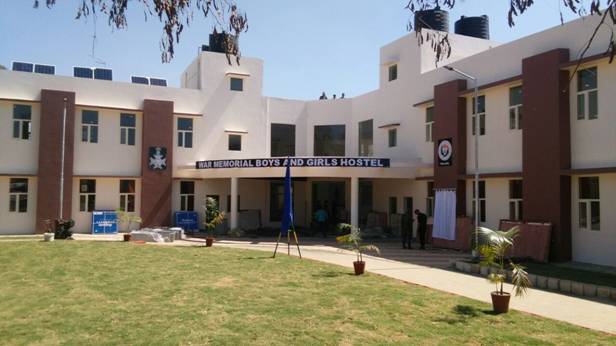 About the Hostel:
The Garhwal Rifles War Memorial Boys and Girls Hostel at Lansdowne exist since 1980.
With changing times, to give level playing platform to children of all ranks of the regiment in terms of modern education and all-round development, the need was felt to shift the hostel to Dehradun.
Conforming to the Army's vision of 'Quality Education at Affordable Cost' in education institutes under its patronage, the idea for constructing a new WMBGH at Dehradun with modern amenities was conceived by Lt Gen Sarath Chand in 2011 and was overwhelmingly supported by the Garhwal fraternity.
The hostel has been constructed on 4.18 acres of land donated by the Uttrakhand State Government under the stewardship of then Chief Minister Major General BC Khanduri (retired).
The Bhoomi Pujan was conducted on 09th September 2016 in presence of the Colonel of the Regiment and the construction commenced since then.
The hostel constructed at the cost of Rs 10.28 Cr has state of the art boarding and lodging facilities for 125 boys and 125 girls starting from 5th standard to 12th standard.
This project has been executed through the generous contribution of 2.5 Crores from Uttrakhand State Government and remaining from various headquarters of the Army. A number of corporate houses and Regimental Officers have also contributed generously towards construction, providing amenities and furnishing the facility.
It has bus facility for conveyance to schools, round the clock security, in-house medical facilities including doctor on call, recreation facilities including indoor and outdoor sports, personality development classes, fully stocked library, tuition facilities, audio-visual room and computer lab, coaching for professional exams, career counselling session and assistance in admission in reputed schools of Dehradun.
The fees structure of the hostel has been designed keeping in mind the educational allowances and hostel grants entitled to the wards of Martyrs, Veer Naris, serving soldiers and ex-servicemen of the Indian Army.
The approximate fees of the hostel inclusive of all the listed facilities would be Rupees 88,800/- to Rupees 95,400/-. The vacancies are reserved for wards of Martyrs, Veer Naris, serving soldiers and ex-servicemen who are a domiciled resident of Uttarakhand.
If you are from Uttarakhand or know someone who is a ward of Martyr, Veer Nari, Serving/Retired soldiers, let them know about this initiative to benefit them. – PIB