Indian Rivers General Knowledge eBook contains detailed theory, facts, data and GK questions and answers on Indian River System, in this ebook you will find easy to remember data based on Indian rivers and MCQs related to Indian river system which you may face in exams like UPSC IAS,IPS, IES, IFS, CDS, NDA, AFCAT, State-PSC, SSC, Railways and other competitive examinations.
Contains:
Facts about Indian Rivers
Rivers and Cities of India
Rivers and Dams in India
Rivers and their Origins
Indian Rivers and Tributaries
Ancient Names of Rivers
Rivers and places of confluence
Facts about World Rivers
Cities and Rivers of the World
Mouths of Rivers of the World
Terminology related to Rivers
Himalayan Vs Peninsular Rivers
Indian Rivers MCQs Solved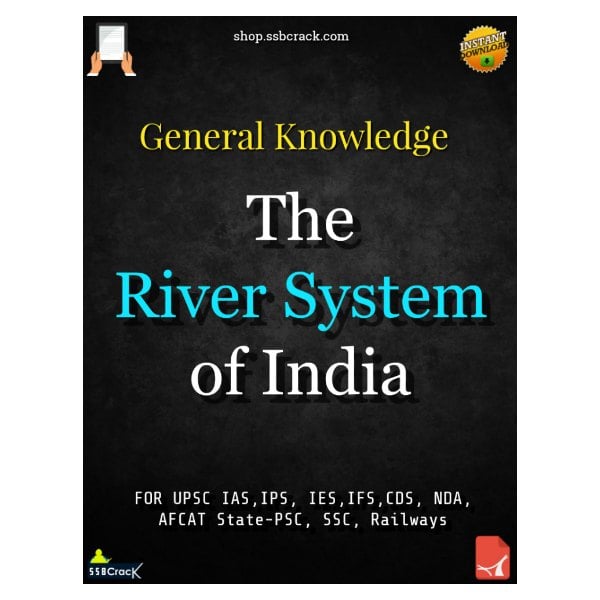 Facts to Remember on Indian Rivers
General Facts on Indian Rivers
The river system of India can be classified into four groups – 1. Himalayan rivers 2. Deccan (Peninsular) rivers 3. Coastal rivers and 4. Rivers of inland water drainage.
Luni, Machhu, Banas, Rupen, Saraswati and Ghagghar are examples of rivers with inland water drainage, i.e. they do not empty into the ocean but get lost into the sand.
Subarnarekha, Vamsadhara, Nagavali, Vaigai, Netravati and Sharavati are examples of coastal rivers.
The longest flowing river in India is the Ganges or Ganga followed by Godavari, Yamuna, Krishna and Narmada.
The longest river which flows through India is the Indus which originates in Tibet and enters Pakistan before flowing into the Arabian Sea.
The Ganges is also known as the Bhagirathi since King Bhagirath was responsible for bringing it from the heavens to the earth. The part of the River Ganga which flows into Bangladesh is known as Padma.
Most of the Indian rivers flow into the Bay of Bengal but some like Narmada,Tapti, Netravathi and Periyar flow into the Arabian Sea.
Five rivers of erstwhile Punjab are Sutlej, Ravi, Beas, Jhelum and Chenab
The river also known as Dakshin Ganga is Godavari
The Brahmaputra is known as Yarlung Tsangpo in Tibet and as Dihang in Arunachal Pradesh. The Brahmaputra river is known as Jomuna in Bangladesh.
The river known as Singi Khamban (Lion's mouth) in Tibet River Indus
The river known as Bengal's sorrow is River Damodar
Prayag or Allahabad is believed to be the confluence (sangam) of these rivers Ganga, Yamuna and the mythical Saraswati
The number of Indian rivers which have been classified as major rivers by the Government is Twelve.
There are three Trans-Himalayan rivers which originate in the high Tibetan Plateau and cut across the mighty Himalayan ranges. Indus, Brahmaputra, and Sutlej.
Cities and Rivers
| | | |
| --- | --- | --- |
| # | City (India) | River |
| 1. | Delhi | Yamuna |
| 2. | Agra | Yamuna |
| 3. | Patna | Ganga |
| 4. | Haridwar | Ganga |
| 5. | Allahabad | confluence of Ganga and Yamuna |
| 6. | Varanasi | Ganga |
| 7. | Guwahati | Brahmaputra |
| 8. | Kanpur | Ganga |
| 9. | Jabalpur | Narmada |
| 10. | Bharuch | Narmada |
| 11. | Lucknow | Gomti |
| 12. | Hyderabad | Musi |
| 13. | Nasik | Godavari |
| 14. | Srinagar | Jhelum |
| 15. | Vijayawada | Krishna |
| 16. | Kolkata | Hooghly |
| 17. | Ahmedabad | Sabarmati |
| 18. | Surat | Tapti |
| 19. | Thiruchirapalli | Cauveri |
| 20. | Cuttack | Mahanadi |
| 21. | Ayodhya | Saryu |
| 22. | Ludhiana | Sutlej |
| 23. | Kullu | Beas |
| 24. | Ujjain | Kshipra |
| 25. | Hampi | Tungabhadra |
| 26. | Pune | Mutha |
| 27. | Vadodara | Vishwamitri |
| 28. | Madurai | Vaigai |
| 29. | Coimbatore | Noyyal |
| 30. | Gorakhpur | Rapti |
| 31. | Nellore | Penna |
| 32. | Kurnool | Tungabhadra |
| 33. | Durgapur | Damodar |
| 34. | Jammu | Tawi |
Amarkantak an important Peninsular river is in the state of
Gujarat
Madhya Pradesh
Maharashtra
Rajasthan
Answer : B. Madhya Pradesh
Name the largest river in south India
Godavari
Krishna
Cauvery
Mahanadi
Answer : A. Godavari
Which river is called "Bengal's sorrow"?
Yamuna
Damodhar
Narmada
Tapti
Answer : B. Damodhar
Which of the following rivers in India is shared by large number of states?
Mahanathi
Krishna
Cauvery
Godavari
Answer : D. Godavari
The Narmada river rises near
Amarkantak
Nagpur
Abu
Betul
Answer : A. Amarkantak
Match list I correctly with list II and select your answer using the codes given below:
List I (Rivers) List II (Water Fall)
a) Tambarabarani 1) Kapildhara
b) Saravathi 2) Hogenakal
c) Narmadha 3) Banatirtham
d) Cauvery 4) Jog
4 3 2 1
3 1 4 2
2 1 4 3
3 4 1 2
Answer : D. 3 4 1 2
Which indian state is known a land of five rivers?
Uttar Pradesh
Punjab
Haryana
Gujarat
Answer : B. Punjab
River wardha is the tributary of
Godavari
Krishna
Narmada
Sabarmathi
Answer : A. Godavari
The longest river in the world is
Cauvery
Congo
Nile
Ganga
Answer : C. Nile
Which of the following rivers is NOT a tributary of the Ganga?
Gomathi
Gandak
Kosi
Chambal
Answer : D. Chambal (tributary of Yamuna)
Which river is called as the male river in India?
Godavari
Ganga
Brahmaputra
Cauvery
Answer : C. Brahmaputra
Chambal river flows through the states of
Maharashtra,Madhya pradesh and U.P.
U.P. ,Madhya Pradesh and Bihar
U.P. Madhya Pradesh and Rajasthan
U.P. Madhya Pradesh and Orissa
Answer : C. U.P. Madhya Pradesh and Rajasthan
The alternate name of river Brahmaputra is
Tista
Tsangpo
Gandak
Yamuna
Answer : B. Tsangpo
The Vaigai river rises in the
Agasthiyar hills
Cardamom hills
Kolli hills
Varusanadu Hills
Answer : B. Cardamom hills
Kolkata is situated on the banks of the river
Ganga
Hooghly
Krishna
Cauvery
Answer : B. Hooghly
India's longest perennial river is
Kaveri
Narmada
Tapti
Ganga
Answer : D. Ganga
Which river has its source outside of India?
Ravi
Beas
Jhelum
Brahmaputra
Answer : D. Brahmaputra
Which one of the following river flows into the Arabian sea?
Cauvery
Godavari
Ganga
Narmada
Answer : D. Narmada
West flowing rivers of Peninsular region are
Cauvery, Nethravathi
Vaigai, Tambarabarani
Krishna, Godavari
Naramada, Tapti
Answer : D. Naramada, Tapti
Which of the following river does not flow into Bay of Bengal?
Ganga
Krishna
Narmada
Godavari
Answer : C. Narmada
The multi purpose project on the river Sutlej is
Hirakud
Tungabhadra
Bhakra nangal
Ramganga
Answer : C. Bhakra nangal
Where is Agasthiar falls in Tamilnadu?
Coutralam
Kumarar kovil
Papanasam
Kalakkad
Answer : C. Papanasam
Which of the following rivers does NOT pass through Himachal Pradesh?
Beas
Chenab
Ravi
Sutlej
Answer : B. Chenab
Himalayan rivers are Perinial because
south-west monsoon gives rainfall
north-east monsson gives rainfall
melting of snow resulting in the flow of water
get rainfall through out the year
Answer : C. melting of snow resulting in the flow of water
The river basin which is called "Ruhr of India" is
Damodar
Hooghly
Suvarna Reka
Godavari
Answer : A. Damodar
The river Yamuna finally ends at
Bay of Bengal
Arabian Sea
Gulf of Cambay
Allahabad
Answer : D. Allahabad
Which river flows westwards?
Naramada
Godavari
Cauvery
Krishna
Answer : A. Naramada
Ahmedabad town is situated on the bank of river
Ganga
Sabarmati
Hooghly
Narmada
Answer : B. Sabarmati
Which pair is correctly matched?
Ayodhya – sabarmathi
cuttack- Narmada
Vijayawada – Krishna
Kolkata – Ganga
Answer : C. Vijayawada – Krishna
The river Ganges rises in
Lake Mansarovar
Gangotri
Badrinath
Mt.Kailash
Answer : B. Gangotri