Lance Naik Sandeep Singh, who was a soldier of 4 PARA that took part in surgical strikes against Pakistan in September 2016, killed three terrorists while saving his team members before being martyred in an encounter yesterday. The slain commando has been identified as Lance Naik Sandeep Singh (30) of the 4 Para unit. He had joined the Army in June 2007. The number of terrorists killed in the operation, which began along the LoC on Saturday afternoon, has gone up to five. Two unidentified terrorists were killed in the operation on Sunday.
He encountered three terrorists at close quarters and a fierce gunfight ensued in which Singh neutralised three terrorists at close range, and saved his team members from the deadly attack of the terrorists.
"During this daredevil act, he got injured, but he fought the terrorists as he sustained a gunshot wound in his head. He succumbed while he was being evacuated," the sources said. "Ignoring his personal safety and noticing that his squad was in danger, Sandeep Singh's gallant act resulted in the elimination of hardcore militants and safety of his own squad. A huge haul of weapons and war-like stores were seized from the terrorists," a top army official told Mirror.
He said Lance Naik Singh is survived by his wife and a five-year-old son. He said Lance Naik Singh was a member of the elite special forces which participated in the surgical strikes against Pakistan two years ago. "His body was brought back from Tangdhar sector on Monday afternoon," the officer said. An infiltration bid was foiled by Army in Tangier sector in which five terrorists were killed.
Defence spokesman in Srinagar, Colonel Rajesh Kalia, told Mirror that a gallant soldier was martyred in the operation. He said that two terrorists were killed on Sunday evening while three more were killed on Monday, thus taking the toll in the incident to five.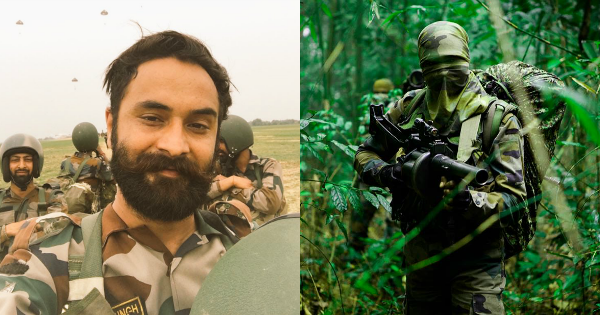 Indian Army had carried out surgical strikes on the intervening night of September 28-29, 2016 in Pakistan Occupied Kashmir, inflicting heavy casualties on terrorists, and heralding a change of stand on the rules of engagement on the disputed Line of Control. This action was seen as the retaliation of the Uri attack that claimed lives of 18 Army soldiers.