NDA II 2018 Question Papers [ORIGINAL] Answer Key | Solutions | PDF | Cut off. NDA 2 2018 exam was conducted by UPSC on 09 Sep 2018 at many exam centre across the country, many candidates have attempted the exam successfully and now they are waiting for the NDA 2 2018 result. Candidates who will clear the NDA exam will be facing SSB interview at one of the SSBs. According to many aspirants, the Maths paper was tough this time and GA was as usual. Below we are publishing the correct answer keys and question paper prepared by noted defence academies.
NDA SSB Interview Preparation Material [ 100% Recommended]
NDA 2 2018 Written Examination
Paper
Subject
Duration
Maximum Marks
I
Mathematics
2.5 hours
300
II
General Ability Test
2.5 hours
600
Total
900
NDA 2 2018 General Ability Test 
| | | |
| --- | --- | --- |
| Part | Subject | Maximum Marks |
| Part A | English | 200 |
| Part B | General Knowledge | 400 |
| | Total | 600 |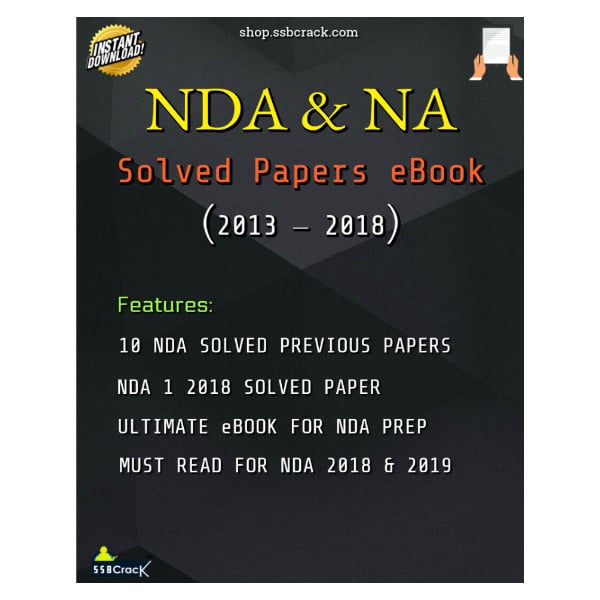 NDA 2 2018 Paper Pattern: Subject-wise distribution of marks
| | | |
| --- | --- | --- |
| S.No. | Subjects | Marks |
| 1. | Maths | 300 |
| 2. | English | 200 |
| 3. | Physics | 100 |
| 4. | Chemistry | 60 |
| 5. | General Science | 40 |
| 6. | History, Freedom Movement, etc. | 80 |
| 7. | Geography | 80 |
| 8. | Current Events | 40 |
NDA 2 2018 Maths Paper: According to many aspirants, the Maths paper was a little lengthy and difficult this time and most of them were not able to solve the question in time. It is said to be difficult than the previous year NDA Maths paper.
NDA 2 2018 GAT Paper: NDA general ability test question paper was easy this time as per many aspirants and most of the aspirants were able to answer enough questions to clear the sectional cut off.
NDA 2 2018 Question Paper PDF Download [Ignore the tick-marked on question papers]
Question Paper Submitted by: Yagyesh Sharma
NDA 2 Answer Key 2018. After Union Public Service Commission (UPSC) has conducted NDA/ NA (II) 2018 examination on Sep 09th, several coaching institutes will release NDA 2 2018 answer keys on the same day. Candidates appearing in the UPSC administered NDA examination can check here the answer key of NDA 2 2018 as released by the leading coaching institutions including Indus Academy, Baalnoi Academy, Cavalier, SSBCrack, and Minerva Academy. NDA answer key 2018 will mention correct answers to questions of the national defence academy and naval academy examination. NDA 2 2018 answer keys will be released for all sets of questions– A, B, C and D as given to NDA aspirants during the NDA written examination. Moreover, through these answer key of NDA 2 2018, candidates can check their subject-wise answers for Mathematics and General Ability tests.
NDA 2 2018 Answer Keys [All Sets] NDA 2 2018 was conducted on Sep 09th 2018, all candidates who have attended NDA (II) 2018 written test for which the course is commencing in National Defence Academy in 2019 must be waiting for NDA and NA (II) Exam 2018 Paper solution sheet NDA and NA key 2018, NDA 2 2018 Cut off Marks/answer sheet of NDA-2 2018 is being published on SSBCrack. Aspirants can have a look at the Answer keys for their NDA 2 2018 written exam, here of paper-1st and paper-2nd with set-a, set-b, set-c, set-d.
We have published the complete list of answers and keys for NDA 2 2018 exam. NDA (II) 2018 written exam, the answers key for all sets of NDA (II) 2018 exam are going to be mentioned at SSBCrack soon. You can also find the keys and cut off marks published by Indus Academy for NDA-2 answer sheet 2018 and NDA 2 2018 cut off. Check out your NDA-2 answer key 2018 very soon here.You can also download the NDA-2-2018 answer key from the link below. If you want to share or ask please do it in the comment box also share the correct answers if you find any glitch.
There are so many academics putting answers keys which candidates have reported as wrong, kindly refer to answer keys of good SSB academies only.
Keys will be updated soon.
NDA (II) 2018 Answer Keys By Baalnoi Academy
NDA (II) 2018 Maths Answer Key
NDA (II) 2018 General Ability Answer Key
NDA (II) 2018 Answer Keys By Kalshi
NDA (II) 2018 Answer Keys By Minerva Academy
NDA (II) 2018 Maths Answer Key
NDA (II) 2018 General Ability Answer Key
NDA (II) 2018 Answer Keys By Olive Green
NDA (II) 2018 Maths Answer Key
NDA (II) 2018 General Ability Answer Key
NDA 2 2018 Cut Off Marks
Please check your marks in NDA 2 2018 and post your marks below in the comment section to analyze your result.
Mathematics 300 and General ability 600. Total 900 marks
Cut off will be above 250 – 300 out of 900 this year in NDA 2 2018
About NDA 2 2018 Exam:
• The exam for NDA is among the toughest examinations in the country which is organized by the UPSC for the aspiring candidates.
• Owing to its high – level, this exam needs the dynamic preparation.
• This exam aims at selecting the most appropriate candidates for the National Defence academy.

About NDA 2 2018 Cutoff:
• First of all, the candidates need to know the exact definition of the cutoff. It is basically termed as the minimum qualifying marks which the candidates will have to obtain so as to join the next level of selection.
• It will be released either in the terms of marks or rank or both.
• It may be possible that the cutoff will be released category – wise i.e. different for different category applicants.
• Only those students who score more than or up to the NDA Cutoff 2018 are eligible for the ranking purpose and get the place in the merit list.
• Basically, it will be served as the first selection criteria which demarcate the number of students for the next round of selection.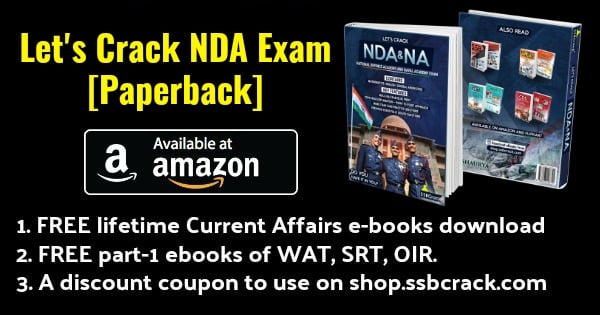 NDA Cut Off Marks Official 2014, 2015, 2016, 2017, 2018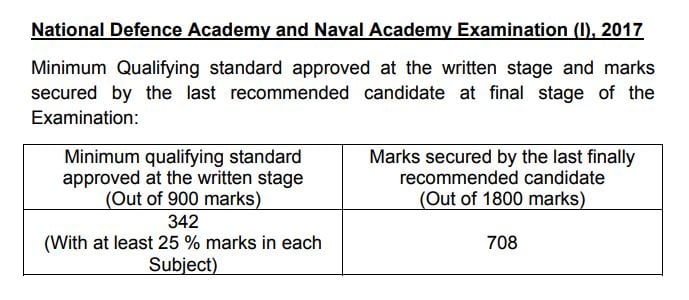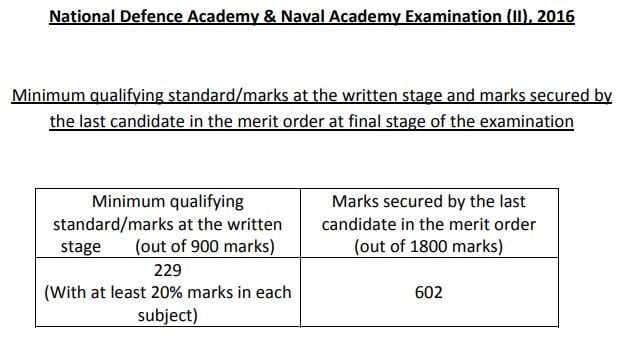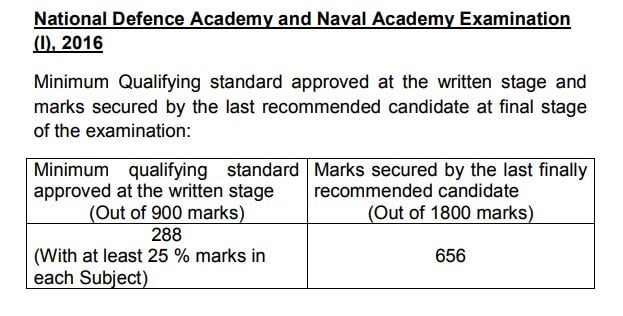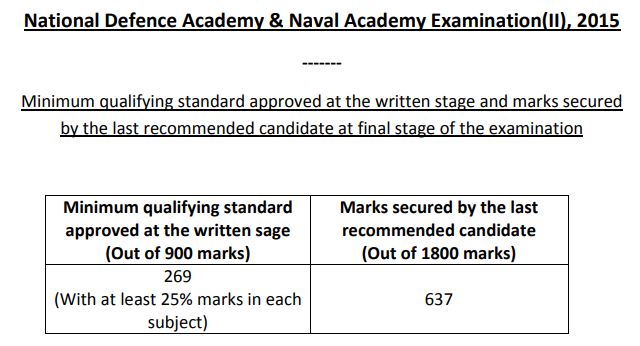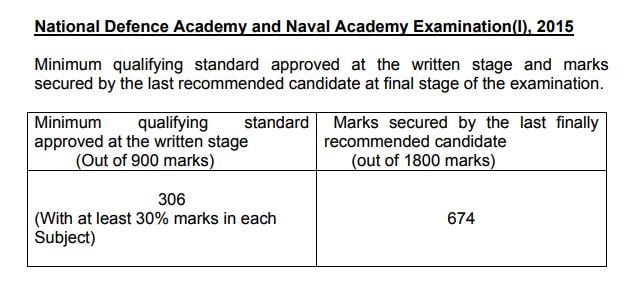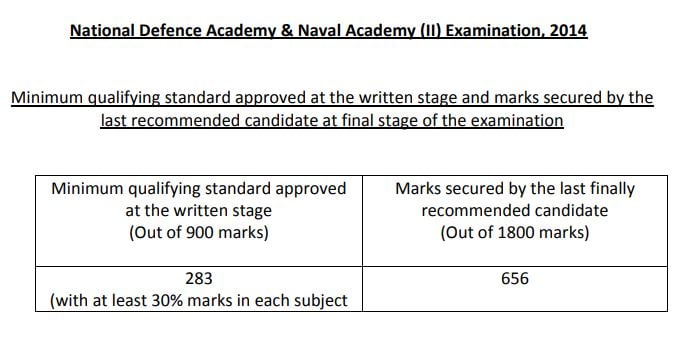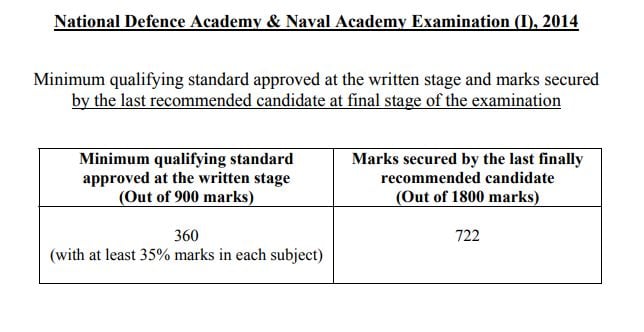 NDA 2 2018 cut off marks would go near 250-300 marks as per the trend.
NDA Cut Off Parameters:
• Before releasing the cutoff marks, the official authority will consider various important aspects.
• Several factors are involved in determining the cutoff marks. These parameters greatly influence the cutoff and make it totally unpredictable.
• For the sake of the knowledge, some of the factors are listed here for the candidates.
NDA 142 SSB Interview Dates: Result will be out within 2 months from the date of exams, the SSB interview dates will be selected by the successful candidates for the SSB interview.
Preparation Books for NDA 142: Shortlisted candidates will face the SSB interview directly, if you are sure about clearing the final cut off marks of NDA, you can straight away prepare for the SSB interview.
NDA 1 2018 Selection Procedure
Candidates will apply for NDA 1 2018 through UPSC website.
Candidates will be writing NDA 1 2018 written exam on 22nd April 2018.
UPSC will publish the NDA 1 2018 result of written exam in a month or two.
Candidates who will clear the written exam will get a SSB interview call letter.
Candidates who clears the 5 days SSB interview will go for 2 weeks medical examinations.
Candidates who are medically fit and find their name in the merit list will get the joining instructions based on the order of merit.