My name is AKSHAY WAKHARE. I did my 12th class from Army Public School Ambala Cantt in 2019. I got recommended from 2AFSB Mysore on 2 FEB 2019 for NDA 142 course. I cleared my medicals and got AIR 52 securing 876 marks. So talking about my SSB, I reached Mysore on 28 JAN 2019 2:00 am and reported at AFSB at 6:00 a.m. I was a little homesick. On the first day, we had our Aptitude Test and Officer's Intelligence Test. Then after breakfast, we had the PP&DT. During the discussion, everyone was shouting but I made sure not to become a part of the crowd and spoke when there was silence for a second or two. I was just looking for that window when everyone was quiet. Doing this I made sure that my point reached all. Again as you know I gave positive points but the relevant ones and I tried to adapt myself with others also.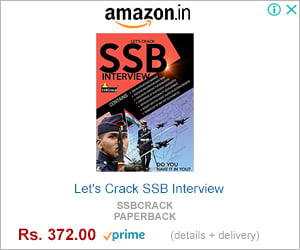 Till the noon my health condition started to worsen but when I heard that I got screened in, that pumped me up. I got chest no. 18. We went to the allotted rooms and after resting for 3 hrs we had the Psychology Tests. I wasn't feeling well but I tried to stay focused and do my best. I stayed positive during all the tests and gave affirming answers only. Next day in the morning we were to have our Interviews but I had developed a high fever (104⁰) so I was in the Medical Centre for the whole day. Others in my room did have their interviews. Everyone in the group was studying some of the other books all the time, preparing for the interviews or for lecturette and there was me laying on the bed sleeping all day and night. On the third day, our GTO was planned but it got postponed because of me. So everyone was chilling but I was just sleeping, getting myself together. I had planned my strategy for everything. Next day I was feeling better so we had our GTO starting with the group discussions'. We had this one person in the group, Mr Chest no. 24, a repeater of 'course who kept shouting all the time. He had studied a lot and had so much to speak that he didn't shut up. So I had a golden chance, I was expecting someone like him. I called out "chest no. 24 I think chest no. 20 has something to share" and after 20 I spoke my point. Then again 24 started, so I called out "chest no 24 I think chest no 17 wants to speak something" then I spoke after 17. Then next while I was speaking, he cut my point, I said "chest no. 24 please let me finish", then he cut my point again I said, "I said please let me finish chest no 24".This kept him quiet for some time and others could also speak.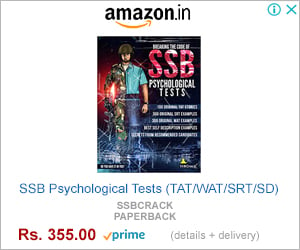 So after the discussions, we had chest no. 24 who tried to overpower all and didn't let anyone speak and chest no. 18 who like a leader shut his mouth so that others can speak. During the outdoor obstacles I knew I was physically a little weak so I stayed back and mentally figured out the possible solutions, after their futile attempts I gave my ideas and they did work out. I didn't pick up the balli or rope or the plank but gave smart ideas. Next, I would listen to others also and present their solutions with some amendments, so even they were happy. During command task, the GTO increased the difficulty level 4 times but I sailed through. GTO was quite helpful and he did give suggestions. I spoke on non-biodegradable as for my lecturette. I could only do 4 obstacles for Individual obstacles. I was so tired that I didn't even have my lunch and went directly to bed. It was after an hour that they called "chest no. 18, go for an interview" for only I was left. It was a nice interaction. The interviewer asked me a general question about my life and my parents. I was a little scared as I didn't know much GK but she only asked me 3 questions namely- Education Minister, President and Vice President out of which I knew only 1, The President. Otherwise, the questions were only about my life and who I truly I am. I think a true introspection of self is all one needs to do to sail through the interview. Next day I again got a fever but we were just going to have the conference. The conference got over at 5:00 pm and then the results were announced. It was a huge shock for those 92 screened in candidates especially my group when the Officer called out chest no. 18 but I had a firm belief in myself and knew that I will get recommended. Next day the 14 recommended candidates had our PABT out of which 11 cleared it including me. I had my medicals at IAM Bengaluru which I cleared after a minor TR.
All I want to say is your belief in yourself is all you need. You have to believe that you can succeed then only you can. There will always be someone better than you, who has better grades, or who has more experience than you or has practised more but your belief in yourself about your strengths and weaknesses will be your strongest weapon against all. So ALL THE BEST for your SSB.