Hi! I am Kratika Goswami recommended from 1AFSB Dehradun for the course D-AFCAT(W)/418 after two attempts. I want to tell my story as I think this can inspire a lot of candidates who stop believing in themselves amidst their preparation. I was elated to get screened in on 20th May i.e the first day and was even more excited to stay with the nine girls I was supposed to put up for next 4 days without any cellphones or social media ruckus, bothering my mind. Since just a day before my AFSB I have travelled from Hamirpur, Himachal  Pradesh ( My thesis field ) to Dehradun as I was engrossed in my dissertation for past 4 months, I was not able to prepare for my AFSB at all.
First day of GT, I broke my right leg while sliding through a plank fixed about 12fts above the ground in the snake race. Although, it was a fracture and it hurt a lot but I was able to complete the race with the super supportive efforts of my teammates. 
20 mins later, I had my lecturette, I am very thankful to chest no. 37, 30 and 28 for calming me down and can't forget the motivation infused words of our GTO, which made me get up and speak my heart out on "Genetic engineering". After a medical check-up in the evening, all 10 of us went to the nearby Buddha Monastery to celebrate what we had accomplished, a bond great bond of friendship!
The night before the second day of GT, I couldn't sleep, and there was chest no. 30 constantly telling me to stay calm and believe in myself. The constant support of my teammates and their never-ending faith in me propelled me to do something that can be unbelievable for some of you the command task, half group task and three Individual obstacles (where I was literally dragging my leg through the field and using my right knee instead of foot). Chest no. 37 and 30 literally carried me everywhere like a delicate load( i hope you get the pun here).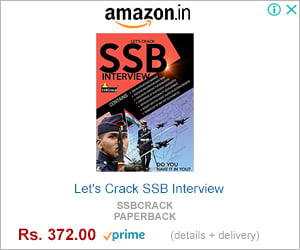 On the third day, I got an X-Ray stating a second fracture in my foot. But there was no turning back. I went to the IMA visit with my friends as well. And though I was quite nervous for the interview chest no. 32's jokes, chest no. 36 calming words and the brilliant two hour tuitions from chest no. 35 encouraged me to go further. I gave my interview with full faith in whatever I have done in my entire life, from travelling solo to being a geek at school, from being a trustworthy friend to a notorious element at school, from a literary and media head at SPICMACAY to a nature lover. For an interview , I think what worked was my honesty and cheerfulness( But honestly, you never know what works and what doesn't).
And it was the final day, conference, the IO asked me, "Kratika are you still hopeful ?". I said, "Yes (that's the last thing I'll leave on earth)."
I would like to thank all nine girls starting with chest no.28( kirti yadav), chest no. 29(sruthi Joy), chest no. 30( shriya Gupta), chest no. 32(shivani), chest no.33( komal Phogat), chest no. 34( pratibha), chest no. 35( ruchi), chest no. 36 ( pratima chandel) and most importantly chest no. 37( Sakshi Shyam) for putting in so much efforts into the biggest and most valuable success of my life. I don't know what happens next (Quite excited for the merit list), But I would love to thank all these women who shall never stop empowering other women throughout their lives.
Thank you! And always have faith in your inner CONTENT and never lose hope!!
Thank you, SSBCrack for always inspiring and motivating defence aspirants like us. Keep it Up, guys!