Indian Air Force has started the AFCAT 2 2020 registrations today to get the potential officers for it Flying, Technical and Non-Technical Branches. Candidates who are eligible for AFCAT 2 2020 can apply for this exam at the official portal of IAF i.e. https://afcat.cdac.in/.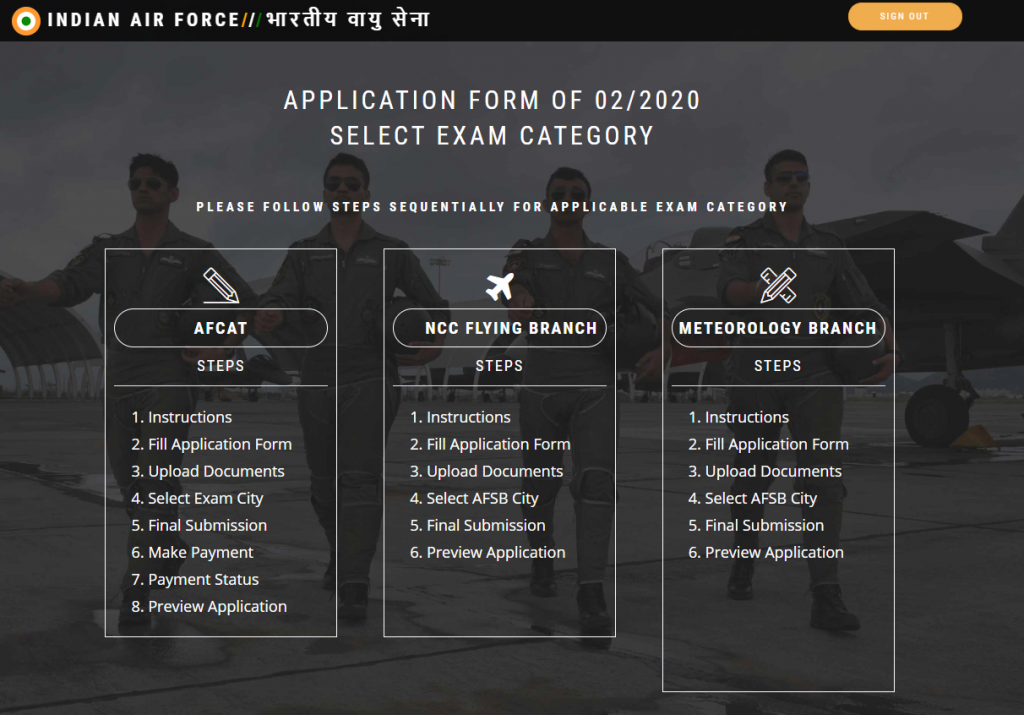 Indian Air Force has finally published the notification for AFCAT 2 2020 for flying, the technical and non-technical branch of the IAF. Candidates can join the Indian Air Force as an officer through AFCAT 2 2020. Indian Air Force invites Indian citizens (Men and Women) to be part of this elite force as Group A Gazetted Officers in Flying and Ground Duty (Technical and Non-Technical) branches. Online AFCAT examination will be conducted on 19 Sep 20 and 20 Sep 20.
Candidates are to ensure their eligibility for the examination, as follows:-
Candidates applying for the examination should ensure that they fulfill all the eligibility conditions for admission to the examination. Their admission at all the stages of examination viz. Written examination and SSB test will be purely provisional, subject to their satisfying the prescribed eligibility conditions. If on verification at any time before or after the written examination or AFSB Testing, it is found that they do not fulfil any of the eligibility conditions, their candidature will be cancelled by the IAF.
Mere issue of Admit card/ Call up letter to the candidate will not imply that his/ her candidature has been finally accepted by Indian Air Force.
Entry, Branch, Course Number and Vacancies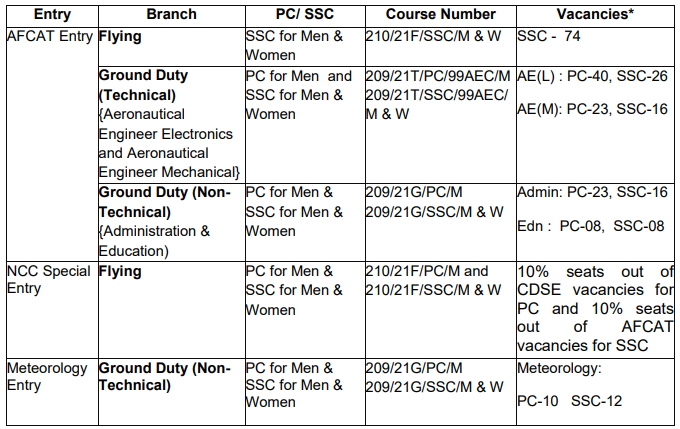 There is no intake conducted for Accounts and Logistics branches for AFCAT 02/2020 for course commencing in July 2021.
How To Prepare For AFCAT Exam Online
Serious defence aspirants can join our full AFCAT online course, the course is specially designed for the AFCAT aspirants that will help them to score better marks in the AFCAT 2020 exam.
Our AFCAT 2020 Online course covers the detailed syllabus for Numerical Ability, English, GK, Reasoning and Military Aptitude for the online exam. It also covers AFCAT mock tests for better practice.
| | |
| --- | --- |
| AFCAT Events | AFCAT 2 2020 |
| AFCAT Notification Date | 15 June 2020 |
| AFCAT Online Application Date | 15 June 2020 |
| AFCAT Application Last date | 14 July 2020 |
| AFCAT Admit Card date | August 2020 |
| AFCAT Exam date | 19 Sep 2020 and 20 Sep 2020 |
| AFCAT Result date declaration | October 2020 |
AFCAT 2 2020 Branch And Course Number
Flying – (210/24F/SSC/M & W)
Ground Duty Technical – 209/24T/PC/ M and 209/24T/ SSC/M & W
Ground Duty Non-Technical – 209/24G/ PC/M and 209/24G/ SSC/M & W
AFCAT 2 2020 Exam Age Limit
Age – Flying Branch. 20 to 24 years as on 01 July 2021 i.e. born between 02 July 1997 to 01 July 2001. (both dates inclusive). Upper age limit for candidates holding valid and current Commercial Pilot Licence issued by DGCA (India) is relaxable up to 26 years i.e. born between 02 July 1995 to 01 July 2001 (both dates inclusive).
Educational Qualification
– A graduate candidate with minimum 60% marks and must have scored minimum 60%marks in Maths and Physics in 10+2 in 12th standard.
– B.Tech/ B.E candidates who have scored minimum 60% marks and have scored 50% marks in maths and physics in 10+2 in 12th standard are also eligible for it.
Age – 20 to 26 years as on 01 July 2021 i.e. born between 02 July 1995 to 01 July 2001 (both dates inclusive).
Educational Qualification – The candidate must have B.Tech/ B.E degree in notified streams as mentioned in the official notification of the IAF with minimum 60% marks and have scored minimum 60% marks in Physics and Maths in 10+2 standard are eligible for technical entry.
Ground Duty Non-Technical
Age – 20 to 26 years as on 01 July 2021 i.e. born between 02 July 1995 to 01 July 2001 (both dates inclusive).
Meteorology: Post Graduate Degree in any Science stream/ Mathematics/ Statistics/ Geography/ Computer Applications/ Environmental Science/ Applied Physics/ Oceanography/ Meteorology/ Agricultural Meteorology/ Ecology & Environment/ Geophysics/ Environmental Biology with minimum of 50% marks in aggregate of all papers put together (Provided Maths and Physics were studied at Graduation Level with a minimum of 55% marks in each).
AFCAT 2 2020 Selection Procedure
Indian airforce will conduct the AFCAT online exam across the country at different test centres. AFCAT 2 2020 online exam will be conducted on 19 Sep 20 and 20 Sep 2020.
IAF will publish the results of AFCAT 2 2020 in Oct 2020 and candidates will be able to check their marks, cut off marks etc on the official portal i.e. afcat.cdac.in
Selected candidates have to choose their AFSB interview venue and date on the same portal.
The screening test is the first stage of the interview, which consists of verbal, nonverbal tests and a PPDT test. The selected candidates will stay at the centres for further selection tests and those who could not qualify it, would be set free on the same day.
The next stage consists of a personal interview, Psychology and GTO tests, PABT (for flying only), on the last day conference will be conducted after which, the final result is announced. The selected candidates are sent for medical examination.
AFCAT 2 2020 Syllabus
General Awareness: History, Sports, Geography, Environment, Culture, Current Affairs, Politics, Civics, Basic Sciences, Defence, Art etc.
Verbal Ability in English: Comprehension, Error Detection, Synonyms, Antonyms, and Testing of Vocabulary, Sentence Completion etc.
Numerical Ability: Decimal Fraction, Simplification, Average, Percentage, Ratio & Proportion, and Simple Interest, Profit & Loss
Reasoning and Military Aptitude Test section: Verbal Skills and Spatial Ability.
AFCAT 2 2020 Exam Pattern
The Air Force Common Admission Test will consist of 100 questions and each question will be of three marks. So total marks for all questions will be 300. As far as negative marking is concerned, there is one-third negative marking in AFCAT 2 2020 exam. For every wrong answer, 1 mark will be deducted as penalty.
Syllabus of the AFCAT 2 2020
(a) General Awareness
History
Sports
Geography
Environment
Civics
Basic Science
Defence
Art
Culture
Current Affairs
Politics
(b) Verbal Ability in English
Comprehension
Error Detection
Sentence Completion
Synonyms
Antonyms
Testing of Vocabulary
(c) Numerical Ability
Decimal Fraction
Simplification
Average
Profit & loss
Percentage
Ratio & Proportion
Simple Interest
(d) Reasoning and Military Aptitude Test
Verbal Skills
Spatial Ability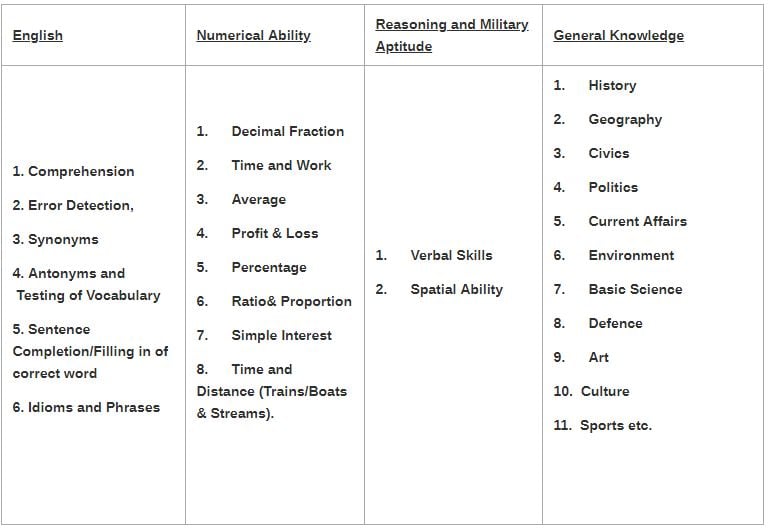 Examination fee for AFCAT Entry: After filling in the online application form, the examination fee of Rs. 250/- (non-refundable) for AFCAT entry (not applicable for NCC special entry & Meteorology may be paid online through the 'Make Payment' step on the main menu of the online application. No cash or cheque or demand draft (DD) will be accepted towards payment of examination fee. The examination fee can be paid using credit/ debit cards/ net banking through the payment gateway. Applicants are advised to follow the instructions/ steps given on the payment gateway, and also print/keep the transaction details for their records. After confirmation from bank that the payment is received, the "Payment Status" will display "Registration Number" which the candidate may note down for future correspondence. Simultaneously, the candidate will receive a confirmatory sms/ e-mail. This will be followed by Admit Card (with the Hall Ticket Number) which a candidate will receive on his/her registered email ID and which is also downloadable from his/her registered email ID.
AFCAT 2 2020 Exam Timing and Shift
Scheme of Online Examination. All applicants whose applications are submitted by due date will be called for AFCAT at one of the examination centres on either 19 Sep 2020 (Saturday) or 20 Sep 2020 (Sunday). It is mandatory for the candidates opting for Ground Duty (Technical) branch to appear in both AFCAT as well as Engineering Knowledge Test (EKT).
Exam Schedule. The AFCAT (and EKT) will be conducted in two days as per the following schedule:
Note: Candidates will not be permitted to enter the exam centre, under any circumstance, after the pre-exam verification process has commenced at 08:00 hrs for shift-I and 12:30 hrs for shift-II.
Syllabus: The subjects, the time allowed and the maximum marks allotted to each subject will be as follows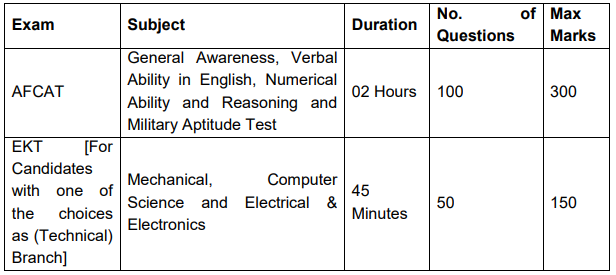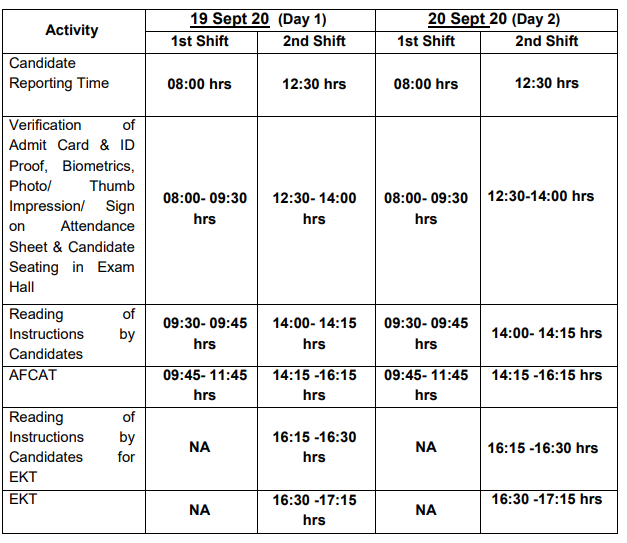 Locations for AFCAT 02/2020: Agartala, Agra, Ajmer, Ahmedabad, Aizawl, Alwar, Aligarh, Allahabad, Amritsar, Aurangabad, Bareilly, Behrampur (Odisha), Belagavi, Bengaluru, Bhagalpur, Bhilai, Bhopal, Bhubaneswar, Bikaner, Chandigarh, Chennai, Coimbatore, Dehradun, Delhi and NCR, Dhanbad, Diu, Dibrugarh, Durgapur, Faridabad, Ganganagar, Gaya, Ghaziabad, Gorakhpur, Guntur, Guwahati, Gwalior, Haldwani, Hissar, Hyderabad, Imphal, Indore, Itanagar, Jabalpur, Jaipur, Jalandhar, Jalpaigudi, Jammu, Jamshedpur, Jhansi, Jodhpur, Jorhat, Kannur, Kanpur, Kochi, Kohima, Kolhapur, Kolkata, Kota, Kurukshetra, Leh, Lucknow, Madurai, Mangalore, Mathura, Meerut, Mumbai, Mysore, Nagpur, Nasik, Noida, Panaji, Pathankot, Patna, Port Blair, Puducherry, Pune, Rajkot, Ranchi, Shillong, Shimla, Silchar, Srinagar, Thane, Thiruvananthapuram, Thrissur, Tirunelveli, Tirupati, Udaipur, Vadodara, Varanasi, Vellore, Vijayawada, Visakhapatnam, Warangal.
Allotment of Centres: As far as possible, candidates will be allotted centres as per their choice. Candidates should note that no request for change of centre/ date/ slot will be entertained. Therefore candidates should exercise due care before deciding date/ slot of his/ her choice for the centre for the examination before filling the form.
Air Force Selection Board (AFSB): (a) For AFCAT entry, IAF shall prepare a list of candidates who obtain the minimum qualifying marks in the Online AFCAT as fixed by the IAF in their discretion. Candidates who are declared successful in the Online AFCAT will be called at one of the Air Force Selection Boards. Candidates who have applied for NCC Special Entry/Meteorology will be directly called for AFSB testing at one of the AFSB centres. The AFSB centres are at Dehradun (1 AFSB), Mysuru (2 AFSB), Gandhinagar (3 AFSB) and Varanasi (4 AFSB). Candidates who opt for flying branch can only opt for Dehradun, Mysore and Varanasi. Candidates who have qualified in the written exam are required to choose AFSB date and venue by themselves on the website https://careerindianairforce.cdac.in or https://afcat.cdac.in in order to generate call- up letter for AFSB interview.