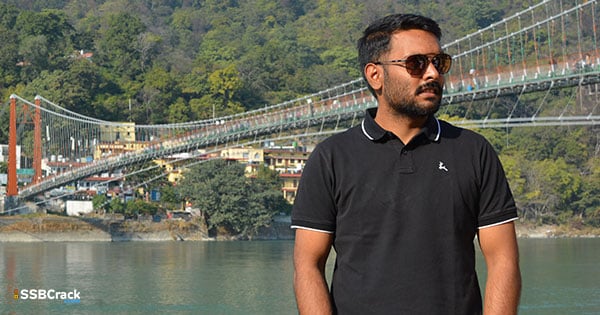 Hello Everyone, my name is Vipul Kant Gaur, I am from Aligarh, Uttar Pradesh. I have been recommended from 17 SSB, Bangalore for IMA(DE)- 150. I was S/O thrice & recommended in the 4th attempt and got AIR- 12 in IMA & AIR-6 in INA. My journey began in 2016 when I gave my first SSB for NDA. I wasn't well prepared and was screened out. then came TES and I was screened in but had to withdraw on the same day due to health concerns. After the incident, I was so devastated that I couldn't gather the courage to face another SSB. Hence, I decided to complete my Graduation in Mechanical Engineering and later appeared for AFCAT and CDS. Exams went well and I received the call letter for AFCAT SSB. I was terrified to think of what I will do if I fail even here. I saw my fear taking the shape of my reality as I was screened out once again.
This was the final nail in the coffin, and I went into a slumber, a deep state of disappointment and regrets. My father couldn't bear this and so he started taking me on runs, He would walk with me on the way back and tried hard to cheer me up. His constant faith in me encouraged me to get back on my feet. I started working out again and lost the required weight. Soon, I received the call letter for CDS SSB again. The center was in Bangalore, and my first thought was that I shouldn't go so far just to fail again. But thankfully, I went and I started loving the city ever since.
I couldn't believe my ears when I heard my chest number being called and there was this thumping inside my heart that I made it, but my mind wasn't sure. It's the best thing one can feel, that surge of excitement and the sense of achievement. I looked back at my failures and I realized that it was all worth it.
It wasn't an easy path as I belong to a completely civilian background. I did not go to Sainik school or RIMC and I wasn't even part of the NCC. But as they say, 'There is no elevator to success, you have to take the stairs.'
I never went through any coaching, because I understood that SSB is majorly about your personality and how you project yourself rather than how much you know.
I prepared for SSB even while preparing for the written exam, I used to practice TAT and WAT while practicing for the English section. I started reading newspapers regularly and analyzed the news daily with my father and my peers to broaden the horizon of my knowledge and perspective. I inculcated a planned and disciplined attitude towards my lifestyle that helped me a lot. I also believe that the most important thing to do while you're preparing is to know yourself thoroughly. Introspection is the key to success. when you develop your mind to identify your own mistakes and take necessary actions to rectify them, you will see yourself growing and succeeding in life.
So for the whole process, I firstly prepared for screening by writing stories on more than 10 pictures every day. I wrote 2 or 3 stories on every picture to widen my imagination and to gather my thoughts properly. For the OIR Test, I solved over 50 sets of verbal and non-verbal reasoning questions.
For the trickiest and super important psychology tests, I practiced and persevered. I wrote a lot of stories, got them reviewed by a lot of people to improve little by little. For SRT, I tried to put myself in rather difficult situations and then think of diverse solutions for a single problem on the go.
For the interview, my engineering degree and experience in management that I learned during my internships, helped a lot. I promised myself to not make anything up, just be real and try to have a conversation with the IO rather than him asking questions and me answering. It's rather good, to be honest, clear, concise, and confident than being something you're not.
For GTO, working out helped a lot as it made me more confident in my physical abilities. I improved my speaking and presentation skills. Reading and discussing the newspaper daily helped a lot as I was familiar with the GD topics and it brought out clarity and confidence. In GPE, the key is to be concise, thinking out of the box, and thinking of contributing to the group, and come to a viable, realistic, and achievable plan.
In SSB, every day possesses a different type of challenge and test of your overall personality. Listen carefully to every instruction, work with your group, be modest and always don a smile, even in difficult situations. Try and make friends, listen to their stories, and above everything else, enjoy the process. It's going to be a life-changing experience.
And ask yourself……Do you have IT in you?
Jai Hind.