You can't clear "SSB" if u are a civilian, Studied at civil school, have not participated In sports, or didn't have any responsibility. Every defence aspirant hears this kind of words at least once during his preparation but these are absolutely absurd and I myself Is a living example and many more like me who cleared SSB with their hard work and self-confidence are example against these myths.
Hii I'm Madhur Tyagi from Village Machhra situated 20 km from MEERUT district got recommended for NDA-147 Course from 22 SSB Bhopal in my maiden attempt. When I was in 3rd standard I got a little bit of awareness about NDA that we can play as much as we want in the army and through NDA we can enter in armed forces. As I grew up I got more aware of NDA. In 6th I also filled form for Sainik school Rewa but due to lack of one document, my form got canceled. I continued my schooling from a normal civil school located 17 km from my village in a city. As I came in 12th I started my preparation for that I switched off my all online social platforms like Instagram, Facebook, PUBG etc, and made a strategy and started following it. After the exam a was a bit confident that I would clear but destiny or my efforts was not that enough. So I again started my preparation for NDA-1 2021 and this time I changed my strategy by inspecting the previous one. God helps those who help themselves this is not a quote but a reality same thing happened as I continued working hard god also flavored on me and I'm able to clear written In my second attempt in 12th only but this was just a trailer, the real movie was still waiting for the "SSB" world's toughest interview procedure ( again a myth) as they only going to assess your personality. It actually doesn't matter.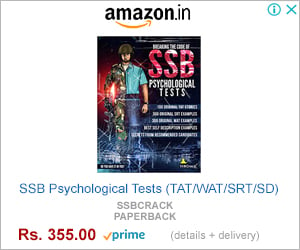 Whether you are capable of giving answers or not, whether you are capable to solve obstacles or not whether you are speaking for 3 minutes in lecturette or for just 2. The thing matter is that how capable you are in holding pressure, how confidently you are doing things, how much you know yourself.
On the first day of my screening, 48 people in a good formal uniform reported all were looking handsome though some were looking less confident while others were overconfident. In that line, my task was to interact with as many candidates as I can because at that time I was not thinking of screening, was just thinking ofMaking as many friends as I can because I only came to enjoy the process.
As screening started after the briefing of JCO sir we were given OIR sheets. They were actually not so tough as I did a lot of practice from the SSBCRACK OIR book. Coming towards PPDT when we saw pictures it was hazy but I instantly got an idea again
As I practiced a lot from the SSBCRACK PPDT book. It was even similar to that. Now things come of narration I was chest no. 1 so I have to narrate first. I did it very confidently in a bold voice as I knew that it really help. I read many stories from SSBCRACK. After that in gd, I speak 4-5 times and taking with them normally as GD never meant of giving your idea only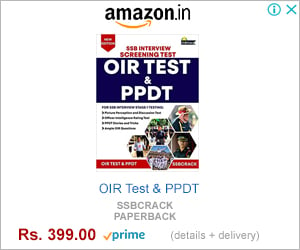 Though the common story was on my idea. After that, I was little thinking of the result. I took the name of god and leave everything on him. My chest no. was announced I was happy but feeling bad for my friends who were not able to clear it. We again get new chest no. on the second day we had various tasks Like TAT, WAT, SRT, SD I wrote my first idea which I was getting easier as I Practised a lot from the SSBCRACK Psychological Tests book. I had an interview on the second day only It was normally related to my PIQ so I know myself hence I didn't face any difficulty. In GTO I perform with the group never think of only my recommendation but they're also so performed naturally though our group was not able to complete PGT, HGT, GOR I still motivated them. In my individual obstacles, I did 11 and in my command task, I was again not able to complete it though I gave ideas.
I was called as subordinates 2 times in a group of 8. In gd and lecturette I speak confidently and boldly. On the final conference day I was a little nervous but before entering in conference Hall I kept it aside and talked normally as we do in our daily life with people.
When the result was announced I was anxious and have faith in God and I got good news. At that time also I gave first preference in consoling those friends who didn't clear it. The journey that started in 3rd reached a peak point now and I'm happy that I'm standing here.
I also wanted to thank my near ones, relatives, friends, teachers SSBCRACK team, and most importantly my parents and grandparents who motivated me at every point whenever I lose hope.
Thank you everyone to read this carefully hope I'm able to help you in any way.