Current affair is one of the important areas if you are going for SSB interview and preparing for the defence exams like AFCAT, NDA, CDS, TA etc. We keep on publishing the GK and current affairs questions for candidates time to time, many people who neglect the GK and current affairs section while preparing for the SSB interview or written exam are doing a big mistake, we understand that it is difficult to prepare for GK and current affairs because we fail to understand what to read and from where to read.
The portion of GK and current affairs is daunting and this is something which you can not prepare in a day or weeks, it requires continuous touch with GK and current affairs.
We have collected few headline/questions from defence areas which you will face during defence exams and SSB interview. These are brief headlines which one must know while preparing for defence exams and interview. One can go deep into these topics as per their interest.
Best SSB Book

 –>  Let's Crack SSB Interview



Best AFCAT Book

 –> Let's Crack AFCAT

Best EKT Book -> Let's Crack EKT
Bookmark this page, more questions will be added soon.
53 Defence Current Affair Questions For SSB, NDA, CDS, AFCAT
Israeli Air Force Receives First Anti-Missile Interceptors for Arrow 3 System

BSF launches operation 'SardHawa' at Rajasthan border

Pakistan Navy Receives Two Ships From China to Ensure Security along Gwadar Port

INS Khanderi, Second Scorpene Class Submarine Launched in Mumbai

Chinese Navy Commissions Sophisticated Ship CNS Kaiyangxing into its Fleet

Guided Pinaka Rocket Successfully Test-Fired by India

Indian Navy's Theatre Level Exercise, TROPEX 17 Begins

INS Vikramaditya Becomes India's First Warship to Have ATM Onboard

China Commissions its 31st Stealth Warship

Guided Pinaka test fired successfully again

Pakistan Successfully Conducts First Flight Test of N- Capable Ababeel Missile

Whatsapp helpline Launched by Army Chief Gen. Bipin Rawat launches to Address grievances of Army personnel

Indian Navy Issues RFI to procure 57 Carrier-Borne Fighter Jets

India Successfully Test Fires Agni-IV Ballistic Missile off Odisha Coast

Pakistan Successfully Test-Fires Submarine-Launched Nuclear-Capable Missile'

Indian Army conducted trials of Indigenous Artillery Gun System Dhanush in the Himalayas

Ministry of Defence to Set up Rs 1500 Cr Defence Unit in Madhya Pradesh

Reliance Defence Signs Contract with Ministry of Defence to Construct 14 Fast Patrol Vessels for Indian Coast Guard

China tests missile DF-5C with 10 nuclear warheads

Integrated Underwater Harbour Defence & Surveillance System Launched in Mumbai

Multinational Naval Drill Aman-17 Begins in Karachi

2017 Cobra Gold Exercise Begins in Thailand

India Successfully Test-Fires Home Grown Advanced Air Defence (AAD) Interceptor Missile in Odisha coast

INS Sarvekshak Becomes India's First Ship to be Installed with Solar Power System

Sailboat INSV Tarini Inducted into Indian Navy on 18 February 2017

Fast Patrol Vessel of Indian Coast Guard Ship ICGS AYUSH Commissioned at Kochi

Pakistan Army Launches Military Operation Radd-ul-Fasaad to Eliminate Terrorism

India Successfully Test-Fires Indigenously Developed Supersonic Interceptor Missile

Navy successfully test-fires anti-ship missile from Kalvari submarine

DRDO Hands Over 3 of its Developed Products to Indian Army

Indian Navy's Oldest Warship INS Viraat, Decommissions on March 6 After 30-Year Service

Vice Admiral Girish Luthra Commissions INS Tillanchang at Karwar

South Korea and the United States Begin Annual Military Drill Foal Eagle

India to train Myanmar Navy

Indo-Nepal Joint Military Exercise 'Surya Kiran-Xi' begins in Uttarakhand

Joint Military Exercise AL NAGAH-II Begins Between India-Oman in Himachal Pradesh

India Successfully Conducts Maiden Tests of Extended Version of BrahMos Supersonic Cruise Missile

Pakistan successfully test-fires land based anti-ship missile

Three New Naval System To Indian Navy By DRDO

Indian Navy Conducts Successful Test-Firing of Surface-to-Air Missile from INS Vikramaditya

INLCU L51 commissioned into Indian Navy at Port Blair

De-Induction Of Indian Navy's TU142M Aircraft and Induction of Boeing P8I Into INAS 312

India Mongolia Military Exercise kicks off in Mizoram

US conducts successful field test of new B61-12 nuclear bomb

Coast Guard decommissions ICGS Varad after 27 years

Nepal and China to Conduct Sagarmatha Friendship

Joint Indian-French naval exercise 'Varuna' begins

INS Chennai dedicated, Chennai to become hub of Naval activities

Navy successfully tests land-attack BrahMos supersonic missile

INS Darshak conducting joint survey of Sri Lankan bay

IAF Inducts Su-30 MKI into Frontline 221 Squadron

Joint operational doctrine for army, navy, air force unveiled

India successfully test-fires Agni-III ballistic missile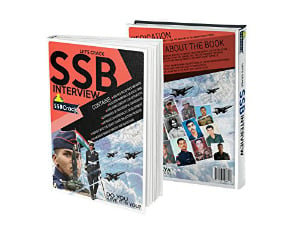 To crack SSB and AFSB Interview get "Let's Crack SSB Interview" Book from Flipkart. Trusted by thousands of defence aspirants
Also Download Helpful eBooks: