Hello, friends. This is Nishchay. I am not a writer ( trying to share what many thinks, can be motivational. I have cleared SSB for the INDIAN ARMY SSC (JAG) 19 entry in my first attempt. A boy from a small town in Chhattisgarh who was inspired by the sounds of the artillery of Boforce during INDO PAK KARGIL war 1999. I can proudly say I lived for 18 years with the dream of becoming a Soldier for my mother nation. I will tell you more about myself with my experience at 34 SSB Allahabad.
This was actually the second time I went to Allahabad for my JAG entry SSB INTERVIEW. Yeah… Second time. I was called for the JAG 18 Course on 03 of December 2016. I went to the center, had the breakfast and was sent back…. ( I was unable to present my provisional degree as its delivery was delayed. I went to the Sangam with 4 guys similar to my case (who are now my friend) who accompanied me when I was sent back. 3 of us had a dip in the Ganges and took the train back home. I still remember the CARIAPPA DWAR where I promised myself that I will come, the next time with full documents. :p yes. Nothing more.
Soon I was back, completed all my documentation and started waiting for the next notification which was out soon. I was ready & ensured that no one could send me back for the documents this time.
Received the call letter this time the date was again 03 but of July 2017. On 2nd of July had my LL.M entrance exam at Delhi. so, I left home on 29th mid night reached Delhi on1st of July gave the exam as it was in the morning shift, reached New Delhi railway station and took Garibrath exp to reach ALLAHABAD junction near about 2330 hr. I waited at the railway station till the morning, got myself ready for the day 1 and reached the SSB centre.
DAY 1
I was shivering during documentation and was terrified as a small error in my 10th mark sheet was identified by them. But it was accepted. We were allotted chest no and mine was 17. I gave the intelligence test, attempted almost every question. We were almost 80+ (as I think I saw chest no near to it) we were divided in a small group starting from chest no 14-22 we had a GD which never turned to be a debate. We had lunch and were called for the result. The officer started calling the chest no. It started from chest no. 1 then, 9, 16… I had my finger crossed and then suddenly it was chest no. 18. I quickly realized my chest was not called and started to quickly think of my mistakes. Suddenly I heard the officer calling chest no. 17, I ran quickly and then new chest no was allotted to me which was 10. 22 of us were screened in. I was relaxed and was happy and now it was the time to make new friends.
Day 2
It was the time for the unpredictable psych test. I just said to myself it's simple I need to be positive and "yes" as I can do it. TAT was good, I did 60 WAT and 51 SRT which I thought was not bad. But then my calculations failed as I was not able to complete my SD in time. I was not really happy with myself and was facing an awkward situation. But now it comes the time when friends came up with their positive approach. Especially CHEST NO . 3, 5 and 11. Almost all were called for the interview on the second day except chest no. 10(me) -15.
Current Affairs questions will be from last 5-7 months (for AFCAT, NDA, CDS, TA)
Day 3 and 4
It was the GTO series and suddenly I thought I have created another blunder by not completing my GPE solution. But now, it was the time to look forward with my potential to give my best. It was the GPT and I frequently gave workable ideas and now the positivity was embracing me.
it was raining heavily and the mud & water made the planks really heavy and the rope more rigid. During the half group task I was called with 2 of my group mates and again I gave my best, but the heavy plank was down from a structure directly on my left foot and damaged my thumb nail. It was damn painful and I quickly realized it was broken from inside leaving me with unbearable pain.
It was the time for the snake race and I was ready mentally to just give my 200% using the gainful experience of the DAHI LOOT festival celebrated in my home town. I with chest no. 11 became the platform to help our team members to climb the 2 walls and I was the last to cross the walls taking advantage of my thin build body and 5'11'' height. I took the charge when the team needed me and climbed the obstacles to give additional support from the front. I even volunteered to repeat when the GTO said we have made mistake. We won and were very happy, increasing my personal morale.
Then it was the Group discussion which was again very smooth as we had great respect for all the views from everyone (even though we all were practicing lawyers) 😛
Command task was set in the rain and we waited almost 2 hours for the heavy rain to stop. I was asked many ideas with rising difficulty level and I knew I have shown my strength and successfully dealt with the problems. Lecturette was average as my communication skill is a bit average (as I consider). FGT was a bit messy as we all wanted to give the ideas but even then I got the chance to throw some valuable ideas.
But, this time my pain reached its height and the swelling made it difficult even to warm up the body before the individual obstacle. While my team members were having a short run to warm their muscles I sat there and was trying to make me understand that I can't give up now. We went to the obstacle ground I was the third to be called I just said to myself " forget the Pain just for 3 minutes" as soon as I heard whistle sound, I started running aimlessly forgetting nearly everything, I found I have completed 10 without any mistake and now I was going to repeat. I completed 10+4=14 obstacle and after completing sat down saying "I am proud of you Nishchay" (
Have I missed something??
Yes… it's my interaction with the interviewing officer/my interview.
After coming from the GTO day 1 with a white T-shirt that turned to yellow. I took bath and was on the way to face the interviewer. By that time I generated a positive outlook as I was satisfied with my GTO day 1 performance. I went there waited for 10 mins and was called inside and now it was the time to face my biggest fear of SSB "THE INTERVIEW". It started with some general questions and the first serious Question was.
NISHCHAY, why you want to join the forces?
I said. Sir, I want to earn PVC. (It was a serious reply … as this was the sole factor that motivated me from my childhood even without actually knowing the circumstances in which it is awarded)
I knew, the same reply was given by CAPTAIN MANOJ PANDEY PVC during his interview and many warned me not to say this… but I wanted to be loyal and thus I said.
Then PRESIDENT Sir asked.
I hope you know How to earn it?
I replied in yes, and explained the basic criteria for attaining the highest WAR time gallantry award.
It was the time for some questions from my entry i.e. LEGAL
and it was all about article 370. I explained in details the whole article and other Provisions related to it.
I was asked my STRENGTH and WEAKNESS
CIQ 1 was AVERAGE as I replied to some questions which were not asked.
Interviewer stopped me and I said sorry…
The interviewer was frequently looking at the watch placed above my head which made me nervous. I was frequently controlling my nerves and was replying to the questions.
a single question was then asked.
What were the problems faced in financing education?
I never wanted to gain sympathy but the atmosphere made me reply.
my father sells Panipuri/Fulke and yes I had financial issues. so I started working when I was in class 10th. I have worked as a NEWSPAPER Hawker, a flower seller in the temple, salesman, tutor and teacher which helped me a lot to learn from the world. I continued my studies with my father's support and the positive slope of my academics from class 10th onward made it my USP which I think I presented accurately.
In my personal view, my INTERVIEW was AVERAGE and I rated myself to be in 3rd or 4th place among 22 of us.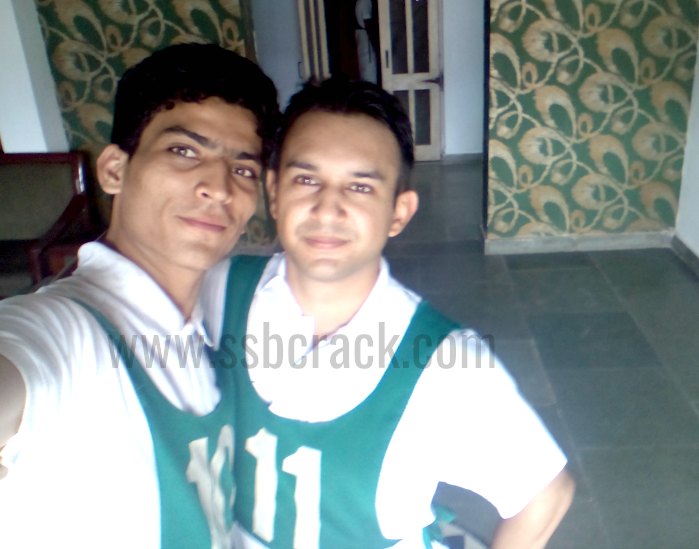 Judgment day, the Conference
It was the judgment day as I wrote it in my notebook in May 2017 while practicing SRT.
We went to the hall and after some time it started. I was worried as the interview was average and not completing the SD and GPE made me more vulnerable as I thought.
I was sitting outside the room it was chest 9 he went inside within 5 mins he moved out to the waiting area. Now it was my no. every minute of waiting made me more furious. It took nearly 10 mins and finally I was called, I went inside and saw the President as my focus was on him.
he asked me about my stay, food, and general questions and then the question was, what do you think you have found about yourself.
and I said I have learned to be more friendly and adaptable than before. I was loyal to me and him.
Then, what do you think how have you performed in last 5 days?
I said… sir, I have tried.Tried my best.
Then, the question was.
What if not recommended.
I took a deep breath. I replied. My Judicial services result is awaited. I am preparing myself to be an IAS. I will become an officer and will come back through TA entry but will be back for sure, to earn that olive green uniform.
And I was asked to leave
we all waited and then the result was announced.
I heard chest no 10. I was shocked I stood up.. Officer asked me my roll no. I replied.. but the officer said
"I think I have called for a wrong person."
I quickly took out my application, replied loudly
Sir, its chest no. 10, Nishchay Vyas and the correct roll no.
I was happy and wanted someone to hug me very tightly. I hugged my batch mates and was called to fill the forms. I earned + 9 chests no. and then called my dad to tell him the result and I felt I was really privileged to be his son. Then to my mom, as she was out of the station that time.
I can only say to all my dear aspirants,
never lose hope, have patience and keep trying with a positive approach.
This is what I said to myself when I reached the CARIAPPA DWAR on
3rd July
.
" I want it this time and will earn it this time…" just be calm and positive and try to give it as if it's now or never.
Always Be loyal to yourself and try hard to achieve what you want and what you deserve.
All the best guys.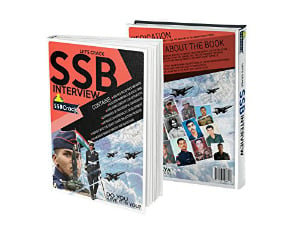 To crack SSB and AFSB Interview get "Let's Crack SSB Interview" Book from Flipkart. Trusted by thousands of defence aspirants
Also Download Helpful eBooks: