Psychological Tests are conducted by the SSB which comes under stage II testing of SSB interview. Psychological tests are only conducted for screened-in candidates, which means, candidates who have cleared stage I testing. Even though PPDT is a part of the Screening process, I have included it with TAT.
How To Prepare for SSB Interview:
PPDT and TAT
The preparation for PPDT and TAT is simple. Just take a pen, notebook, and a stopwatch (Mobile phone having stopwatch is enough) and go to your terrace from where you can see people engaged in different activities. Just try to note down their age, mood and try to develop a story. You may carry the book and pen along with you whenever you travel. Then try to see that you are able to write the story within 3 and a half minutes. You can find a number of sample pictures on www.ssbcrack.com. Practice it in the same way. Then analyze your story your self that
Whether the story is positive.
Whether the hero chosen by you is same age and sex of you.
Whether the story has three parts such as past, present and future.
Whether the story is acceptable and natural.
Whether the story is linked with the picture shown.
SRT(Situation Reaction Test)
This test can be considered as the most important test of SSB as you may face it even in your interview. Please never write any solution that is beyond the capacity of your age, economic background and physical strength. For eg. If you are a karate master, you can bash the dacoits and save the victim. But if you are lean and not a master of karate, then give the reaction accordingly. Please be natural in your reactions and put yourself in the situation to get your reaction. The preparation needs basic common sense. While reading news paper or watching news in TV, you may read news that accident occurred, many people injured" like this. If you read a situation like this, then put yourself in those situation and think how you will react. You can find a number of such situations in SSBCrack and in Preparation Books. Try to solve it within fixed time.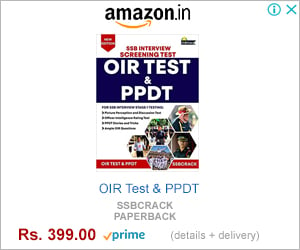 Word Association Test(WAT)
This requires ample practice and you can download the words from SSBCrack. Then ask someone to show you each word for 15 seconds or you may do it with the help of MS Power point Slide Show. See that your sentence doesn't have words like I, me , should , could etc. If necessary , you may use them..Your reaction must be natural and write the thought that comes to your mind first.
Self Description Test
This test helps the Psychologist to know the self-analyzing capability of the Candidate. The practice is really simple. Observe the comments made about you by your friends, Teachers, Superiors(In case of serving or working candidates)Parents or you may directly ask them. And think of your aim in life and how you think of yourself. Your views should never contradict with the views of your parents or teachers..Then, write it several times so that you can take the valuable points and leave the irrelevant ones. It also helps for time management.