Word Association Test (WAT) is apparently the toughest among the battery of psychological tests in SSB interviews. The difficulty level is more because the time limit given for each word is just 15 secs. We are supposed to think and write a sentence based on the word shown to us. If you go without practice, you may feel some difficulty writing good sentences. You may also miss out few words or mess up with the serial number of words. But, if you go with proper practice, it will be very easy for you to write good sentences without missing or writing bad sentences.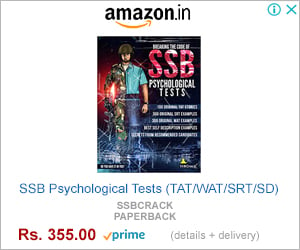 Here we are providing you with original words shown during the Word Association Test at various SSB like Allahabad, Bhopal, Bangalore, Varanasi, Dehradun, Mysore etc. This list covers almost 95% of words gets displayed during WAT. Being a repeater you must have observed that SSB does not change Word Association Test (WAT) words and most of the words are similar to what you have faced earlier. So, if you practice all these words, it will be easy to crack the word association test without facing any problems.
Download WAT Solved eBooks
Also Check: Tips for WAT
How to prepare for WAT
Download the file
Practice 60 words daily.
Note down your sentences somewhere.
Analyse your response and try to improve it.
Keep practicing
Some Sample Words of WAT
1 Easy
2 Ahead
3 Sacrifice
4 Happy
5 Discussion
6 Satisfaction
7 Encourage
8 System
9 Quick
10 Comfort
11 Judge
12 Women
13 Desire
14 Bold
15 Brave
16 Defeat
Hope this will help you to master Word Association Test. You can write your responses in the comment box below.
Also Read