In this article we are going to discuss the CDS 1 2018 cut off marks and the previous CDS exam cut off from year 2017, 2016 and 2015. There won't much fluctuation in the CDS cut off so candidates much check the previous cut off marks before attempting the CDS question paper, this will give you clear idea as to how much one must score to clear the CDS Exam. CDS 1 2018 official cut off marks will be published only after the final results of CDS 1 2018, so that is going to take a lot of time, let us discuss the CDS 1 2018 expected cut off marks based on today's question papers.
To prepare for defence exams and SSB interview, get these books:
UPSC conducted the Combined Defence Service exam twice every year CDS 1 2018 exam was of 1st phase which was held on 04th Feb 2018, many eligible and interested defence aspirants have appeared for CDS 1 2018 written exam. Now they all are waiting for CDS 1 2018 result and final cut off marks. If you also looking for the answer keys, cut off marks and merit list of CDS 1 exam 2018, then you must check the information which is mentioned below.
| | |
| --- | --- |
| Name of department | Union Public Service Commission UPSC |
| Name of the exam | CDS 1 2018 |
| Details for | UPSC CDS 2 Cut Off Marks 2017 |
| Date of announcement | 2018 |
CDS 1 Exam 2018 Cut Off Marks
As per the notice announced that the result of CDS 1 2018 will be declared in April/May 2018 and it will be shown on an official website of UPSC. You can check it on the online on SSBCrack.com too, UPSC will not send any type of letter to invite that you are selected or not, so you can check the official website daily and keep visiting SSBCrack.
CDS 1 2018 Cut Off Marks [Official]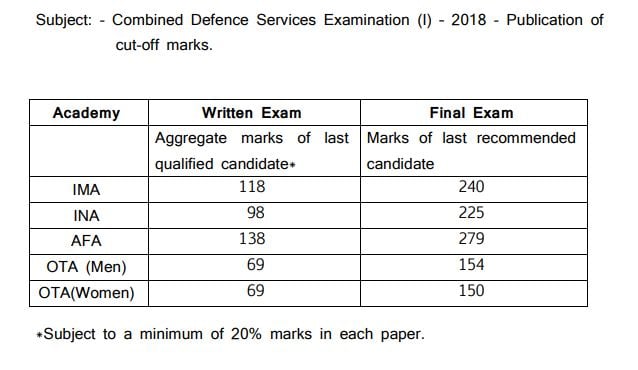 CDS 1 2018 Cut Off Marks [Expected]
| | | |
| --- | --- | --- |
| S.No | Academy | Expected Cut Off |
| 1 | OTA (Women) | 70-85 |
| 2 | OTA (Men) | 70-85 |
| 3 | IMA | 110-120 |
| 4 | INA | 99 |
| 5 | IAF | 130-140 |
CDS 2 2017 Cut Off Marks : The cutoff of CDS 2 2017 exam has not been released by UPSC yet. Aspirants who appeared for CDS 2 2017 written exam can check the expected cut off below: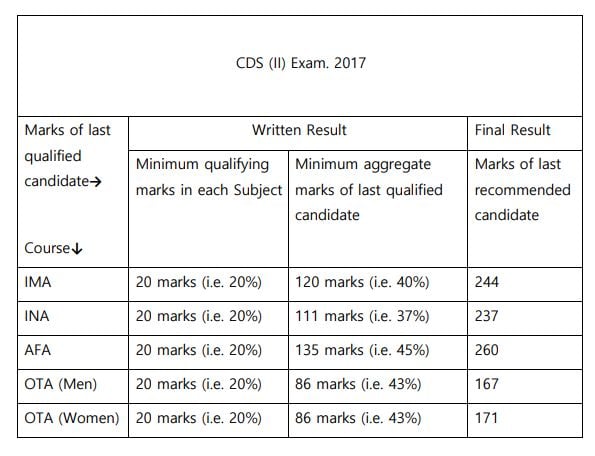 CDS 1 2017 Cut Off Marks: The cutoff of CDS 1 2017 exam has not been released by UPSC yet. Aspirants who appeared for CDS 1 2017 written exam can check the expected cut off below: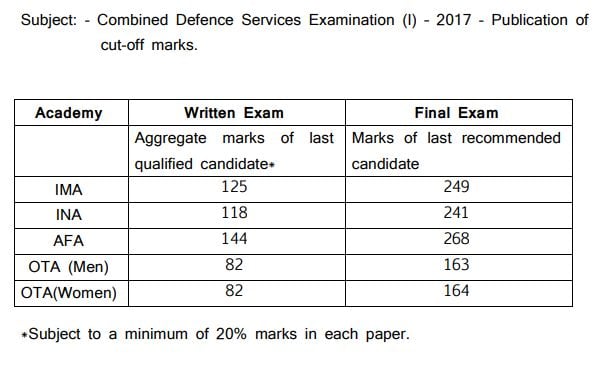 CDS 2 2016 Cutoff Official: These are the official cut off marks of CDS 2 2016 exam published by UPSC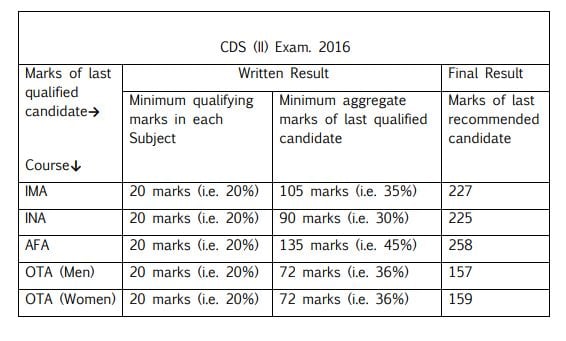 | | | | |
| --- | --- | --- | --- |
| | | Written ExamResult | Final Result |
| Academy | Qualifying Marks in Each Subject | Aggregate Marks of Last Qualified Candidate | Marks of Last Recommended Candidate |
| IMA | 20  marks (i.e. 20%) | 105 marks (i.e. 35%) | 227 |
| INA | 20  marks (i.e. 20%) | 90 marks (i.e. 30%) | 225 |
| AFA | 20  marks (i.e. 20%) | 135 marks (i.e. 45%) | 258 |
| OTA (Men) | 20 marks (i.e. 20%) | 72 marks (i.e. 36%) | 157 |
| OTA (Women) | 20 marks (i.e. 20%) | 72 marks (i.e. 36%) | 159 |
Current Affairs eBooks
CDS 1 2016 Cutoff Official: These are the official cut off marks of CDS 1 2016 exam published by UPSC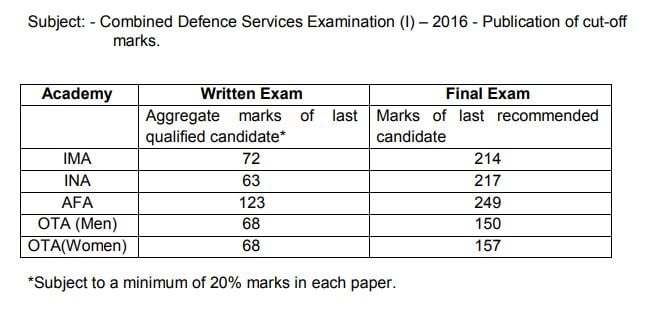 | | | | |
| --- | --- | --- | --- |
| | | Written ExamResult | Final Result |
| Academy | Qualifying Marks in Each Subject | Aggregate Marks of Last Qualified Candidate | Marks of Last Recommended Candidate |
| IMA | 20  marks (i.e. 20%) | 72 | 214 |
| INA | 20  marks (i.e. 20%) | 63 | 217 |
| AFA | 20  marks (i.e. 20%) | 123 | 249 |
| OTA (Men) | 20 marks (i.e. 20%) | 68 | 150 |
| OTA (Women) | 20 marks (i.e. 20%) | 68 | 157 |
CDS 2 2015 Cutoff Official: These are the official cut off marks of CDS 2 2015 exam published by UPSC
| | | | |
| --- | --- | --- | --- |
| | | Written ExamResult | Final Result |
| Academy | Qualifying Marks in Each Subject | Aggregate Marks of Last Qualified Candidate | Marks of Last Recommended Candidate |
| IMA | 20  marks (i.e. 20%) | 105 marks (i.e. 35%) | 227 |
| INA | 20  marks (i.e. 20%) | 99 marks (i.e. 33%) | 227 |
| AFA | 20  marks (i.e. 20%) | 138 marks (i.e. 46%) | 269 |
| OTA (Men) | 20 marks (i.e. 20%) | 84 marks (i.e. 42%) | 166 |
| OTA (Women) | 20 marks (i.e. 20%) | 84 marks (i.e. 42%) | 170 |
CDS 1 2015 Cutoff Official: These are the official cut off marks of CDS 1 2015 exam published by UPSC
| | | | |
| --- | --- | --- | --- |
| | | Written ExamResult | Final Result |
| Academy | Qualifying Marks in Each Subject | Aggregate Marks of Last Qualified Candidate | Marks of Last Recommended Candidate |
| IMA | 20  marks (i.e. 20%) | 102 marks (i.e. 35%) | 225 |
| INA | 20  marks (i.e. 20%) | 99 marks (i.e. 33%) | 225 |
| AFA | 20  marks (i.e. 20%) | 129 marks (i.e. 46%) | 264 |
| OTA (Men) | 20 marks (i.e. 20%) | 86 marks (i.e. 42%) | 168 |
| OTA (Women) | 20 marks (i.e. 20%) | 86 marks (i.e. 42%) | 172 |
CDS 2 2014 Cutoff Official: These are the official cut off marks of CDS 2 2014 exam published by UPSC
| | | | |
| --- | --- | --- | --- |
| | | Written ExamResult | Final Result |
| Academy | Qualifying Marks in Each Subject | Aggregate Marks of Last Qualified Candidate | Marks of Last Recommended Candidate |
| IMA | 20  marks (i.e. 20%) | 99 marks (i.e. 33%) | 224 |
| INA | 20  marks (i.e. 20%) | 93 marks (i.e. 31%) | 224 |
| AFA | 20  marks (i.e. 20%) | 129 marks (i.e. 43%) | 257 |
| OTA (Men) | 20 marks (i.e. 20%) | 86 marks (i.e. 43%) | 168 |
| OTA (Women) | 20 marks (i.e. 20%) | 86 marks (i.e. 43%) | 170 |
CDS 1 2014 Cutoff Official: These are the official cut off marks of CDS 1 2014 exam published by UPSC
| | | | |
| --- | --- | --- | --- |
| | | Written ExamResult | Final Result |
| Academy | Qualifying Marks in Each Subject | Aggregate Marks of Last Qualified Candidate | Marks of Last Recommended Candidate |
| IMA | 20  marks (i.e. 20%) | 99 | 222 |
| INA | 20  marks (i.e. 20%) | 99 | 222 |
| AFA | 20  marks (i.e. 20%) | 129 | 250 |
| OTA (Men) | 20 marks (i.e. 20%) | 78 | 159 |
| OTA (Women) | 20 marks (i.e. 20%) | 78 | 160 |
CDS 2013 Cutoff
| | | | |
| --- | --- | --- | --- |
| | | Written ExamResult | Final Result |
| Academy | Qualifying Marks in Each Subject | Aggregate Marks of Last Qualified Candidate | Marks of Last Recommended Candidate |
| IMA | 20 marks (i.e. 20%) | 111 marks( i.e 37%) | 231 |
| INA | 20 marks (i.e. 20%) | 111 marks( i.e 37%) | 231 |
| AFA | 20 marks (i.e. 20%) | 135 marks (i.e. 45%) | 266 |
| OTA (Men) | 20 marks (i.e. 20%) | 76 marks (i.e. 38%) | 158 |
| OTA (Women) | 20 marks (i.e. 20%) | 76 marks (i.e. 38%) | 160 |
CDS 2012 Cutoff
| | | | |
| --- | --- | --- | --- |
| | | Written ExamResult | Final Result |
| Academy | Qualifying Marks in Each Subject | Aggregate Marks of Last Qualified Candidate | Marks of Last Recommended Candidate |
| IMA | 12 | 114 | 237 |
| INA | 12 | 108 | 231 |
| AFA | 12 | 144 | 266 |
| OTA (Men) | 12 | 76 | 158 |
| OTA (Women) | 12 | 76 | 159 |
CDS Sectional Cut Off Marks
| | |
| --- | --- |
| Course | Minimum qualifying marks in each subject (may vary) |
| IMA | 20 Marks (i.e. 20%) |
| INA | 20 Marks (i.e. 20%) |
| AFA | 20 Marks (i.e. 20%) |
| OTA Men | 20 Marks (i.e. 20%) |
| OTA Women | 20 Marks (i.e. 20%) |
We request our warriors to email us their scanned question papers to crackssb@gmail.com
Download: