Indian Army Combined TGC and SSC-Tech Entry, Candidates Will Get Only One SSB Interview. As we all know that TGC and SSC-tech are two different entry to join the Indian army permanent commission and short service commission respectively. But with TGC 128 Notification Indian army has combined both entry together, now there won't be a separate notification for SSC-tech and it will be conducted along with TGC. As this is something new aspirants will face, in this post we are going to answer common questions from candidates regarding TGC and SSC-tech combined notification. But first, let's have a look at Indian army announcement of combining TGC and SSC-tech entry.
As per TGC 128 and SSC 45 Tech Notification
"Applications for both entries, viz, TGC-128 and SSC (T)-45 SSCW (T)-23are invited on a common application form from candidates who meet the requisite eligibility criteria as given in this notification, which will be applicable for both the entries subject to meeting the eligibility conditions for the respective entries. The candidates may apply for one or both entries indicating their preference for the two entries in the common application form. Candidates giving SSC (T) as their first choice will be considered as the only choice. The candidates shall be shortlisted engineering stream/discipline wise based on the cut-off percentage for the respective stream/discipline. The shortlisted candidates shall appear for a common SSB at their allotted Selection Centres. A common merit list will be prepared engineering stream/discipline wise for both the entries. Allotment of entry shall be based on merit and preference exercised. Candidates not getting their first choice will automatically be considered for their second choice. Candidates not giving any second choice will be considered for the only choice, if in merit, and will not have any claim on any other entry. The choice given at the stage of the initial application will be final and no change whatsoever will be entertained at a later stage. Choice of an entry where no vacancies are indicated for a particular engineering stream will be considered as an invalid choice."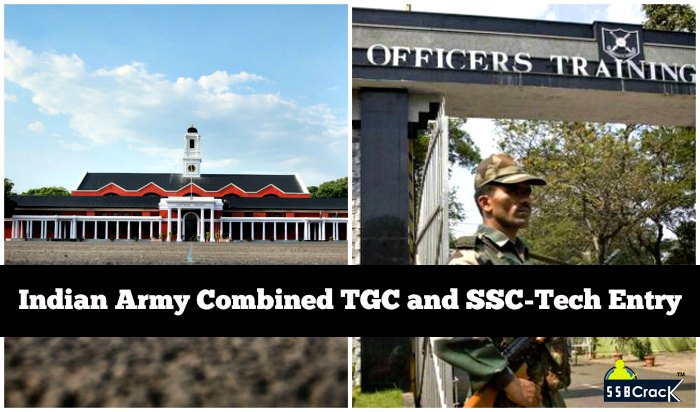 Important Points:
1. Candidates can apply for both TGC and SSC-tech together if eligible as per the notification. Mostly, candidates who are eligible for TGC are also eligible for SSC Tech Men. Women are only eligible for SSC-tech. TGC is for permanent commission and SSC-tech is for the short service commission. TGC training happens at the Indian military academy, Dehradun and SSC-tech training happens at Officer training academy, Chennai.
2. If you have applied for both and you have successfully cleared your interview and medical exam, you will be selected for IMA or OTA based on merit. If you fail to come in TGC merit list, you will be considered for OTA merit list if eligible.
3. If you have only opted for SSC-tech i.e. short service commission, you will not be considered for TGC permanent commission and if you fail to get in the merit list for SSC-tech, you will have no option to join the academy as you are not eligible for TGC.
4. There is no change in the eligibility condition, candidates can apply for TGC and SSC-tech through common application form online at joinindianarmy.nic.in.
5. Shortlisting of candidates will be based on the final cut off declared by Indian army. Cut off may vary as per your engineering branch.
6. Candidates who clear the final cut-off will be eligible for SSB interview.
7. Even if you are eligible for TGC and SSC-tech, you will face only one SSB interview unlike earlier, where you have faced both the interview separately.
What do you think of this change? Write your response and questions below in the comment section.