Indian Coast Guard Recruitment 2015 For Assistant Commandant. EXCELLENT OPPORTUNITY FOR MEN AND WOMEN TO BECOME OFFICER IN INDIAN COAST GUARD – 01/2016 BATCH (TRAINING COMMENCING TENTATIVELY DEC 2015/ JAN 2016). The Indian Coast Guard, an Armed Force of the Union, offers a challenging and inspiring career in various branches as a Group 'A' Gazetted Officer in the rank of Assistant Commandant at pay scale of Rs.15600-39100 with Grade Pay Rs 5400.
Branch and Eligibility- Indian Coast Guard Recruitment 2015
Unmarried Indian citizens having following minimum qualifications are eligible to apply: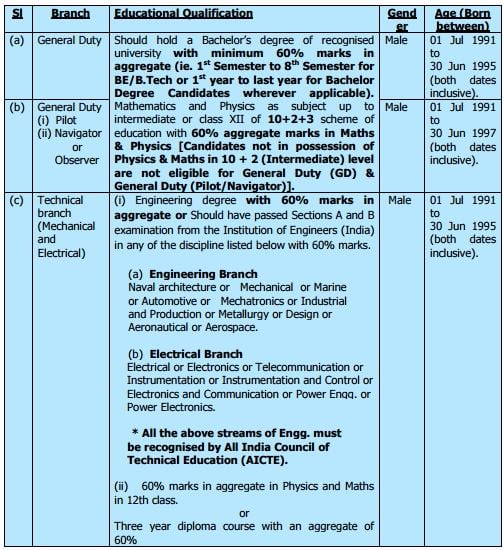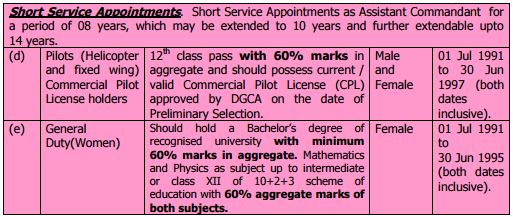 Note:
Maximum 5% relaxation in aggregate in the degree certificate only for SC/ ST candidates, NCC 'C' certificate ( 'A' grade) holders, Sports person of National level (Inter State & above) and Wards of Coast Guard uniform personnel deceased while in service. No relaxation for 12th class marks.
Coast Guard reserves the right to fix the cut off percentage for issue of PSB call up letters.
Additional Eligibility Criteria- Indian Coast Guard Recruitment 2015
The candidates failed in Pilot Aptitude Battery Test (PABT) or suspended from flying training at Air Force Academy are not eligible for Pilot branch however may apply for Navigator (Observer).
The upper age limit for OBC/SC/ST is relaxable as per Govt. of India rules in vogue.
Candidates withdrawn on disciplinary grounds from any other service training academy are not eligible to appear.
Candidates should not have been arrested, convicted or prosecuted on criminal charges.
Candidates appeared in the final year/ final semester exam and awaiting result may also apply provided they should not have any present back papers. Such candidates should be able to submit provisional / original degree certificate issued by the University only at the time of Final Selection Board. The candidates even if recommended by the Final Selection Board will not be given appointment until they submit final mark sheet and Provisional/ Final degree certificates.
How to Apply- Indian Coast Guard Recruitment 2015
Applications will be accepted only 'Online' from 01 Jun to 10 Jun 2015 for the above branches. The important instructions for filling up of online applications are as follows:-

The name of the candidate, father/mother's name and date of birth should be same as mentioned in the 10th class passing certificate.
Indicate exact percentage of 12th and Graduation marks upto two decimals and this is not to be rounded off.
Candidates to choose any one venue out of the options displayed.
Filling up of information like personal email ID and Mobile number of the candidate is compulsory. The date, time and venue of the test and other information will be informed through personal email ID.

To fill up "Online" application the candidates need to logon to the Website www.joinindiancoastguard.gov.in and click on opportunities button. Read the instruction carefully and proceed as given below:-

Select the advertisement for Recruitment of Assistant Commandant- (01/2016 Batch).
Select any one post to be applied from any one of the following: –

Asst. Commandant General Duty
Asst. Commandant General Duty (Pilot)
Asst. Commandant General Duty (Navigator/Observer)
Asst. Commandant General Duty (Women-SSA)
Asst. Commandant Technical (Electrical/Electronics)
Asst. Commandant (Commercial Pilot License-SSA)
Asst. Commandant Technical (Mechanical/Aeronautical)

Click on the 'I Agree' button and the 'Online Application' will be displayed.
Proceed to fill the application (All Star (*) marked entries are compulsory and to be filled).
On completion of filling application, recheck your data entry details carefully once again prior clicking on the Submit button.
On successful submission of the online application a unique Application/Registration number will be provided to the candidate. Candidates must note down this application number for future reference and for retrieval / reprint of admit card. Applicants to take print out of the admit card through URL http://joinindiancoastguard.gov.in/reprint.aspx from 16 Jun to 26 Jun 2015 onwards post short listing of the online application. For candidates NOT meeting the eligibility criteria, a 'Rejection Slip, giving the cause of rejection with the Application Number' will be displayed. Short-listing criteria will be based on higher percentage of marks for a particular examination centre and the branch. SC and ST candidates will be given due weightage while short listing.
Candidates are required to print two copies of the application with roll number generated by the system. Both copies of the print out of application duly signed with photograph are to be carried by the applicant to the recruitment centre. Out of the above two copies, one copy enclosed with photocopies of all required documents i.e. class 10th certificate and mark sheet showing date of birth, 12th class certificate along with mark sheet showing subjects, Degree certificate showing percentage of marks, caste certificate wherever required and NCC 'C' certificate / games certificate duly attested by the Gazetted Officer shall be carried by the candidate and submitted at the examination centre. Second copy without any enclosure is to be kept with the candidate as an identity proof during the selection procedure. Any candidate who does not carry all these documents at the time of PSB shall not be permitted to appear in the exam.
Note. Candidate can apply for one branch only. Filling of multiple applications will result in cancellation of all applications of such candidates. Last date for applying online: 10 Jun 2015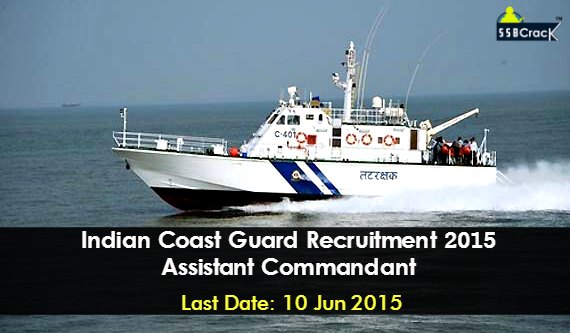 Selection Procedure- Indian Coast Guard Recruitment 2015
Short listing of Applications. Short listing criteria will be based on higher percentage of marks in the qualifying examination and the qualifying cut off for a particular branch or centre may be increased more than 60% if more applications with higher % are received.
Stage -I Preliminary Selection. Shortlisted candidates will be called for Preliminary Selection at given date and time which will consist of Mental Ability Test/ Cognitive Aptitude Test and Picture Perception & Discussion Test (PP&DT). The aptitude test will be in English only and will be objective type. During PP&DT the candidates are expected to speak and discuss in English. However they are free to speak in Hindi if they wish to do so. Date/ time and venue of Preliminary Selection once allotted will not be changed at any stage. Candidates are required to appear at the Venue with the following documents:-

Two copies of computer generated pre-filled online application form with recent colour passport size photo affixed.
Original pass certificate and mark sheet of 10th class.
Original pass certificate and mark sheet of 12th examination.
Original Degree Certificate with all semester / years mark sheets of BE /BTech /Graduation with CPA/GPA conversion for percentage marks from university.
Proof of identity such as passport, driving license, voter I card, college ID card or any other photo identity proof.
Caste Certificate (if applicable) in original as per Govt. of India format for OBC and State for SC/ST candidates.
Current and Valid Commercial Pilot License (approved by DGCA) in original for Asst Commandant CPL entry only.
Character certificate.

Stage -II Final Selection. The candidates qualifying above Preliminary Selection will be called for Final Selection. The date and venue for Final Selection Board (FSB) will be uploaded on Indian Coast Guard website www.joinindiancoastguard.gov.in The Final Selection will consist of Psychological Test, Group Task and Interview (Personality test).
Medical. All candidates recommended by Final Selection Board will undergo Medical examination at nearest Military Hospital. Candidates for GD (P/N) and CPL will undergo medical at AFCME, Delhi / IAM, Bengaluru.
PABT & CPSS. GD (Pilot) candidates on qualifying FSB will be required to appear for PABTand CPSS at Dehradun / Mysore AFSBs. Those already qualified PABT & CPSS are to provide details of batch, Chest number and place while filling up PIQ forms during FSB.
Validity of Selection. The candidate's selection pertaining to a particular batch is valid for that batch only. Qualified candidates whose names do not appear in the final merit list will have no rights for automatic selection for the next batch. Such candidates will have to undergo the selection procedure afresh provided that they meet the eligibility criteria for the fresh batch.
Reasons for Rejection. The Candidature of a candidate can be rejected at any time during the process of selection if

Having detected not meeting any of the above laid down criteria/ conditions of educational qualifications, age, submission of wrong information in the application or false certificates etc.
Act of indiscipline activities including Copying, Cheating, Malpractices or data recording during any of the testing procedures.

Merit List. Qualifying the FSB or Recommendation in FSB does not confirm final selection. A merit list is prepared for the medically fit candidates on the basis of marks obtained by the candidates at FSB and depending on the availability of vacancies. The number of vacancies may vary from branch to branch and will be decided at a later date depending on the number of training vacancies available at the training establishments. The list of candidates selected on the basis of merit list will be uploaded in Coast Guard recruitment website www.joinindiancoastguard.gov.in during the month of Oct / Nov 2015.
DISCLAIMER. Information given in the advertisement and on the website is guidelines only. In case of any ambiguity the existing rules and regulations of Indian Coast Guard / Govt. of India will be final. * Candidates to see Coast Guard Recruitment Website www.joinindiancoastguard.gov.in for updates.
Indian Coast Guard Recruitment 2015 For Assistant Commandant