Indian economy these days is gathering fame for its business and investor friendly nature. Various economic reforms, projects and initiatives have been in the list to lure the investors.  India is going good in economic stability. Recently, India has been ranked 130 in ease of doing business, jumping 12 places up from 142. While comparing it with China and Pakistan, China got placed at 84th rank and Pakistan at 138th rank. Pakistan rolled down by 10 places from 128 to 138th position while China has gained 6 position form earlier rank of 90. The report was released by the World Bank.
NDA led government is now aiming to take the ranking form current to top 50s. PM Narendra Modi's Make in India initiative has made a lot of efforts to drag India to 12 place up. India is the world's fastest growing economy but still several hurdle have been encountered by the business door to setup their business. For doing business in India one has to pay about 33 kind of taxes. This shows how the people have manage to setup their business. While in another survey, the data revealed that on an average it takes 191 days and 33 procedures to set up a business. GST, which is circulating in parliament, is expected to provide relief by reducing certain taxes and easing private sector and common people. While registering a property in India, it takes nearly 47 days which points to relaxing to land exchange rules. Where as on the other hand, World Bank has stated that India has done well in some sectors, responsible like starting a business and getting an electricity connection.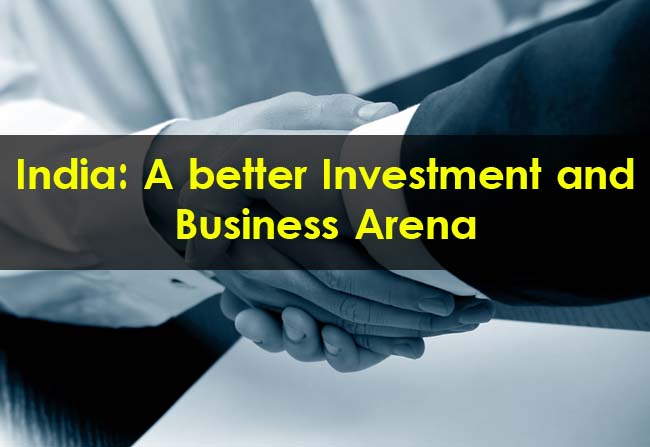 Other than this, India has topped the ranking in a survey conducted by global consultancy firm EY, for best investment destination. India is followed by China, south-east Asia and Brazil. The survey was done over 505 global decision makers in the beginning of this year. Some elite factors that made it done are low labour cost, macroeconomic stability. Political stability, relaxing of FDI policy and government's efforts in taking India higher in ease of doing business rankings. While transport infrastructure, tax and regulatory reforms gave low score to India. FDI is attracting investors and Make in India, Digital India and Smart Cities are driving India to more investor and business friendly destination. Out of 505, about 70% said that they will invest in India in next five years. The report disclosed that in 2014, investors had announced plans to invest about $11bn in 192 FDI projects. Generating 67,000 jobs in India, investors now heading to second tier cities after the fully flourished cities. Jaipur, Vadodara, Ahmedabad are emerging as new choice of investors. While Aurangabad, Vishakhapatnam, Coimbatore are also mentioned by the investors for setting up future plans.
Several other economic reforms are taking place like Sin Tax, Green Cess, etc. and implementation of GST will surely make the economy more favorable for the investors. With the devaluation of Chinese Yuan, India has become a choice of investment for India and business is seen to be taking pace in good level.