Indian Air Force: INVITES ENTERPRISING & ADVENTUROUS INDIAN CITIZENS (MEN AND WOMEN) TO JOIN THE INDIAN AIR FORCE AS COMMISSIONED OFFICERS IN FLYING AND METEOROLOGY BRANCH. REGISTRATION FOR ONLINE APPLICATIONS WILL OPEN ON 05 AUG 17 AND CLOSE ON 31 AUG 17.
Notification: Online applications are invited for the courses commencing in July 2018 for grant of Permanent Commission (PC) for men/Short Service Commission (SSC) for men & women in Flying and Meteorology Branch.

* Criteria for post LASIK surgery for Flying and Ground Duty (Non-technical) Branch are as follows:-
Candidates who have undergone PRK (Photo Refractive Keratotomy)/LASIK (Laser in Situ Keratotomileusis) may be considered fit for commissioning in Air Force Duties.
Post PRK/LASIK candidates must meet the visual requirements required for the branch as laid down in Para 3.12.5.2 IAP 4303(4th edition).
The following criteria must be satisfied prior to selecting post-PRK/LASIK at the time of Air Force Medical Examination.

PRK/LASIK surgery should not have been carried out before the age 20 years.
The axial length of the eye should not be more than 25.5 mm as measured by IOL master.
Atleast 12 months should have elapsed post uncomplicated stable PRK/LASIK with no history or evidence of any complication.
The post LASIK corneal thickness as measured by a corneal pachymeter should not less than 450 microns.
Individuals with high refractive errors (>6D) prior to LASIK are to be excluded.
Radial Keratotomy (RK) surgery for correction of refractive errors are not permitted for any Air Force duties. Candidates having undergone cataract surgery with or without IOL implants will also be declared unfit.
Candidates appearing in final year/semester examinations may apply for all courses commencing in July 2018 provided they fulfil the following conditions:-
Candidates should not have any present backlog and should have secured a minimum of 50% marks in Post Graduation in aggregate in all papers put together for Met branch and minimum of 60% marks in Graduation/BE/B Tech/AMIE/ASI for Flying branch upto the last semester/year for which results have been declared at the time of online submission and at the time of applying/AFSB.
Candidates should be able to provide provisional/original degree certificate issued by University latest by 15 Jun 18.
TYPE OF COMMISSION
PC for Men. Candidates joining as PC officers would continue to serve till the age of superannuation.
SSC for Men & Women. (a) The Engagement period for SSC flying branch is fourteen years from the date of Commissioning (Not extendable). (b) The initial tenure for SSC officers in Meteorology Branch would be for a period of ten years. An extension of four years may be granted subject to willingness, suitability, service requirements and availability of vacancies.
Note: LLB qualified candidates (after commissioning) may get an opportunity to be employed on legal duties of the IAF.
SELECTION PROCEDURE
All applicants whose applications are submitted by due date will be called for testing at one of the Air Force Selection Boards (AFSBs) at Dehradun, Mysore, Gandhinagar or Varanasi. The testing would consist of three stages as given below:-
(a) Stage-I. Officer Intelligence Rating Test along with Picture Perception and discussion test will be conducted on the first day. Stage-I test is a screening test and only those who qualify would undergo subsequent testing. All Stage-I qualified candidates would be subjected to document check to ascertain their eligibility for the branch applied for. Candidates who either do not qualify in Stage-I or do not meet the required eligibility criteria would be sent back on the first day itself.
(b) Stage-II. Psychological test, Group Tests and Interview would commence after document check for the next five days.
(c) For Flying Brach. Computerised Pilot Selection System (CPSS) would be administered to recommended candidates only. This is once in a lifetime test. Candidates who have failed the CPSS/PABT in an earlier attempt or a Flight Cadet suspended from flying training at Air Force Academy will not be eligible to apply
How to Apply: If you meet the eligibility criteria, please click on "CANDIDATE LOGIN" in the career website of IAF www.careerairforce.nic.in, further click on Meteorology Branch Entry or NCC Flying Branch Entry as per your eligibility and follow the instructions thereon. You are advised to note down registration number for future correspondence. Candidates are advised to read the notification and the detailed guidelines for filling up online application as given in the website www.careerairforce.nic.in prior to commencement of filling up online applications. While filling online application, it is advisable to keep the relevant documents readily available, as details are to be filled as per matriculation and other educational certificates. Save your recent colour passport size photograph (size 10 to 50 KB) in the computer for uploading it with your online application form. Please note that utmost care needs to be taken while filling up the online application. In case any information is found to be incorrect, the candidature is likely to be cancelled at any stage of the selection process. Submission of more than one application will result in cancellation of candidature.
Serving Airmen: Serving Airmen are required to apply online at par with other candidates. In addition, Airmen candidates would be required to apply as per the service format as given in AFO 11/ 2015 through service channel. Other government employees also need to apply online after obtaining necessary permission from their concerned departments and they are to produce NOC at the time of AFSB testing.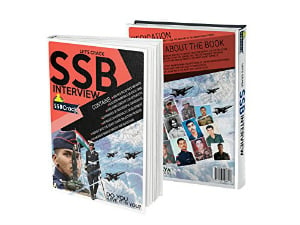 To crack SSB and AFSB Interview get "Let's Crack SSB Interview" Book from Flipkart. Trusted by thousands of defence aspirants
Also Download Helpful eBooks: