"Commissioning of INS Kalvari is an occasion of great pride. It illustrates the success of 'make in India' and adds strength to our defense capabilities."
-Prime Minister Narendra Modi
PM Narendra Modi tweeted the above on the historic day of 14th December 2017. This day marks the induction of Kalvari-class submarine into the Indian Navy. It is a diesel-electric attack submarine designed by the French Naval Defense and Energy Company.It has been manufactured at Mazagaon Dock Limited in Mumbai.
Taking the idea of 'Make in India' forward, the Indian Navy has proved its mettle yet again by gifting the nation with a lethal Scorpene-class submarine. The submarine boasts of hydro-dynamically optimised shape, acoustic silencing techniques low radiated noise levels and precision-guided weapons.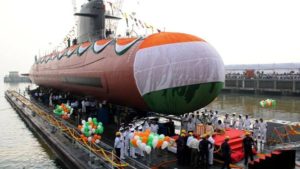 The attack submarine is equipped with state of the art heavy-weight torpedoes and Exocet anti-ship missiles.At its very core, it functions on SUBTICS or Submarine Tactical Integrated Combat System suite. It is able to process information from onboard sonars and engage with detected underwater target torpedos and missiles.
The submarine's maneuvering and stealth capacity have been increased exponentially by mounting of equipment inside the pressure hull on shock absorbing cradles. Not only that, the submarine has an extremely silent Permanently Magnetised Propulsion Motor powered by over 360 battery cells.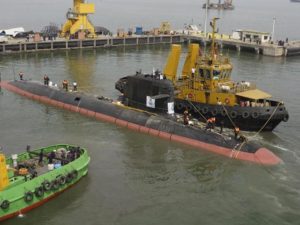 The submarine has undergone extensive trails in the sea and has proven extremely fit to be a part of the elite force. This beast is not the only one in the making. India has partnered with France to create five more of the similar kind of attack submarines. The second such submarine INS Khanderi is under trials and is expected to be commissioned soon.
The indigenously built submarine's induction marked the gathering of several dignitaries in Mumbai. Along with Prime Minister Narendra Modi, Defense Minister Nirmala Sitharaman Navy chief Admiral Sunil Lanba and Vice Admiral Girish Luthra, Flag Officer Commanding of the Western Naval Command, were also present.
The prime minister in his speech dedicated INS Kalvari to the nation and its people.He thanked everyone involved in the construction of this submarine. He further praised the Indian Navy to be a multi-dimensional and a modern force, which only keeps on giving and growing.
This is indeed a reason for India to be proud. Not only do we have one of the best-in-class submarines in the world, it was a product made by the exemplary engineers and workers of our own country. Let's hope that our defense forces keep on expanding and keep on growing, with every passing day, making the country more stronger and much more glorious!