The Supreme Commander of the Indian Armed Forces, President Ram Nath Kovind conferred 3 Kirti Chakras and 13 Shaurya Chakras to Armed Forces Personnel for displaying conspicuous gallantry, indomitable courage and extreme devotion to duty at a solemn ceremony at the Rashtrapati Bhawan on 23 April 2018. 2 Kirti Chakras and 2 Shaurya Chakras were awarded posthumously.
The President also conferred 13 Param Vishisht Seva Medals, 2 Uttam Yudh Seva Medals, 2 Bar to Ati Vishisht Seva Medals and 26 Ati Vishisht Seva Medals to senior officers of the Armed Forces for distinguished service of an exceptional order.
The following is the list of awardees –
Kirti Chakra
SHRI PRAMOD KUMAR, COMMANDANT, 49 BATTALION, CENTRAL RESERVE POLICE FORCE (POSTHUMOUS)
Pramod Kumar was the CO of the Srinagar-based 49th battalion of the paramilitary force. He was killed in an encounter with terrorists at Nowhatta Chowk in Srinagar soon after he unfurled the national flag at his camp on August 15 last year and rushed to help his troops who were engaged by two armed, foreign militants.
44 year old Pramod Kumar suffered a fatal bullet injury in his skull and succumbed to it, not before inflicting severe injuries on the militants.
For his bravery and timely actions, has been decorated with Kirti Chakra posthumously.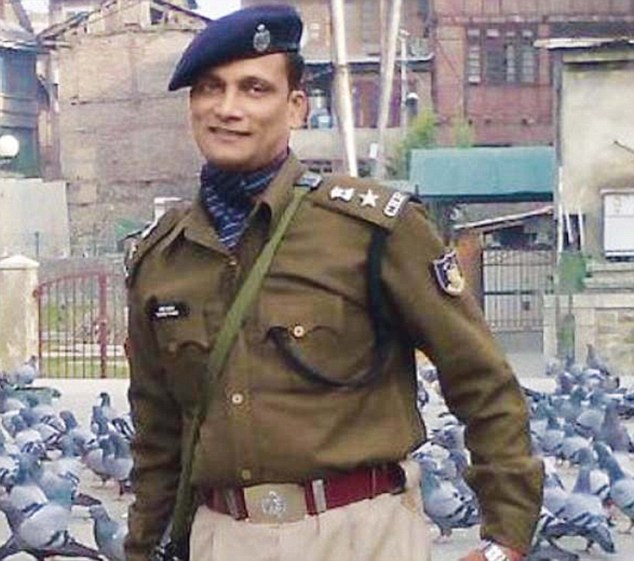 5047602N HAVILDAR GIRIS GURUNG, FOURTH BATTALION THE FIRST GORKHA RIFLES (POSTHUMOUS)
Havaldar Giris Gurung, 38 was part of the team that had intercepted a group of terrorists along LoC in the morning of May 20, 2017 thus preventing them from infiltrating into Indian territory.
He made India proud when he with his team killed four heavily-armed infiltrators in the Naugam sector on the Line of Control (LoC) before making supreme sacrifice in the line of duty.
A native of Nepal, Gurung had a distinguished service of 19 years and was a part of many counter terrorist operations earlier. The martyr is survived by his wife Smt Panch Maya Gurung and two young children.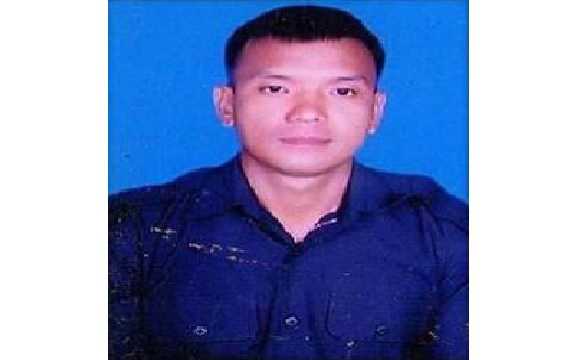 IC-73531A MAJOR PREETAM SINGH KUNWAR, FOURTH BATTALION THE GARHWAL RIFLES
On 25 May 2017, Major Preetam Singh Kunwar immediately moved from his post towards LoC through heavily forested area infested with mines by creating improvised infantry safe lane to stop terrorists' movements.
He stayed in the forest for 35 hours in inclement weather conditions. After visual confirmation of advancing terrorists, he evolved instantaneous plan and selected suitable killing ground. He showed great patience and fire control in letting the terrorist enter the killing ground and thereafter opened aimed fire.
Undeterred by the heavy volume of fire and assault by Hand Grenades and HBGLs by terrorist, the officer was singularly responsible for elimination of three hardcore terrorists.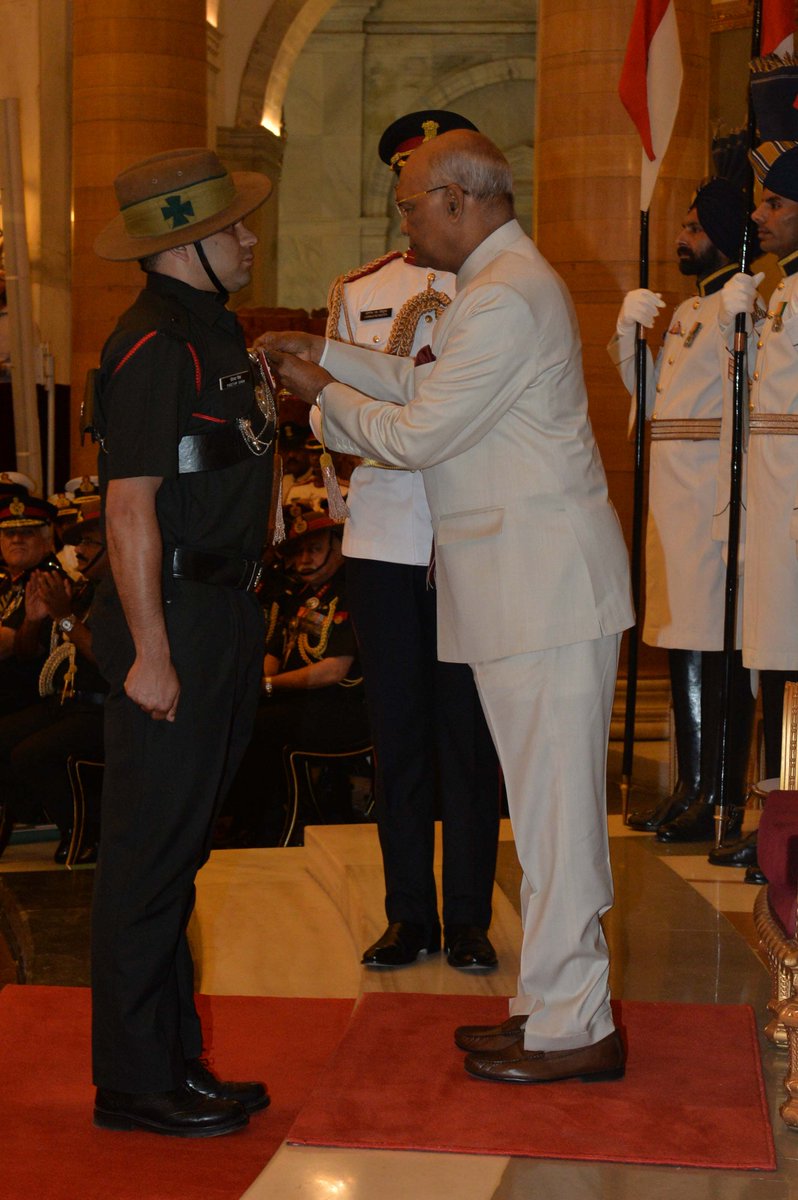 Shaurya Chakra
SS-42717H MAJOR GOSAVI KUNAL MUNNA GIR, REGIMENT OF ARTILLERY 166THBATTALION THE MEDIUM REGIMENT (POSTHUMOUS)
4578033Y LANCE NAIK RAGHUBEER SINGH, THE MAHAR REGIMENTS, 1STBATTALION THE RASHTRIYA RIFLES (POSTHUMOUS)
13767992A LANCE NAIK KASHMIR SINGH, 17THBATTALION THE JAMMU AND KASHMIR RIFLES
JC-580725NSUBEDAR(NOW SUBEDAR MAJOR) SHABIR AHMED, 17THBATTALION THE JAMMU AND KASHMIR RIFLES
SHRI VIKASHJAKHAR, ASSISTANT COMMANDANT, CENTRAL RESERVE POLICE FORCE
MD RIYAZALAM ANSARI, SUB-INSPECTOR/GD, CENTRAL RESERVE POLICE FORCE
5250886X LANCE NAIK DEEPAK ALE, 1STBATTALION, THE 3RDGORKHA RIFLES
TA-42759Y CAPTAIN (NOW MAJOR) PRADEEP SHOURY ARYA, 106 INFANTRY BATTALION TERRITORIAL ARMY (PARA) ATTACHED WITH 4THBATTALION THE PARACHUTE REGIMENT (SPECIAL FORCES)
13630400TY PARATROOPER MANCHU, 12THBATTALION THE PARACHUTE REGIMENT (SPECIAL FORCES)
5047762N HAVILDAR RABINDRATHAPA, 4/1 GORKHA RIFLES
13625628LNAIKNARENDER SINGH, 9THBATTALION THE PARACHUTE REGIMENT (SPECIAL FORCES)
IC-76619P MAJOR AKHIL RAJ RV, GRENDADIERS REGIMENT, 55THBATTALION THE RASHTRIYA RIFLES
924566-R CORPORAL DEVENDRA MEHTA, INDIAN AIR FORCE(SECURITY)
Param Vishisht Seva Medal
IC-35904Y LIEUTENANT GENERAL SARATH CHAND, UYSM, AVSM, VSM, INFANTRY
IC-35987P LIEUTENANT GENERAL DEWAN RABINDRANATH SONI, VSM/THE ARMOURED CORPS
IC-38654N LIEUTENANT GENERAL DEVRAJANBU, UYSM, AVSM, YSM, SM /INFANTRY
IC-38722W LIEUTENANT GENERAL CHERISH MATHSON, SM, VSM, INFANTRY
VICE ADMIRAL ABHAYRAGHUNATHKARVE, AVSM (02118-N), FLAG OFFICER COMMANDING-IN-CHIEF, SOUTHERN NAVAL COMMAND
AIR MARSHAL CHANDRASHEKHARAN HARI KUMAR, AVSM, VM, VSM, ADC (15881) FLYING (PILOT)
AIR MARSHAL ANIL KHOSLA, AVSM, VM (15871) FLYING (PILOT)
IC-35965W LIEUTENANT GENERAL RAJENDRARAMRAONIMBHORKAR, UYSM, AVSM, SM**, VSM, INFANTRY
IC-39083M LIEUTENANT GENERAL SANJAY KUMAR JHA, AVSM, YSM, SM, INFANTRY
IC-39098P LIEUTENANT GENERAL GURPRATAP SINGH DHILLON, AVSM, YSM, SM, INFANTRY
IC-39295X LIEUTENANT GENERAL PARMINDERJIT SINGH PANNU, AVSM, VSM, INFANTRY
IC-35796A LIEUTENANT GENERAL KANWALJEET SINGH GILL, AVSM, VSM, ELECTRONIC AND MECHANICAL ENGINEERS CORPS (RETIRED)
IC-40700W MAJOR GENERAL SANJAY THAPA, THE ARTILLERY REGIMENT
Uttam Yuddh Seva Medal
IC-38753W LIEUTENANT GENERAL JASWINDER SINGH SANDHU, AVSM, VSM, INFANTRY, HEADQUARTERS 15 CORPS
IC-39465W LIEUTENANT GENERAL AMARJEET SINGH BEDI, YSM, VSM, INFANTRY, HEADQUARTERS 4 CORPS
Bar to Ati Vishisht Seva Medal
IC-39070P LIEUTENANT GENERAL RANBIR SINGH, AVSM, YSM, SM, INFANTRY
IC-35962H LIEUTENANT GENERAL LALIT KUMAR PANDEY, AVSM, SM, INFANTRY(RETIRED)
Ati Vishisht Seva Medal
IC-35955M LIEUTENANT GENERAL AMRIK SINGH, SM, INFANTRY
V-00359F LIEUTENANT GENERAL AMOLAKJIT SINGH, VSM, REMOUNT VETERINARY CORPS
IC-39675W LIEUTENANT GENERAL VIJAY SINGH, SM, VSM, INFANTRY
IC-39871W LIEUTENANT GENERAL SANTOSH KUMAR UPADHYA, SM, VSM, INFANTRY
MR-04142P LIEUTENANT GENERAL SANJIV CHOPRA, VSM, ARMY MEDICAL CORPS
IC-39898N LIEUTENANT GENERAL DEPINDER SINGH AHUJA, CORPS OF ENGINEERS
IC-39283H LIEUTENANT GENERAL KANWAL KUMAR, THE CORPS OF ARMY AVIATION
IC-40101W LIEUTENANT GENERAL RAJNI KANT JAGGA, VSM, THE ARMOURED CORPS
VICE ADMIRAL RAVINDRABHARTRU HARI PANDIT (02746-R), COMMANDANT, INDIAN NAVAL ACADEMY
IC-37398X LIEUTENANT GENERAL RAJANRAVINDRAN, VSM, INFANTRY (RETIRED)
IC-35201X LIEUTENANT GENERAL AJAI KUMAR SAHGAL, VSM, ARMY AIR DEFENCE (RETIRED)
IC-40873N MAJOR GENERAL RAMACHANDRA NAGRAJ, VSM, THE CORPS OF SIGNALS
IC-41166W MAJOR GENERAL (NOW LIEUTENANT GENERAL) SATINDER SINGH, ARMY AIR DEFENCE
IC-41860H MAJOR GENERAL SHANTANU DAYAL, SM, VSM, INFANTRY
IC-42389A MAJOR GENERAL BAGGAVALLISOMASHEKAR RAJU, YSM, INFANTRY
REAR ADMIRAL SURESH MOOCHIKALDAMODARAN, NM (02701-N), ASSISTANT CHIEF OF INTEGRATED DEFENCE STAFF (INT-A)
REAR ADMIRAL NARAYAN PRASAD, NM (41016-T), ASSISTANT CHIEF OF MATERIAL (NUCLEAR SUBMARINE MAINTENANCE)
REAR ADMIRAL BISWAJIT DAS GUPTA, YSM, VSM (02782-F), ADDITIONAL DIRECTOR GENERAL, NATIONAL CADET CORPS
REAR ADMIRAL SANJAY MAHINDRU, NM (02797-F), CHIEF STAFF OFFICER (SEA VECTOR)
AIR VICE MARSHAL MAHENDER KUMAR GULERIA, VSM (17130) AERONAUTICAL ENGINEERING (MECHANICAL)
AIR VICE MARSHAL ATUL KUMAR SINGH, VSM (17041) ADMINISTRATION
AIR VICE MARSHAL HARINDERJEETWALIA (16418) FLYING (NAVIGATOR) (RETIRED)
AIR VICE MARSHAL SUNIL JAYANT NANODKAR, VM, VSM (16555) FLYING (PILOT) (RETIRED)
AIR COMMODORE SURENDAR KUMAR INDORIA, VM (18296) FLYING (PILOT)
AIR COMMODORE RAKESH SINHA (18797) FLYING (PILOT)
AIR COMMODORE KARTIKEYA KALE (19883) FLYING (PILOT)