From an Air Force Officer to a full time football referee, Uvena Fernandez will be officiating as an assistant referee in the FIFA U-20 Women's World Cup to be held in France from August 5-24. She is a native of Palolem in Goa.
Her experience as a referee
Uvena has officiated in the Subroto Cup, India's most prestigious international school-level competition conducted by the Indian Air Force.
She also has experience refereeing in the AFC Cup held in Bangladesh.
She had earlier become the first Indian woman assistant referee to officiate in a FIFA World Cup during the 2016 U-17 Women's World Cup in Jordan and has refereed 3 othe matches in the in the same tournament which earned her the 'AFC Referees Special Award' for her commendable consistency.
With this, Uvena will now be officiating in her second FIFA World Cup in less than two years.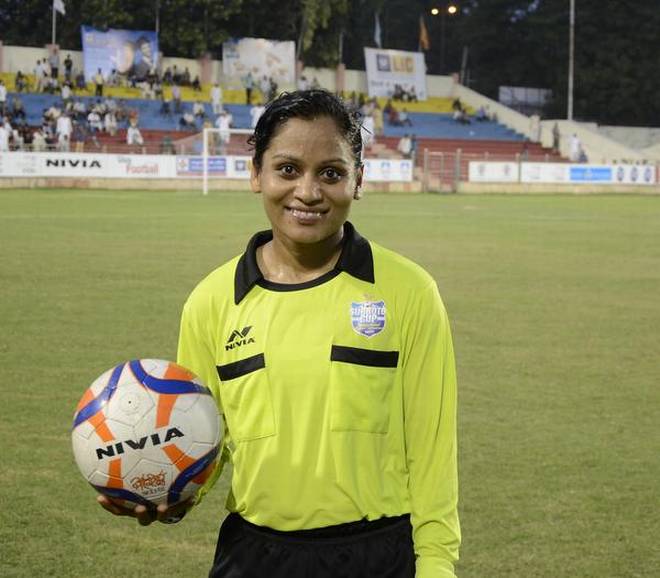 A sportsperson by heart
Uvena is a former international footballer herself from the state of Goa and represented India in 2003 at AFS Asian Women's Championship.
She has been a sprinter, tried her hand at handball, volleyball and basketball, even attempted tennikoit, all at the state level, before pursuing a career in football.
An Air Force Officer By Choice
Uvena joined the Air Force Academy in 2006 before opting to switch to refereeing, with an approach to give back to the sport which had given her a new lease of life.
She was commissioned in the Air Traffic Control section and rose upto the rank of squadron leader.
According to Uvena, "It is one of the most stringent jobs. As an ATC and a referee, I have to be unflinchingly alert. I have to take decisions very fast and need lot of concentration."
"I didn't plan to join Air Force but it so happened that I was officiating a match and was told to apply. I got through," she says a matter of fact.
Future Prospects
Uvena is a candidate in contention for the senior women's World Cup next year. There are certain criteria that need to be fulfilled. She hope that she can maintain her fitness and stay in the best possible shape if something comes up.
Conclusion
Uvena's achievement is not only a boost for her, but it's a boost for Women's Football and Women's Refereeing in general and it shows that Indian Referees can also make it to the big stage on a regular basis.