The Bhabha Atomic Reseach Centre (BARC) has developed a next-generation bulletproof jacket – Bhabha Kavach – for the armed forces, which they claim, is not only cheaper but also much lighter.
The idea to develop a lighter bulletproof jacket was initiated in 2015. The weight of the bullet proof matters when forces are on a long duration mission. Heavier jacket becomes an impediment when there are operations that last around 3-7 days.
About Bhabha Kavach
Bhabha Kavach is named after nuclear physicist Dr. Homi J. Bhabha.
The jacket was developed at BARC's Trombay centre in response to a request from the Central Reserve Police Force (CRPF) and the Ministry of Home Affairs.
The jacket weighs just 6.6 kg in comparison to the 17-kg jackets in use, and has passed over 30 tests carried out by certified agencies. Bhabha Kavach is available in three variants as per the requirement of the armed forces.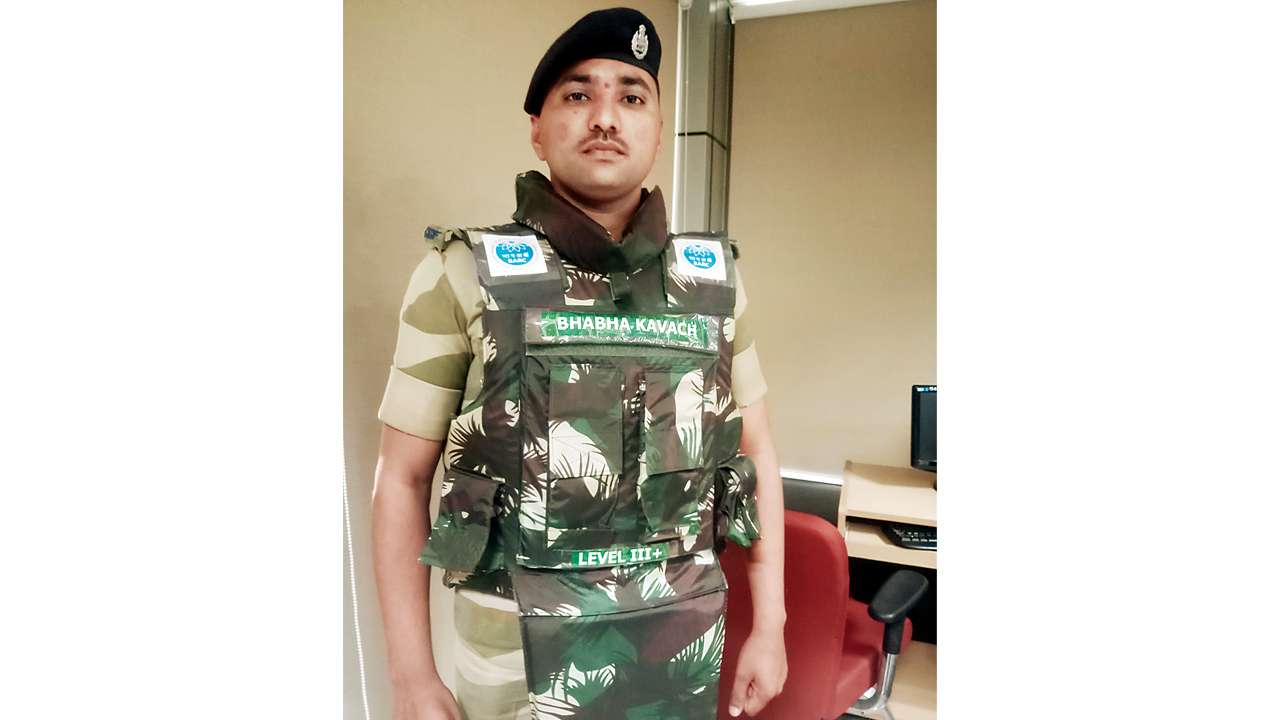 The Making
The jacket is made using extremely hard boron carbide ceramics that is hot-pressed with carbon nano-tubes and composite polymer. BARC has been using boron carbide in the control rods of its nuclear reactors.
The materials used have been indigenously developed at BARC and is a spin-off from nuclear technology. The bullet proof jacket can also be customised to various requirements.
Costs and Testing
The cost of a Bhabha Kavach is ₹70,000 as against the jackets of similar strength in the range of ₹1.5 lakh.
A five-member BARC team worked for a year in 2015-16 to develop the jacket, which is being tested by a joint team of the CRPF, Indo-Tibetan Border Police, and the Central Industrial Security Force. The northern command of the Indian Army is also testing a variant of the jacket in Jammu and Kashmir.
It has passed over 30 tests carried out by certified agencies.
Past Failure of Bullet-Proof Jackets
Unfortunately, in certain incidents in Jammu and Kashmir, bulletproof jackets have failed to protect our jawans, as terrorists have resorted to Chinese-made hard steel core bullets capable of piercing the jackets. These specialised steel bullets were used in an attack in Pulwama on December 31, 2017, where five CRPF jawans were martyred during a gun battle with terrorists.
Bhabha Kavach has been designed to protect our soldiers against eight 7.62mm bullets fired from AK-47 rifle from distance of 5-10 metres. It can even withstand 5.56mm bullet of Indian Small Arms System (INSAS).
Production
BARC has transferred the technology of Bhabha Kavach to Mishra Dhatu Nigam, Hyderabad, for its large-scale production. It is estimated that about one lakh jackets will be required, per annum, for the next 10 years. The light jacket will surely save the government exchequer foreign exchange.
About BARC
The Bhabha Atomic Research Centre (BARC) is India's premier nuclear research facility based in Mumbai, Maharashtra. It is multi-disciplinary research center with extensive infrastructure for advanced research and development. Its R&D covers entire spectrum of nuclear science, engineering and related areas. BARC's core mandate is to sustain peaceful applications of nuclear energy, primarily for power generation.