Here is a list of all the latest international news of the last 5 months. These international news and current affairs will help you during your Personal Interview and during your Group Discussion to put in your valid points.
Pakistan hosted Anti-Terrorist Structure
A three-day Shanghai Cooperation Organisation-Regional Anti-Terrorist Structure (SCO-RATS) meeting was held for the first time after Pakistan became an SCO country in June 2017. The moot is being held to discuss terrorist threats facing the region and ways and means to enhance counter-terrorism cooperation between SCO member states.
Legal experts from the eight member states, including India, China, Kazakhstan, Kyrgyzstan, Russia, Tajikistan, Uzbekistan and Pakistan, as well as representatives of the SCO and RATS Executive Committee are participating in the meeting.
Nepal to hold BIMSTEC 2018
Nepal's Prime Minister KP Sharma Oli announced to host the 2018 Bay of Bengal Initiative for Multi-Sectoral Technical and Economic Cooperation (BIMSTEC) summit while expressing commitment towards building the Bangladesh-Bhutan-India-Nepal initiative.
SCO Tourism Ministers' conference
The Shanghai Cooperation Organization (SCO) Tourism Ministers' conference was held in Wuhan, China. It was the first meeting of SCO tourism ministers since the organization was established in 2001 in Shanghai. From India Minister of State (Independent Charge) for Tourism K. J. Alphons attended the conference.
Trump withdraws the US from Iran nuclear deal
President Donald Trump has withdrawn the United States from an international agreement aimed at controlling Iran's nuclear program and criticized the deal, calling it "very badly negotiated."
Trump accused Iran of being "the leading state sponsor of terror," saying it supported groups such as Hezbollah, Hamas, and the Taliban. But he added that "No action taken by the regime has been more dangerous than the pursuit of nuclear weapons." The president said he is re-establishing the "highest levels of economic sanctions" on Iran.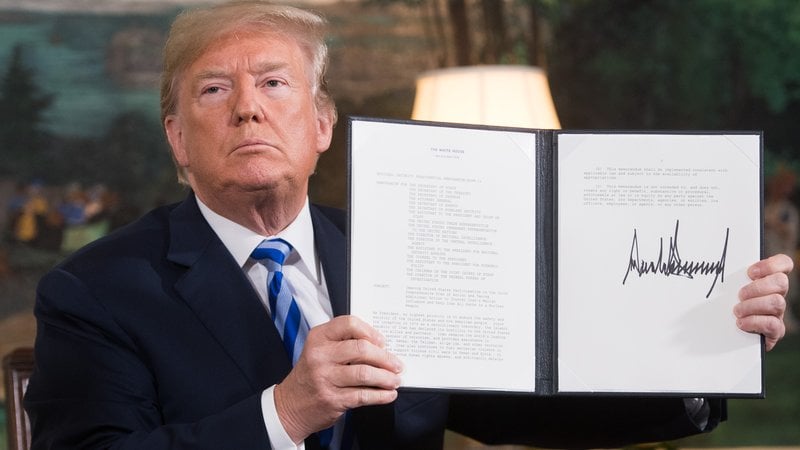 The Malaria Summit held in London
The Malaria Summit saw 14 heads of state and government, scientists and private sector and international organisations making significant commitments to catalyse progress towards beating malaria at a time when efforts to end the preventable disease have stalled.
The summit featured collective commitments worth over 4.1 billion dollars from governments, the private sector, philanthropists and international organisations.
There was no India representative to participate in the summit. As a matter of fact, One in seven Indians is at risk of contracting malaria.
Singapore, China ink MOU to bolster Belt and Road collaboration
Singapore and China inked a Memorandum of Understanding (MOU) on Apr 8 to promote greater collaboration between companies from both countries in third-party markets along the Belt and Road routes.
The MOU will see the formation of a working group between the Ministry of Trade and Industry (MTI), China's National Development and Reform Commission, and Enterprise Singapore. It will identify sectors and markets of mutual interest, organise business-matching activities and forums to facilitate third-party market cooperation between Singapore and Chinese companies under the Belt and Road Initiative.
7 April: World Health Day
The World Health Day (WHD) is observed every year on 7 April to mark the anniversary of the founding of World Health Organization (WHO) on this day in 1948. The theme for the year 2018 is "Universal Health Coverage: Health For All".
It aims to ensure that everyone, everywhere should have access to essential quality of health services and should not experience any financial hardship while getting quality medical service. It seeks to provide an opportunity for UHC (Universal Health Care) 2030 partners to accelerate progress towards universal health coverage.
Russia and Pakistan Test-Fired Missiles on 31 March
Russia has successfully test-fired its latest nuclear Inter-Continental Ballistic Missile (ICBM) RS-28 Sarmat. This missile can carry an array of warheads capable of dodging missile defences.
Pakistan Navy successfully test fired indigenously developed Submarine Launched version of Cruise Missile (SLCM) BABUR. The missile was fired from Pakistan Navy successfully test fired indigenously developed Submarine Launched version of Cruise Missile (SLCM) BABUR. The missile was fired from an underwater dynamic platform, which successfully hit its target with sharp accuracy. The missile also met all its flight parameters.
ISA and MEA signed Host Country Agreement
Ministry of external affairs (MEA) signed the host country agreement in New Delhi with International Solar Alliance (ISA). The agreement will give ISA a juridical personality and gives it the power to contract, acquire and dispose of movable and immovable properties as well as to institute and defend legal proceedings.
He said that energy will now be available to less developed tropical countries at affordable rates and in an easily deployable manner. He also mentioned that many countries have shown interest to learn from India's experience in renewable energy.
African countries to sign African Continental Free Trade Area (ACFTA)
African leaders are set to launch AfCFTA, the biggest free trade agreement since the establishment of the WTO. The agreement is set to be signed by all 55 member states of the African Union, bringing together 1.2 billion people with a combined gross domestic product (GDP) of more than $2 trillion.
The draft agreement commits countries to removing tariffs on 90 percent of goods, with 10 percent of "sensitive items" to be phased in later. The agreement will also liberalise services and aims to tackle so-called "non-tariff barriers" which hamper trade between African countries, such as long delays at the border.
The Philippines withdraws from International Criminal Court
President Rodrigo Duterte said he was pulling the Philippines out of the treaty underpinning the International Criminal Court (ICC), which is examining his deadly drug war.
The Hague-based ICC announced last month it was launching a "preliminary examination" of Duterte's bloody anti-drug crackdown that has drawn international concern. Police say they have killed nearly 4,000 drug suspects as part of the campaign, while rights groups claim the toll is around three times the numbers given by authorities.
China elected as vice chair of FATF
China was elected as the Vice President of Financial Action Task Force (FATF), a global body mandated to combat terror financing and money laundering. China's election came after the FATF plenary meeting on February 23, 2018 in Paris.
China's election to the FATF assumes significance as Pakistan is set to be put in the FATF 'grey list' in June 2018. The grey lists put countries under the scanner for not implementing the objectives of the task force.
Venezuela becomes the first country to launch a virtual currency
Venezuela becomes the first sovereign country to officially launch its own cryptocurrency called Petro backed by oil, gas, gold and diamond reserves to circumvent US-led financial sanctions. Venezuelan President Nicolas Maduro has claimed that the pre-mined cryptocurrency Petrohas.
The US places Pakistan on a special watch list
The US has placed Pakistan on a special watch list for "severe violations" of religious freedom. This has come as US President Donald Trump recently criticized Pakistan for not doing more to combat terrorism, and his administration has informed members of Congress that it will announce plans to end "security assistance" payments to the country.
In reaction to that, Pakistan has said it is already doing a lot to fight militants and summoned the U.S. ambassador to explain a tweet by Trump that said the United States had been foolish in dispensing aid to Islamabad.
Nepal becomes first south-east Asian country to eliminate Trachoma
The World Health Organization (WHO) has validated Nepal for having eliminated trachoma as a public health problem – a milestone, as the country becomes the first in WHO's South-East Asia Region to defeat the world's leading infectious cause of blindness.
Trachoma was the second leading cause of preventable blindness in Nepal in the 1980s. In 2002, the Government of Nepal stepped up efforts to eliminate the disease with the establishment of a national trachoma programme. From 2002 to 2005, following the implementation of sustained control activities, the prevalence of active (inflammatory) trachoma fell by 40%.