Founded as a joint initiative of the Army, the Centre for Social Responsibility (CSRL) and PETRONET LNG Limited (PLL), Project Kashmir Super 50 this year saw 32 students clear the JEE (Mains)
Modelled on Patna's Super-30, which has enabled many poor students crack the entrance examination and join the prestigious IITs, the coaching centre in the Kashmir Valley is enabling disadvantaged students from the militancy-hit region to pursue their dreams of becoming engineers.
The Students
The students selected for coaching are 45 boys and 5 girls who were provided with free residential coaching for the JEE, JKCET and other engineering colleges. The 45 boys are based in Srinagar and the 5 girl students are based in Noida.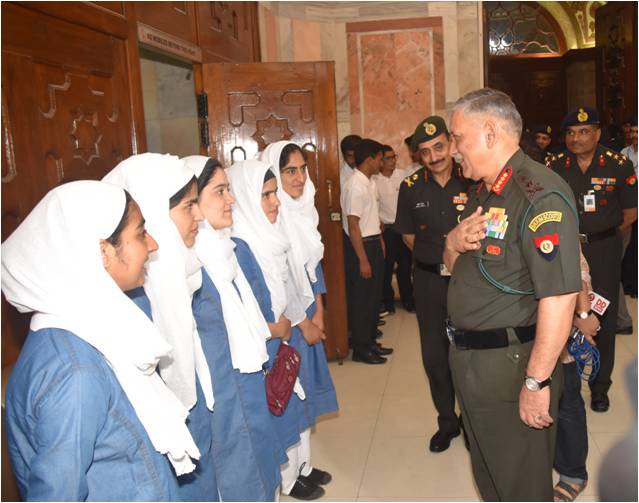 32 out of the 50 students have cracked this year's IIT-JEE (Mains) and 7 crack the JEE (Advanced).
Significantly, 20 of the 32 JEE (Mains) qualifiers are from the Scheduled Tribe category and two from the Other Backward Classes.
Roughly a third of the successful students are from the Jawahar Navodaya Vidyalayas and the rest are from other government schools. Among the students are children of farmers, labourers and drivers.
Fifth Such Batch
The outgoing batch is the 5th batch of Kashmir Super 50.
A group of 30 qualified students, part of Kashmir Super 50 visited New Delhi and interacted with General Bipin Rawat, Chief of the Army Staff on 12 Jun 18.
The General shared his experiences while serving in these areas, with the students and motivated them to work hard & contribute actively to the nation-building process.
About Super 50
It was launched on 22 March 2013 in a joint initiative by Indian Army, Center for Social Responsibility and Leadership (CSRL) and PETRONET LNG Limited (PLL).
It is a 11-month program and the selected students are provided with complete free residential coaching for IIT-JEE, JKCET and other premier Engineering Institutes.
Project 'Kashmir Super 50' has been one of the most successful projects undertaken by the Indian Army in the valley and has directly impacted the lives of a number of youths in J&K by providing them with the right guidance and opportunity to make a career for themselves.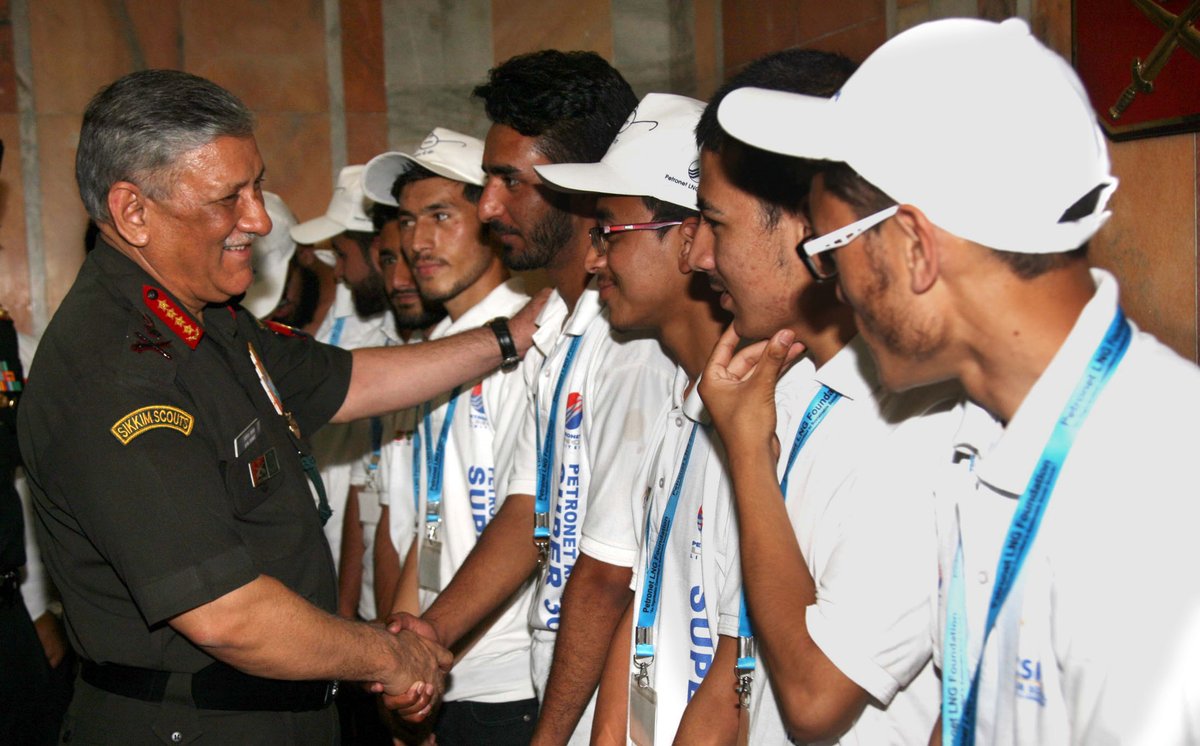 The project has equally helped the families of these youths in their growth and prosperity. It is a major initiative towards bringing normalcy in the valley.
Future Projects
One of the girl students who qualified for the JEE Mains told that such programmes were needed because not many in her village knew about the opportunities that exist in the mainstream world.
On similar lines of Kashmir Super 50 for engineering aspirants, Indian Army has recently signed a MoU for medical aspirants with Hindustan Petroleum Corporation Limited (HPCL) & National Integrity Educational Development Organisation (NIEDO), under which selected students will be provided with complete free residential coaching for National Eligibility-cum-Entrance Test (NEET).