The Defence Research and Development Organisation (DRDO) has successfully test-fired upgraded guided version of Pinaka Rocket from Proof & Experimental Establishment (PXE) at Chandipur, Odisha.
The test was carried out from a multi-barrel launcher at about 10.35 AM from the firing point of the Proof & Experiment Establishment (PXE) under DRDO.
It can fire a salvo of 12 rockets in 44 seconds.
The earlier Pinaka version, which was an unguided one, has now been upgraded into a guided version, with a navigation, guidance and control kit developed by the Research Centre, Imarat (RCI), Hyderabad.
The RCI comes under the Defence Research and Development Organisation (DRDO). The conversion helped in enhancing the range and accuracy of Pinaka. If its range was earlier 40 km, it is more than 70 km now.
Radars, electro-optical systems and telemetry systems at the defence range at Chandipur, tracked and monitored the rocket all through its flight path. The guided version is Pinaka mark-II, which evolved from Pinaka mark-I.
Two rounds of tests have been conducted and some more rounds have been planned.
The Pinaka rocket is to replace the Russian Smerch rocket launch system. The Indian Army has 62 Smerch batteries.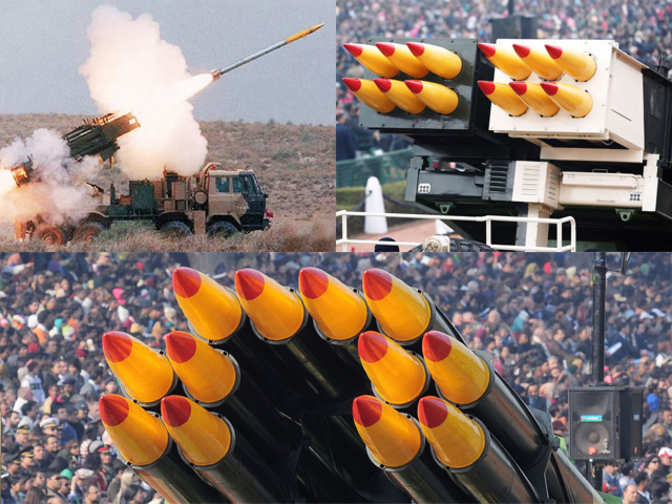 The Defence Ministry is looking to buy six regiments of the multi-barrel rocket launchers, and an order for the acquisition is expected any time now. This order is set to propel state-owned contractors Bharat Earth Movers Limited and the Ordnance Factory Board as well as private defence companies Larsen & Toubro and Tata Power SED. While BEML is to supply the vehicle, L&T and Tata Power SED will build launcher systems. The Ordnance Factory Board will supply the rocket ammunition.
The success of the guided Pinaka has reinforced the technological strength of the country in converting the unguided systems into weapons of high precision. The guided Pinaka was developed jointly by the Armament Research and Development Establishment (ARDE), Pune, the RCI, and the Defence Research and Development Laboratory (DRDL), Hyderabad. The PXE, Chandipur, provided the range and launch support.
The weapon's capability to incorporate several types of warheads makes it deadly for the enemy as it can even destroy their solid structures and bunkers.
The performance of an earlier version of Pinaka was lauded during the Kargil War, where it was successful in neutralising enemy positions on mountain tops. The Mark-II version of the rocket is expected to be inducted in the armed forces very soon.