The Indian Navy commissioned the IN LCU L54 into its fleet at Port Blair. It is the fourth ship of Landing Craft Utility MK-IV. The ship was commissioned by Vice Admiral GS Pabby, AVSM, VSM and Chief of Materiel.
About IN LCU
The Landing Craft Utility (LCU) ships are used by amphibious forces for transport of equipment and troops to the shore. They are capable of transporting tracked or wheeled vehicles and troops from amphibious assault ships to beachheads or piers.
India is few of such countries which possess this class of ship. France, Germany, Netherlands, Russia, Spain, United Kingdom and the United States are some of the countries who have upper hand over these ships.
Landing Craft Utility (LCU) MK-IV fleet of ships is an amphibious programme with its primary role being transportation and deployment of Main Battle Tanks, Armoured Vehicles, troops and equipment from ship to shore.
Each of the LCUs is powered by two German-built MTU 16V 4000 M53 diesel engines, and can attain a top speed of 15 kt, with a standard range of 1,500 n miles at 12 kt.
Also Read: Ever Wondered Why Ships Are 'Commissioned' & Other Machinery 'Inducted'?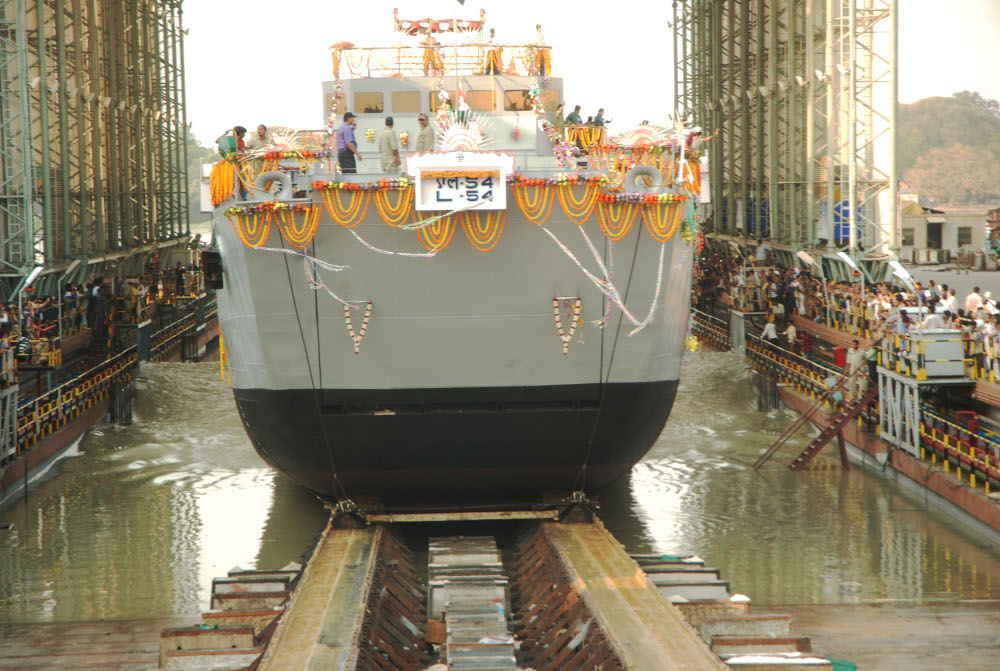 About IN LCU Mk-IV (L54)
Indian Naval Landing Craft Utility is the fourth LCU Mk-IV class to be inducted into the Indian Navy. It was indigenously designed and built by Garden Reach Shipbuilders and Engineers, Kolkata.
It is fitted with up to date equipment and advanced systems like Integrated Bridge System (IBS) and Integrated Platform Management System (IPMS).
The ship weighs 830 tons and is 63.8 m in length. It is capable of transporting various kinds of combat equipment such as the Main Battle Tank, T72 and other vehicles.
The ship will be used to conduct multi-role activities such as beaching operations, search and rescue, and disaster relief operations apart from carrying out supply, replenishment and evacuation missions from distant islands.
Contract for 8 LCUs was signed between GRSE and the Indian government in September 2011. The latest L54 now joins three other vessels of the class – L51, L52, L53 – that entered service in March 2017, August 2017, and April 2018, respectively.
The remaining four LCUs are currently in various advanced stages of construction and will be commissioned into service with the Indian Navy over the next 18 months.
Also Read: What Are Recently Commissioned Landing Craft Utility (LCU) Class Ships?
Conclusion
The Commissioning of L-54 is yet another manifestation of the country's indigenous design and shipbuilding capability. The induction of these ships will contribute to the nation's maritime security needs and is in consonance with Prime Minister's drive for 'Make in India'.
The ship is commanded by Lieutenant Commander Munish Sethi and has a complement of 05 officers, 41 sailors and is capable of carrying 160 troops in addition.