India and Pakistan mutually agreed to fully implement ceasefire at the border in a Director General of Military Operations (DGMO) level talks through hotline mechanism.
Both the DGMOs agreed to fully implement the Ceasefire Understanding of 2003 in letter and spirit forthwith and to ensure that henceforth the Ceasefire will not be violated by both sides.
Hotline for the DGMOs
It was also mutually agreed that in case of any issue, restraint will be exercised and the matter will be resolved through utilisation of existing mechanisms of Hotline Contacts and Border Flag Meetings at Local Commanders' Level.
The hotline mechanism was initiated by Pakistan's DGMO at 6 pm on 29 May 2018. Both DGMOs reviewed the prevailing situation along the Line of Control and IB in J&K.
Indian Army DGMO agreed with the proposal to undertake sincere measures to improve the existing situation to ensure peace and avoidance of hardships to the civilians along the borders.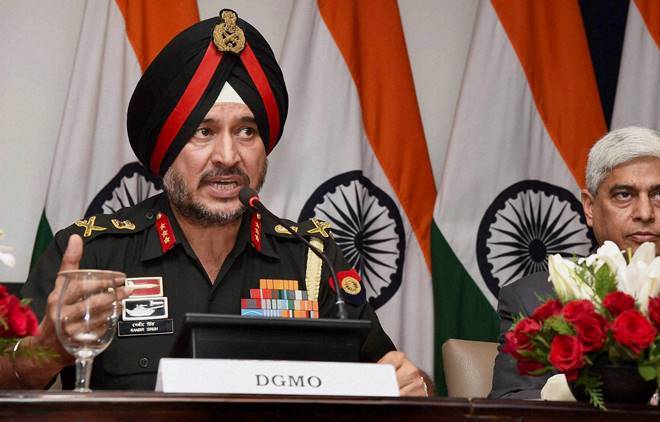 The 2003 Understading
The 2003 ceasefire initially held for some years as a major confidence-building measure, with the two armies maintaining restraint and holding regular flag meetings.
Even then, India had not agreed to formalize the ceasefire understanding into a written agreement with clearly defined modalities and standard operating procedures in order to keep its options open because of Pakistan's continuing support to cross-border terrorism.
Unilateral Ceasefire for Ramzan
Earlier on May 16, the Ministry of Home Affairs (MHA) had asked the security forces not to launch operations against terrorist during the month of Ramzan.
Ceasefire Violations
Incessant ceasefire violations by Pakistan from across the international border (IB) and Line of Control (LoC) in Jammu have been reported recently. For past two weeks, people are living in temples and schools to protect themselves from Pakistani bullets and mortar shells. A total of 619 terrorists in Jammu and Kashmir had been killed in gun battles with security forces so far.
The number of ceasefire violations already stands close to 1,300 this year, with 908 of them being recorded along the 778-km LoC and the rest along the 198-km IB. There was a surge in ceasefire violations after Indian Special Forces conducted "surgical strikes" against terror launch pads in Pakistan-occupied-Kashmir.
India has lost 36 soldiers and civilians in them, with another 120 being injured, while the number of casualties on the Pakistani side is estimated to be much more.
Compared to a high of 2,418 Maoist incidents under the UPA regime, only 1,481 incidents have taken place in the NDA rule, according to MHA.
Conclusion
The action-reaction cycle of ceasefire violations continue every day with the two armies regularly using light artillery guns, anti-tank guided missiles and heavy mortars to target each other with civilians getting caught in the middle.
This agreement between the DGMOs bring a relief to the civilians, unless, either of the parties violate ceasefire again.
ssbcrackofficial
301.8K followers
🇮🇳 Do you have it in you? 🌟 Army/Navy/Airforce/ICG fans 📚 SSBCrack Books on Amazon 📲 @ssbcrackexams Learning App