In this weekly digest, we cover 10 important topics in the Indian defence from 29 July – 4 Aug 2018.
Unified Commanders' Conference – 2018:
A two-day Annual Unified Commanders' Conference (UCC) for the year 2018 was held on 30th & 31st Jul 2018 at New Delhi. The Annual Conference reviewed external security challenges as well as the country's preparedness.
The UCC provided a platform for discussions at the Apex Level on all 'Joint Issues' amongst the three Services & Ministry of Defence and enabled the stock-taking of the previous year and planning the way ahead for the next year.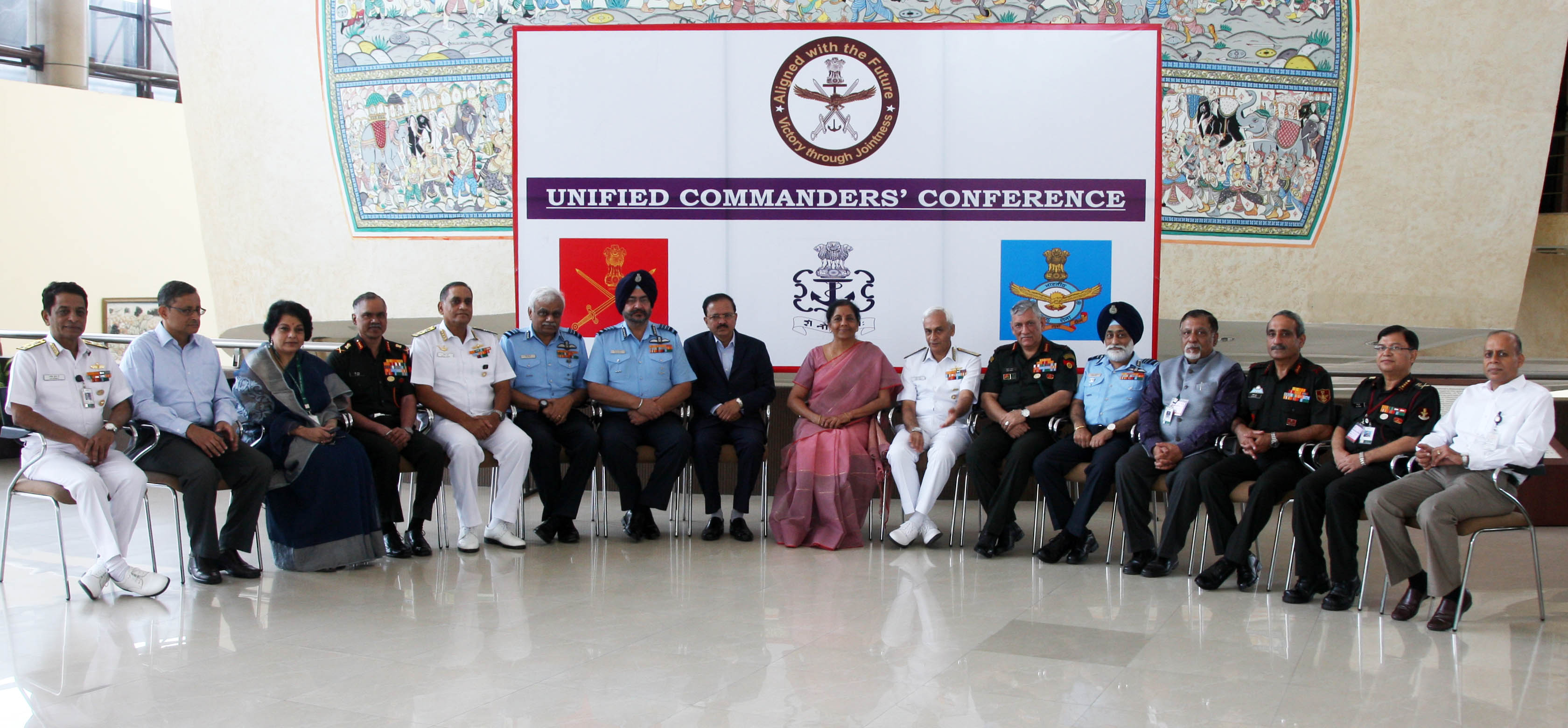 The conference was attended by the Raksha Mantri, Rajya Raksha Mantri, National Security Advisor, the Chiefs of Army, Navy & Air Force and other Senior Military and Civil Officials of the Ministry of Defence and Tri-Service Organisations/Institutions.
Guidelines for Strategic Partnership Model approved by DAC:
Defence Acquisition Council (DAC), the Defence Ministry's highest decision-making body, approved key guidelines for implementation of an ambitious policy under which Indian corporates will undertake defence projects with foreign entities.
The Strategic Partnership Model has been designed to boost the defence industrial ecosystem of the country while developing indigenous capabilities in the private sector. The policy is intended to engage the Indian private sector in the manufacture of hi-tech defence equipment in India.
106 out of 168 contracts signed with Indian vendors
Since 2015, out of total 168 contracts, 106 contracts have been signed with Indian vendors for procurement of defence equipment for Armed Forces such as Helicopters, Radar, Ballistic Helmets, Artillery Guns, Simulators, Missiles, Bullet Proof Jackets, Electronic Fuzes and ammunition.
Capital procurement of defence equipment is undertaken from various domestic as well as foreign vendors, based on operational requirements of the Armed Forces, the availability or capacity to produce the equipment in India and abroad and to keep the Armed Forces in a state of readiness to meet the entire spectrum of security challenges.
23 CBI cases filed against MES and BRO officials
Since 2015, a case has been registered by CBI against the accused Military Engineering Services (MES) and Border Roads Organisation (BRO) officers in all 23 cases under the Prevention of Corruption Act, 1988.
The decision of Ministry of Defence for the prosecution of the accused Government Servants in competent Criminal Courts has been conveyed to CBI in 16 cases.
Production of LCA Tejas given a boost
Two contracts were signed between IAF & Hindustan Aeronautics Limited (HAL) for procurement of 20 Initial Operational Clearance (IOC) standard aircraft on 31st March 2006 to be completed by December 2011 and 20 Final Operational Clearance (FOC) standard aircraft on 23rd December 2010 to be completed by 2016.
Out of total 20 IOC aircraft (16 fighters and 4 trainers), 9 fighters have been delivered by HAL to IAF till date. The production of the remaining 11 IOC aircraft (7 fighters + 4 trainers) is taken up at HAL. The aircraft is currently capable of undertaking Air Defence Operations and conventional ground attack with heavy bombs is feasible.
Production for 20 FOC aircraft, will be taken up after FOC clearance by Aeronautical Development Agency (ADA) for which current target is December 2018.
Southern Naval Command gets new commander
Vice Admiral Anil Kumar Chawla, AVSM, NM, VSM, has taken over the reins of the Southern Naval Command (SNC) as its 28th Flag Officer Commanding-in-Chief on 31 Jul 18. The Admiral has replaced Vice Admiral AR Karve, PVSM, AVSM who retired after 38 years of yeoman service. VAdm AK Chawla was previously the Chief of Personnel at the Integrated Headquarters of Ministry of Defence, Navy at New Delhi. The Flag Officer, a native of Dehradun, had arrived in Kochi on 30 Jul 2018 for the ceremony.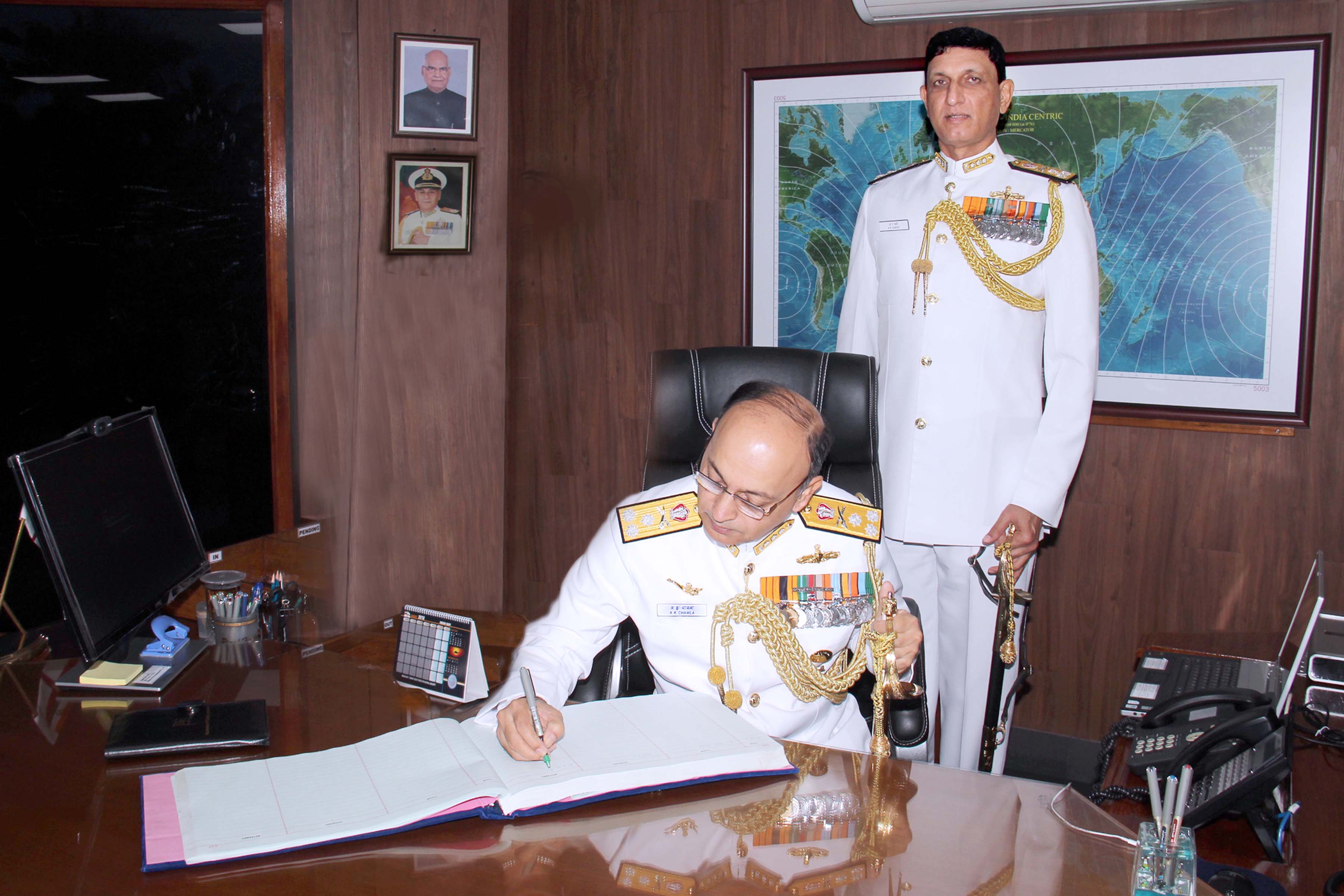 Make in India progress in Defence Sector:
'Make in India' in the defence sector, which is primarily driven by the capital acquisition of defence equipment and other policy measures, has been introduced in all major areas of defence such as combat vehicles, combat aircraft, warships, weapons, ammunition, missiles, radars, electronic warfare systems etc.
In the last three financial years (2015-16 to 2017-18), 58 contracts worth about Rs 1,17,656 Crore were signed with foreign vendors for procurement of defence capital equipment for Defence Forces.
At present, there is no proposal to close Ordnance Factories or Defence Public Sector Units functioning under the administrative control of Department of Defence Production.
Shortage of 9096 officers in Defence
The details of the strength of Officers in the three Armed Forces (excluding medical and dental) suggest that there is a shortage of 9096 officers in the armed forces. The Indian Army alone is short of 7,298 officers, followed by Navy with 1606 officers short. The Air Force is seemingly doing well with only 192 officers short.
Implementing AI in the defence sector
Artificial Intelligence (AI) is essentially dual-use technology which can fuel technology-driven economic growth and has the potential to provide military superiority. Given India's strong IT industry and pool of engineers, Defence Ministry has initiated the process of preparing Indian defence forces in their use of AI and leveraging AI capabilities.
Ballistic Missile Interceptor Advanced Area Defence test fired
DRDO conducted the successful test of the Ballistic Missile Interceptor Advanced Area Defence (AAD). The endo-atmospheric missile, capable of intercepting incoming targets at an altitude of 15 to 25 km was launched against multiple simulated targets of 1500 km class ballistic missile. The complete event including the engagement and interception was tracked by a number of electro-optical tracking systems, radars and telemetry stations. All the mission objectives were successfully met.