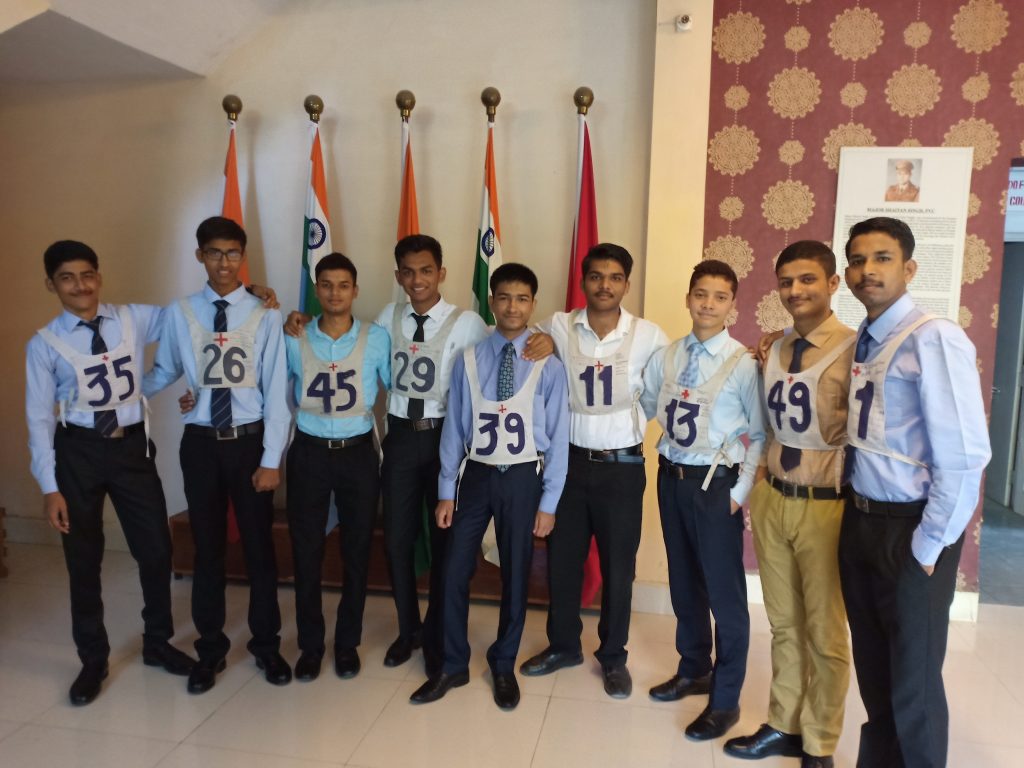 Hey guys…My name is Daivansh Bhandari. After a lot of support from my family and friends, I have finally decided to share my experiences from my time spent during the SSBs. Firstly about my background, I myself have lived my whole life in the Civil….but my family coherently belongs to a defence background, from my grandfather to my uncles and almost everyone. This was to such an extent that whenever my family was transferred due to my Father's transferable job, there always used to be a relative posted in the new city wherever we went! So since childhood, I have been witnessing the Defence from a Civilian perspective…and know the privilege and honour to serve in the Defence Forces from a very young age. So it was quite apparent that since childhood I was motivated towards joining the Defence Forces….that and the Research Field due to the fact that I have always been more study oriented in school. So after clearing my 12th Board examinations, in which I got 89%, I applied for the NDA and TES entries. I hadn't applied for any engineering college and had decided to drop, even though I cleared the JEE examinations due to the fact I wasn't getting my preferred branch of Aeronautical and Aerospace Engineering anywhere…and knew deep down that joining a college might further on hinder and distract me in my aim of clearing the SSB.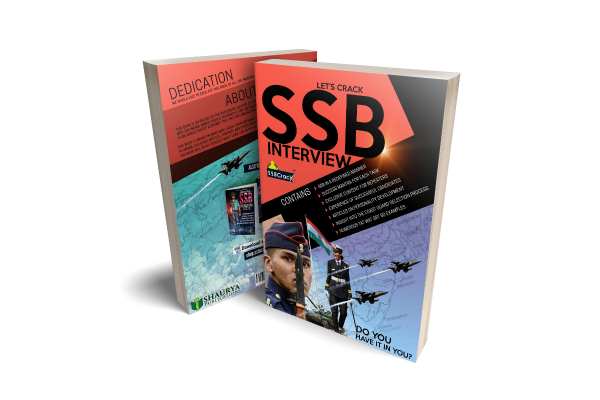 After that, it was the wait for the allotment of the SSB centres and dates. During that time I decided to visit my Hometown Dehradun and decided to utilise my time there by going to Baalnoi Dehradun. This was to make me familiarise with the SSB pattern so that I don't panic during the actual thing. During my time at the coaching there, I heard of the infamous reputation of the Rejection Centre Allahabad…and started dreading it.
Well as luck would have it I was alloted Allahabad centre for my NDA SSB! At that time I thought it was just plain bad luck…and maybe I would have some better chances in the TES centre. God played another trick on me and landed me Allahabad centre again for TES, and this time the gap between my SSBs was less than a month…I sure had a good laugh that day.
I decided to make the best out of this situation and give it my all. I decided to make my NDA SSB a practice run for my TES SSB and improve from my mistakes from there…because I had heard that it was really hard for a Fresher to get recommended in his first go.
So I reported at Allahabad station on 12th August…feeling nervous and comprehending the sheer number of people that had showed up..(I would later be even more amazed when that number seemed small when I went for my TES SSB)
The first thing I did was to strike a conversation with the guy sitting in front of me, talking with his friend at MCO, and what do you know that guy ended up in my same group in GTO…and we were the only guys recommended from my group. That's the true essence of SSB…you are surrounded by individuals with the same goal and passion as you…if you strike a conversation with them… whatever the outcome of the SSB you will end up earning life long friends in the process. Hence, one should always be outgoing with others…SSB is not a competition, it's a system which helps us bring out the best out of each other.
We were 72 in reporting and we were allotted the 18 SSB at our candidate lines. I would be provided with 14 SSB some weeks later for my TES SSB. After that for the rest of the day we chatted with each other and made acquaintances. The next day in screening, 44 of us were screened in. In the PPDT we were divided into groups of 8 for our discussion. The essence of most discussion oriented tasks is that there are no correct answers…only a different perspective of opinions each of us has. So your job is to convince the others about your opinion, not enforce it on them. You should always take initiative, though also give others opportunities to put forward their points cause it's a discussion. Always aim to be polite and courteous and always try to mediate the discussion so that arguments can be avoided at most costs…because that will effect the whole group negatively. This always applies to every discussion related tasks and should always be remembered deep down.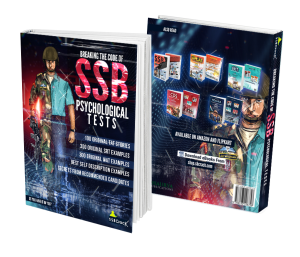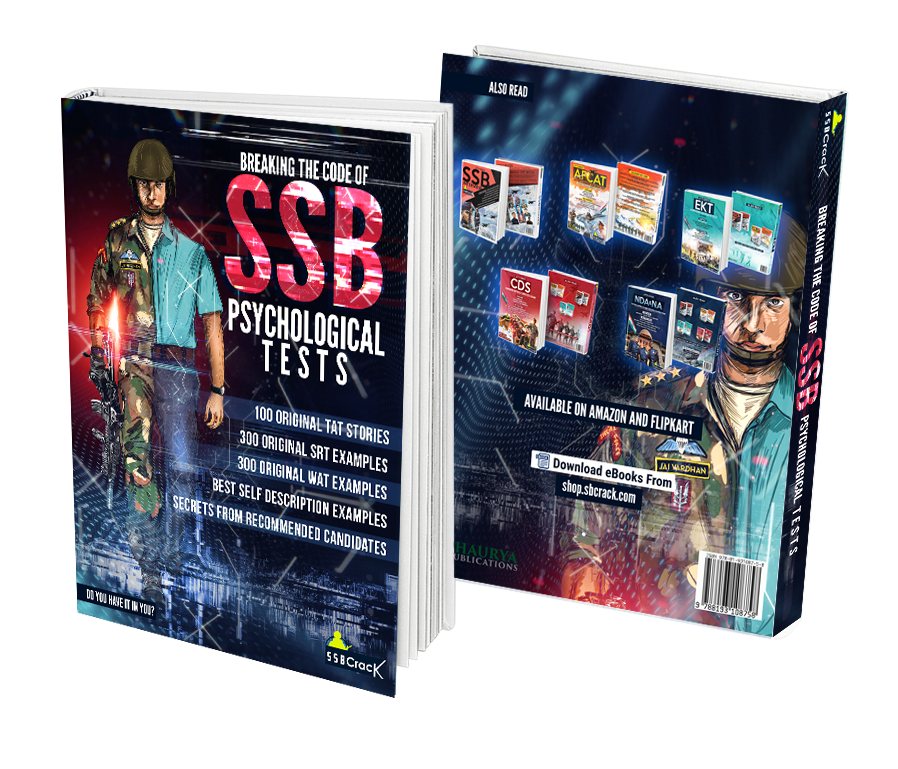 The new number alloted to me after the Screening was 4…so I was aware that I would be having my interview the next day for sure. So I started revising general knowledge and Current Affairs with my friends for the next day.
The Day 2 was Psychology Tests…and Interview for some lucky ones. The Psychology consists of TAT, WAT, SRT and SD. I was aware of their mechanisms and how they work due to the fact my additional subject in Board Examinations was Psychology. So usually the advice we get is that the more SRTs and WATs we do is better for us. Well that's true to some extent but I focused on quality instead of quantity and focused on answering the questions more carefully and aligned to my true personality. I attempted 37 SRTs, and all the WATs and TATs. It is advised to prepare your SD in advance…you should prepare anything you can beforehand which you know will be there. And the main thing in Psychology Tests…always be positive and true to yourself. Don't try to deviate from your personality. There always is a positive solution in all the tests and tasks…always try to find them.
After this I moved on to my Interview. My Interview was taken by the Additional IO. He was very serious the whole time… didn't even smile once. He asked me about my family, my education, the reason why I wanted to join the Army and so on. I gave him the answers accordingly. He then moved on towards why I didn't join a college. I told him about the streams reason. On that he started questioning me on Aeronautical Mechanisms, followed by concepts of Physics and Maths. It was full of technical questions. I wasn't able to answer some of the questions and replied him honestly. The Golden Rule is to accept the truth. If you don't know the answer just accept it…no guesswork works in SSB. If you try to fool with the IO, you will be made the fool. Other thing to remember is to be aware of your hobbies which you write in you PIQ. You are expected to know everything about them, so the IO is gonna be asking advanced questions on that. Mine were reading Japanese Literature, and debates and Quizzes…which gave him a wide variety to ask from.  In my TES Interview, ironically I was asked less Technical questions and more questions on Family and psychological questions. One important question the IO usually asks is what will you do if you don't join the Defence,  and it was asked to me both the times. My answer was straight. If I won't be able to join the Defence Forces due to any particular reason I will just revert back to Research and join DRDO or ISRO to create technology for the Defence Forces. This impressed both the IOs. Both times my interview finished with mixed feelings cause an interview can't be completely bad or good cause you don't know what the IO is judging in you so you should never be demotivated and look forward to the next task.
The 3rd and 4th Days were the GTO tasks. We were divided among groups and proceeded to our tasks. The main focus of tasks such as PGT, HGT, and FGT are teamwork and ideas. Always try to give new ideas so that your group can move forward speedily. Also, remember to allow the other members to put their ideas forward and make use of the best one out of them. Always try to use the materials you have to the fullest. And remember the Golden Rule is not to break any rules and follow the GTO's instructions. Always emphasize not to break any rules and prompt the other members to do so too. In GPE and GD try to find the positives of each other opinions and make others realize the positives in your opinion. Also try to summarize the Discussions at the end so that the discussion can go smoothly. In both my NDA and TES GPE I was the one who gave the final solution. The key is being polite and being mutually helpful to each other. In GOR we all had a positive approach. Always remember to be enthusiastic and yell your war cry with passion. And never leave a man behind ..that's a fundamental followed in the Defence too. In Individual Obstacles, I was able to complete 13 tasks with repetition and used that in TES by doing 14 then, the most in my group both times. You have to maintain the perfect balance between agility and strength. Be confident at every obstacle, each one of them is conquerable, so don't fear them. In my Command Task, in NDA I was a given a simple Finish Line Task where the GTO asked me to cross it as fast as possible. Always remember to accept any hints the GTO drops. In NDA I was only called once as a helper in Command Tasks. But during TES the scene was a little different. I again got a Finish Line Task in TES but this time it was quite clear that the level was quite high. The GTO constantly made changes in the structures and colours of the obstacles to make it more difficult for me. I was able to do it smoothly and used my previous NDA experiences to make use of the ideas to the fullest. My TES Command Task was near to perfect until the end where I messed up when the plank touched the ground while I was making a lever near the finish line, and like I said the GTO doesn't accept the breakage of rules. He told me to use physics properly and place my feet properly on the plank. I then completed it flawlessly. I was called multiple times as a helper in TES Command task. Your good performance makes others trust you to help them out. Always do your best and be helpful in the group. The other individual part of GTO apart from Command Task is Lecturette. The topic in my NDA Lecturette was Brain Drain, and the TES one was Space Tourism. The best way to tackle Lecturette is to have a wide base of knowledge so that you can talk on any provided topic. The only way for that is to have a solid base of knowledge and develop a constant reading habit about different topics.
The 5th and last day was the Conference. Either it was the NDA or TES SSB…I was always nervous on this day… everyone is. In the NDA conference, I was pretty unsure. Before my conference….I had to wait for 8-10 minutes outside the conference room, my nervousness increasing every second. And when I was finally called in..it went on for 12-15 minutes more. The Deputy President of 18th Board asked me different questions regarding my school life and gave situations related to it. He then reverted to asking me about Aeronautical Engineering again. This time I was ready to answer every question. Always remember to learn the answers of all the questions you weren't able to answer in the Interview. He kept asking me technical questions, and also questions about Jaipur the city where I live in. After answering all the questions to the best of my abilities I was asked to leave…and I sure left with a smile. It was kind of opposite in my TES conference…I was asked what I like about Allahabad and how to improve the SSB, and then was just simply asked to leave in seconds.
Then there was the declaration of the results…in my NDA SSB I was so nervous. I wasn't aware whether I had performed well or not. The President came in and asked how would you like to hear the names…. alphabetically or randomly? We all unanimously said Random. The President started taking names…40, 13, 36 and so on…up to 9 guys…then the President asked whether he should announce anymore names and we all yelled Yes..and then it came. I don't know how but the number 4 came…and I was overwhelmed…I couldn't move for a moment. I was so glad…my endless reading of literature over the ages, endless mock interviews with my father…doing morning runs..had finally paid off. I was on another level. In out batch of NDA…11 cadets were recommended, the only other two digit recommendation from Allahabad this year.
In my TES recommendation, I was, unfortunately, the only one who was recommended from the 19 screened in candidates…and I was really sad about it at that time. But that's how reality goes, we are all in a cycle towards achieving the goal which is serving the country, and a mere rejection is sure not going to stop any of us… always move forward and keep on looking forward. The experiences and mistakes I made in my NDA SSB helped me improve and function at my full potential in my TES one…and allowed me to get AIR – 3.
After spending almost a month of SSBs and Medicals…making new friends and experiences has made Allahabad..now Prayagraj a special place for me…after all I was in the last batch which got recommended from Allahabad….the new generation will be witnessing SSB Prayagraj.So don't worry guys and never lose hope, cause there is always a light at the end of the tunnel. Hopes this help you guys in some way…and hope to see you in the Defence Forces later. See ya..!
IMPORTANT – Download eBooks for SSB Interview Preparations
Defence Exams and Interview Books: