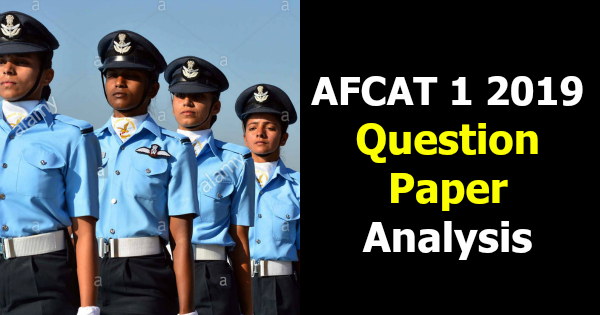 AFCAT 1 2019 exam was conducted online on 16th Feb 2019 and will be conducted tomorrow also for the next batch by CDAC on behalf of Indian Air Force. Many defence aspirants attempted the online AFCAT 1 2019 question paper at different online examination centers. In this post, we are going to do the deep analysis of the AFCAT 1 2019 question paper and hear what the aspirants who attempted AFCAT 1 2019 have to say. Most of the aspirants say that the question paper was moderate, the Math section was a little difficult with tricky questions, English questions were moderate with some easy questions too. Question paper pattern was the same as last year and there were hardly any current affairs questions. Other than that, three questions were from sports one from book and author. Maths question consumed more time, and the GK part had static GK questions.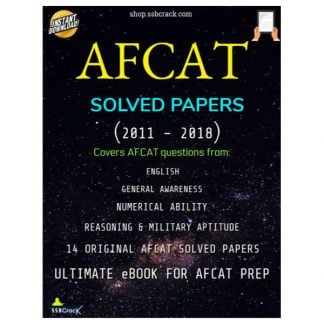 The pattern of exam:
AFCAT consist of a written paper of 100 questions with a maximum of 300 marks. Each question carry 3 marks and there is a negative mark for each wrong answer to a question. Question unattempted will not be penalized.
It also has EKT for Ground Duty and Technical branches with maximum 150 marks.
After clearing it, the candidate advances to the next rounds of personal interview and screening.
Syllabus:
English: Comprehension, Error Detection, Sentence Completion/Filling in of correct word, Synonyms, Antonyms and Testing of Vocabulary, Idioms and Phrases
General Awareness: History, Geography, Civics, Politics, Current Affairs, Environment, Basic Science, Defence, Art, Culture, Sports, etc
Numerical Ability: Decimal Fraction, Time and Work, Average, Profit & Loss, Percentage, Ratio & Proportion and Simple Interest, Time & Distance (Trains/Boats & Streams)
Reasoning and Military Aptitude Test: Verbal Skills and Spatial Ability
The standard of Numerical Ability Questions will be of Matriculation level. The standard of questions in other subjects will be of graduation level.
Comments from aspirants on AFCAT 1 2019
dhandhal.28 Its was good though i got stuck in maths lil bit but overall it was fine hoping for the best result
aintitcheesy Good. I hope I clear this time
thakur_prajwal_singh Awesome, paper was easy
_.faisalkhan_ reasoning was good maths was moderate and time consuming gk was easy,most questions were on longest,greatest,first etc english was moderate..
rubi_bhati_ Reasoning was good, I really liked it while solving, maths was moderate, some questions are easy and some were taking little time, English and GK were this time quite easy. I hope I will clear.
i_am_jyotika Paper was haluaaaaa.. very easy. Anybody with a bit of preparation can easily cross the cutoff.
bhakk_gawar Phod daala…. Abe kisne kisko phoda yeh mat puchna
veenamuk Easy to moderate …maths was a bit tough so as english but test very easy
chalti_ka_naam_gaadi Pehla pyar aur afcat ka exam kabhi sahi na hota.
madhusansanwal Not good I expected much
AFCAT Important Links
https://www.instagram.com/p/Bt7wolZABxv/