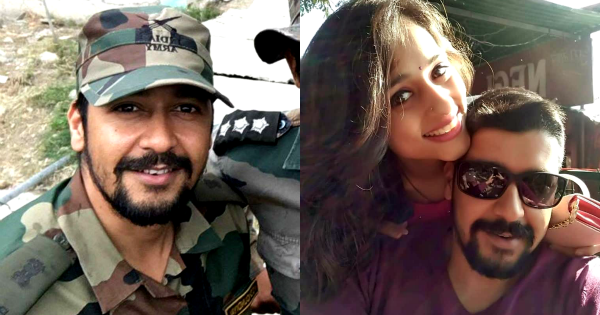 Major Vibhuti Dhoundiyal sacrificed his life while fighting the coward Jaish-e-Mohammad terrorists in Pulwama. His sacrifice did not go in vain and Indian army killed the top Jaish-e-Mohammad terrorist on the same day. Major Vibhuti Dhoundiyal has inspired a lot of defence aspirants and as per the request from few aspirants, here are some inspiring facts about Major Vibhuti Dhoundiyal.
Dhoundiyal studied at the St. Joseph's Academy in Dehradun till Class 10 and moved to Pine Hall School for Classes 11 and 12. He completed his B.Sc from DAV PG College before joining the Indian Army. "He was passionate about joining the Army since childhood," said his friend.
Major Vibhuti always wanted to join the Indian army, he started the preparation for it since childhood and he made every possible attempt to acheive his goal. Major Vibhuti prepared for the Rashtriya Indian Military Academy and then the National Defence Academy examination, later he tried to clear the Indian Military Academy examination. But Major Vibhuti was finally successful in clearing the OTA exam to join the Officers' training academy to pursue his dream career with the Indian Army.
Major Vibhuti of 55 RR was leading from the front during the encounter to kill the trapped terrorist including the mastermind of the Pulwama attack. Major Dhoundiyal sustained gunshot wounds on his neck and abdomen. He was evacuated to the 92 base hospital in Srinagar but succumbed to his injuries soon and was declared dead. Major Vibhuti displayed the ultimate courage during the encounter where the hidden enemy had the upper hand. The other soldiers martyred in the operation were Sepoy Hari Singh, 27, Havaldar Sheo Ram, 37, and Sepoy Ajay Kumar, 27. Head Constable Abdul Rashid Kalas martyred of his wounds later.
Major Vibhuti Dhaoundiyal was not only defending the nation but he was also taking care of his whole family alone, he had lost his father in 2012. He is survived by his grandmother, mother, three sisters and wife Nitika Kaul, a Kashmiri girl whom the Major had married in April 2018.
Wife of Major Vibhuti, Nitika Kaul Dhoundiyal had a message for her husband: "I'm really proud. We all love you. The way you love everyone is entirely different because you sacrifice your life for the people who you may have never contacted, but still you decided to give your life for them. You are such a brave man. I am very honoured to have you as my husband. I'll love you till my last breath. I owe my life to you."
The sacrifice of Major Vibhuti will not go in vain, he has inspired the young generation, more and more soldiers will rise to defend the country from the enemies and that is our promise to Major Vibhuti. Jai Hind.