Hello everyone, I am Ashish Kumar. Joining Army was no less an all-time dream of mine. This is about a long journey, a dream which came true after 1609 days, 10 attempts and every single second of dreaming a life less ordinary. This is a story of a kid living his own ways and story of a boy who ran the last mile to make his dream come true. Let me thanks my parents, family, friends, seniors, NCC platoon, sports teammates and everybody who were part of this journey. My heartiest thanks to Ankit Yadav Sir (My college senior, serving in forces) who was my role model and my mentor in this journey.
Let me tell you that nothing comes easy in life, and I do believe that it is repeaters who know the true value of getting recommended, and no repeater is repeater until he/she is screened out. Well, I will quickly move through my attempts in chronological order from being conference out in my first four attempts before graduation in which three being NDA and one TES. Then I pursued Electrical Engineering (2014-2018) from NIT Kurukshetra and I am sure there is no better institute than NITs & IITs. NIT Kurukshetra is special in its own way, providing me opportunities to lead various teams. I was part of 10 HR Battalion NCC and lead my platoon at several events. From being national player of hockey and Kabaddi, I have everything on my PIQ which state myself to be capable enough to cross SSB. I was Gold medallist of my batch too.
After my graduation I was conference out in UES, CDS, AFCAT and screened out in SSC Navy and SSC(T). My second last attempt was in Kapurthala in June 2018 for SSC(Tech) I was screened out. Let me tell you I was working with Alstom ( France based MNC) and I got selected in Engineers India Limited ( PSU under Ministry of Petroleum & Natural Gas). It was August 20, 2018 that I have to make a difficult choice, on this very day I have to join this company and on this same day I had my CDS SSB at Allahabad. Unlike others I chose to join EIL at least it fulfilled my parents dream.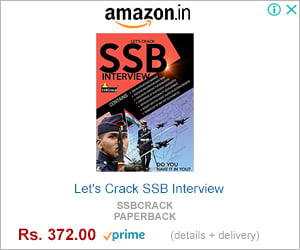 Then was the time to make my dreams true. Well, for all those repeaters I would say there are times when after each rejection we look out, depress ourselves and find lacunae in ourselves which aren't our weakness actually. We guys have everything that army needs, all we need to do is stop finding negatives in ourselves but to strengthen the strong points because sometime to overcome the weakness it is important to strengthen your strengths. I would say we need to practice a lot, a lot written practice, regular go through with newspaper, developing reading habits, writing habits. And it is very important to invest positively in your hobbies.
So, my concluding attempt was in 32 SSB, Kapurthala on 23rd February 2019. All of my testing was very nice and I performed well to my expectations. I would suggest to all aspirants that listen to the instructors, listen to testing officers, before every task think what is expected out of you and perform positively. Make friends and create memories with them.

I do remember a shot from my interview where he asked me, "Ashish, you have everything , you are working that too in Govt. organisation , why do you want to join army then.", I have prepared this answer for last 9 attempts but I refused to myself and I told him "Sir, Ye dil manta hee nhi". He said "well, then." I answered almost all questions except few he asked me on my current novel. I was happy after the interview. GTO was great and I performed well carrying my team with me. There was 5 minute wait before my conference and I was asked two questions on permutation and combination: So how many total moves exist in game of chess and how many total matches will be played between 6 teams in a round robin tournament. I answered them and chairperson asked me with a smile, "What do you think , your chances are?", I replied, "I believe I carry fair chances this time with a smile."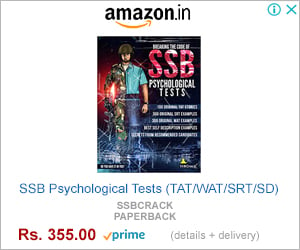 I do remember sitting in the hall and waiting for the final results, then Technical Officer (Para-commando) came and told two of you got recommended. He called Chest number: 4 and I was on cloud 9. It was such a great feeling, tears of happiness, tears of burden proving myself were there. I got hugs from my fellow batch mates, few of them are going to be best friends of life. I wish I can see all of them in uniform.
It is a coincidence that I got selected with Chest No.4 and I got AIR: 4 in merit too.
Well, I would say to all my dear aspirants that it takes your dedication and sincere efforts to achieve your dream and it is about your Zidd to make everything true.