Hello friends, I am Sunil Kumar got recommended for IMA from 11 SSB, Allahabad. I have done my schooling from Army School, Ahmednagar and my school has given more than 100 officers to Central Armed Forces over the years and now proudly I am one of them. I am an average student in academics and scored 76% in 10th and took PCM in 11th and scored 70% in my 12th boards. I was interested in computers and did BCA and scored 68% in my graduation and was also part of NCC of 17 Maharashtra Battalion. I mentioned my grades just to inform you that your past doesn't write your success but your present will, what you are doing now with your life will set your career. Hurdles will come, sometimes you have to taste failures but keep on hustling till you grab it with honour. Be honest to yourself and every time keep in mind why and when you started this journey.
So let's go straightway to the SSB experience. It was a bright sunny day of winters on 9 Jan 19 in Allahabad and our reporting was at 1400. I reached 2 hours before the reporting time and all the candidates gathered near MCO office. Selection centre bus came and we all start loading our luggage into it but this time my bag was lighter than before(repeaters know the reason) and we reached the centre. All the documents were checked and we were allotted accommodation and my Chest Number was 65.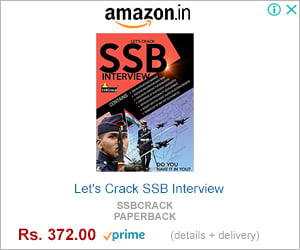 Next day early morning we all reported to Vikram Batra hall for the stage 1 test. My OIR went amazing, I couldn't complete my story in writing and while narration I started well with confidence but I was not allowed to complete my story and the assessor said next (She might have understood the theme) and then the main test of screening GD started, I initiated second in discussion in group of 20 Candidates and gave 2-3 points in the whole GD but we were able to come to a common story and group nominated me for the final story narration. We waited for the result and 25 candidates cleared the stage 1 test and I was allotted Chest Number 16, first one in the repeater group.
On second day or the psychology day I completed all the 12 stories, 60 WATs and 32 SRTs and I wrote a balanced Self Description including all aspects like strengths, weaknesses, things that I should work on etc.
On the third day or GTO 1 early morning reporting in winters and our batch reached the ground by running to feel fresh for the tests. In both the GDs I initiated the discussion and gave my points freely, valid points and my group was very cooperative and nobody made a fish market which I have experienced earlier. In GPE, I completed my solution in writing within the stipulated time, GD went well and I was nominated by the group for the final group plan narration. In PGT, HGT, FGT and CT I actively participated and gave my logical solutions for crossing the obstacles given to us and also helped my group members in their ideas in order to complete the given tasks in given time. I did 13 individual obstacles and was in the middle of the group in GOR or Snake Race and emphasised on no penalties. My lecturette topics were 1. India: Super Power? 2. Niti Ayog 3. Sports policies of India, I chose India: Superpower? And was able to cover my views in 3 minutes comfortably.
My interview was on the GTO 2 day and I was informed to report immediately in GTO dress to the interviewing officer. I entered the room, wished the IO who was Deputy President of the board and he offered me to shake hands. He asked me to just relax and can have water in between the interview whenever I feel like. He made me feel comfortable and said that for the next 45 mins I would like to know you more and interview went fantastic as compared to the last SSB for the next one hour and I was satisfied with my performance in last 4 days.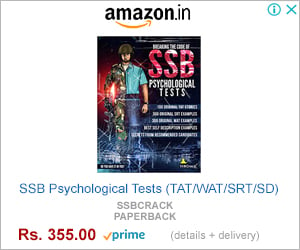 The judgement day or the Conference day, we all reported in time, well dressed. one by one chest numbers were appearing on the screen in red colour and after 15 it took a pause of around 15-20 mins and Ustaad standing near me said "Beta aap select ho gye ho bsh andar kuch galti maat krna" and I entered with full confidence and answered all the questions asked and came out with a smile after 5-10 mins.
Time for the result, we waited for 2 hours and I have felt this pressure before. most of us were already in dreams on their chairs and the officer came with the result. He gave a motivational speech and was able to see the eager to hear the result on everyone's face sitting in the hall. He is the louder voice said are you ready for the result? Yes sir
And Chest Number 16 was his first word after a silence of our Yess sir… That feeling cannot be described in words.
I thanked every member present there for their cooperation and delivered a motivational success speech which I have prepared last night for the post selection and everybody was on toes with applause and it was the best day of my life. The only dream which you saw from your childhood and hustling every second to grab it will surely come to you at the end of the day. I want to thank you all from bottom of my heart Sunny, Mayank sir, Vishal Thakur, Puspender Singh, Deepanshu, GC Anil Solanki, GC Rahul Sharma, Sandeep, Aman, Mehpara and everyone who was the part of this journey.
After medicals at MH, Allahabad and BH, Delhi I was declared medically fit and stand AIR – 26 in merit. I have been a regular follower of SSBCrack and always dreamt of writing my experience here after getting recommended and when I am writing this I am just a few days away from joining the prestigious Indian Military Academy. SSBCrack guides a lot in preparation because giving random WATs and SRTs helps to bring out the instant responses.
All the very best to aspirants. Jai Hind